Bristol Institute opens 3rd successive intake
MSc in Accounting and Finance from the University of the West of England
View(s):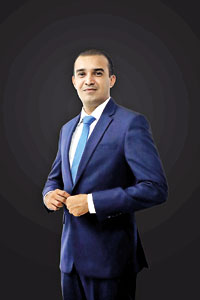 The MSc in Accounting and Finance from the University of the West of England, Bristol offered by Bristol Institute of business Management is a professionally oriented qualification which is consistently ranked highly in the major UK league tables.
The qualification designed to help gain the skills, knowledge and confidence to operate efficiently in today's fast paced world of multinational companies and global financial markets, gives the financial and business skills needed to build a successful career in accounting.
Launching their successful 3rd intake for the programme, Chief Operating Officer of Bristol Institute M.J.M. Dilshad explaining the factors behind the success of the programme  stated "the curriculum is designed to give students a solid technical skill set across key areas such as strategic management accounting, corporate financial strategy, financial reporting and analysis and to apply accounting practices and make strategic decisions about an organisation's financial and non-financial situation, fundamentally driving success and developing insights to help organisations effectively allocate resources and make better business decisions.
In addition to developing knowledge and skills in accounting and finance, students will learn to analyse how accounting and finance is concerned with a range of institutional and organisational processes of calculation, reporting, and evaluation. They will also learn to appreciate the interdependencies between accounting and accountability, financial management and risk, performance management and sustainability, governance and regulation, policy making and change, among other key fundamental concepts related to, implicated in, or affected by accounting and finance.
This diverse approach to accounting and finance makes our graduating students highly sought after by a wide range of organisations globally in any area related to accounting or finance, and even beyond into other areas. Recent graduates of this programme have gone on to work in the areas of professional accountancy, investment banking, investment analysis, management consultancy and financial management, but also in the public sector as well as into further academic study."
Upholding the stringent quality standards of UWE Bristol, the institute is also backed by a distinguished faculty of lecturers consisting PhD Holders, researchers, highly experienced professionals and industry experts, who provide an intensive teaching and rich learning environment for the graduates.
Ceaselessly striving for excellence and with their dynamic leadership team, appropriate resources and incentives, a modern and suitable educational infrastructure in place, along with internship opportunities at leading blue-chip companies, has ensured that Bristol institute today is well placed as a leading educator to nurture the future finance talent in the country.
Offering easy payment schemes through reputed banks with which the institute has strong relationships and agreements, the next intake for the MSc Accounting and Finance degree from the University of the West England, Bristol will commence in  May 2021 with registrations currently open for the same.