Ministers admit to state offences in forest clearances
By Kasun Warakapitiya
View(s):
President's policy being twisted to raze woodland
'This is wrong. Something must be done'  – Defence Secretary
Defence Secretary Kamal Gunaratne has backed environmentalists' claims that forest destruction has increased, pledging to throw resources into stopping culprits, pointing the finger at representatives of his own government.
Environmentalists bluntly blame the government for endorsing forest clearances, citing intrusions even into elephant corridors.
"Regional politicians have grabbed land, given land to private companies and have nearly cleared 200 biodiversity-rich areas," activist Ven. Pahiyangala Ananda Sagara Thera told the Sunday Times.
Ven Thera said land cleared included the Dahaiiyagala elephant corridor, Rambakan Oya forest, Somawathiya National Park, Jalagalum Nimnaya, Nilgala, Elephant Management Reserve in Hambantota and forest near Sigiriya.
Defence Secretary Gunaratne said he would order the air force to make reconnaissance flights over forests to check if land is being cleared and use army and police resources to bring those responsible to account.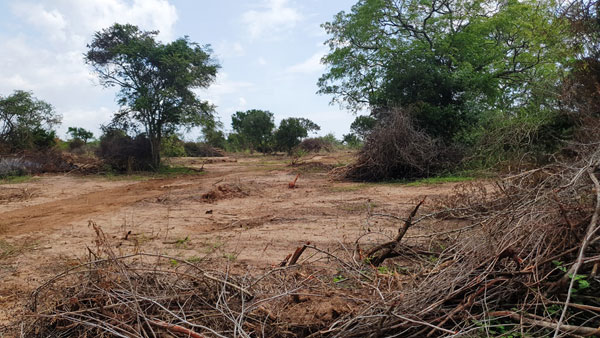 He expressed frustration with irregularities in the issuing of permits for forest clearances.
"When police or armed forces raid areas that are illegally cleared, most of the people who are involved in the clearances possess licences. We don't know how they are given licences but it seems that some state officials are involved," he said.
"Many state bodies have given illegal forest clearing permits. This is wrong. Something must be done," he said, adding that the permits made it difficult for the forestry and wildlife protection departments to act against intrusions.
He said President Gotabaya Rajapaksa had been alerted to the situation at the Defence Council.
Environmentalists say President Rajapaksa's own programmes are being used to subvert conservation guidelines, and Environmental Minister Mahinda Amaraweera acknowledged this.
Environmental groups say regional politicians and state officials carefully plot to urge villagers to ask for more land for cultivation from the President when he visits villages under the "Gama Samaga Pilisandarak" (friendly talks with villagers) programme.
Such scheming allows approval to be given to clear land, and this land is given over to private companies, all under the President's patronage, Sajeewa Chamikara of the Movement for Land and Agriculture Reform (MONLAR) said.
"We are aware that some state officials are also involved in it this forest clearing racket," Minister Amaraweera affirmed. "They are the ones who trick the villagers into requesting more land and they clear forests in the guise of an order of the president," he said.
"As Environment Minister, I told police about these incidents and asked the air force to fly drones and take action against forest clearing," Mr. Amaraweera said.
Mr. Chamikara condemned the government for decisions that, he said, showed no concern for the environment. One action involved the provision of 7,000 acres at Demaliyawandama in the Monaragala District for a privately-owned sugar factory.
He detailed others. "The most recent forest clearing took place at the Rambaken Oya Galwalayaya reserve," Mr. Chamikara said. "First, the government cleared 5,426 acres and divided it to 15 sections in order to be given to 12 companies. When environmentalists protested a cabinet decision was made to provide 2,750 acres to private companies."
He said the lands given to companies were grasslands but when the companies began clearing the land they had also razed forested patches. Most cleared areas remained bare.
Mr. Chamikara also pointed out that another 8,500 acres were being cleared in the Kanda Kadu area in Polonnaruwa. "This area is at the heart of the elephant home range and contains elephant feeding grounds," he said.
Only 3 per cent of forests in Sri Lanka are virgin forests and they play a critical role in producing and conserving the country's water supply, the President of Sri Lanka Nature Conservationists, Samantha Gunasekara, said, condemning the clearing of forests for cultivation and development projects. These forests have taken millions of years to evolve, and the unique orchids and fauna and fungi that grow within them help to create mist and slow the drying out of natural waterways and waterfalls, he said.
"The government is laying down pipelines under the theme "Samata watura" (water for all) but if we destroy the forests that generate and preserve water sources there will be no water to send through those pipelines," he pointed out.
"If the land clearings happen at this rate soon the country could be forced to import drinking water."
Environmentalist Supun Lahiru Prakash of the Biodiversity Conservation and Research Circle said forest cover influenced water supply and climate changes, and when forest cover was stripped from the land, wildlife suffered.
"Elephants and other animals are affected with lack of water and loss of edible shrubs. Then these animals raid farmland and destroy crops or reach human settlements in search of water, he said.
When that happenes the government has to spend heavily on elephant fences and other ineffective methods to resolve the human-animal conflict, as well as on compensation payments for crop damage and human fatalities, Mr. Prakash said, urging the government to choose instead to spend on preventing forest clearances.
A study by Mr. Prakash and conservationists A.W. Wijeratne and Prithiviraj Fernando clearly points out that human-elephant conflict had increased in intensity and geographical extent as a consequence of changed management actions and development activity.
Department of Wildlife Conservation (DWC) Director General Chandana Suriyabandara said officers were vigilant in protecting animals within the gazetted wildlife parks, sanctuaries and reserves but were unable to interfere in activities of bodies controlling the Mahaweli scheme and forest department land.
Environmentalists say the wildlife department is too passive in saying it cannot interfere, pointing out that the animals and plants affected by clearances are protected by the Fauna and Flora Protection Ordinance, which the DWC must uphold.
Biodiversity expert Dr. Suranjan Fernando said the government should think strategically about development that would use less land as this was a small country.
"Man, beast and plant life have to share the land. Therefore the government needs to think of ways to use less lands to create more income," he said.
Dr. Fernando said there should be a greater focus on exports of value-added endemic products such as cinnamon.
He said the government should commercially cultivate certain endemic plants and that mechanisms should be put in place to collect resources from natural habitats without harming them.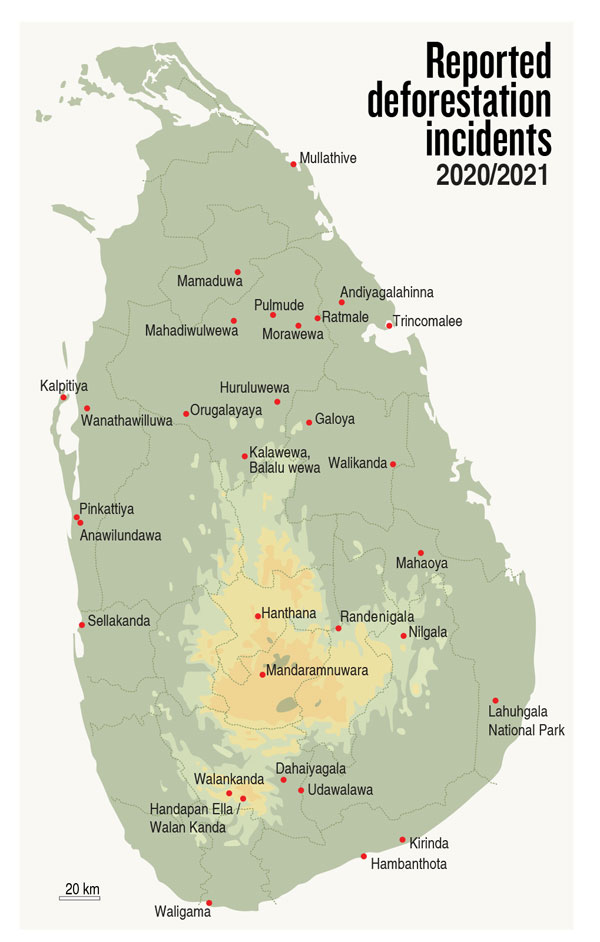 Court of Appeal takes up Veddah Chief's petition; respondents absent

The Veddah Chief's petition seeking environmental justice for his community was taken up before the Court of Appeal bench headed by its president Justice Arjuna Obeysekara on Friday.

The petition filed together with the Centre for Environmental Justice (CEJ) seeks an interim order to examine the validity of approvals granted to the Mahaweli Authority to carry out development projects to grow maize for animal feed in forest lands.

The petition also seeks an order to halt the clearance of what the Veddah Chief identifies as his community's traditional habitat at Pollebadda in the Rambakan Oya region. The petitioners claim that the areas to be cleared for the project have been inhabited by the indigenous people for many years.

Appearing on behalf of Veddah Chief Uruwarige Wannila Aththo, Senior counsel Ravindranath Dabare told court that the counsel representing the state parties had not appeared for the case on Friday as they had not been notified.

Justice Obeysekara then ordered the registrar to send notices to the respondents and postponed the case for March 05.

The respondents include the Central Environmental Authority, the Mahaweli Development Authority, the Department of Forests, the Department of Wildlife Conservation, the Minister of Wildlife and Forest Conservation and a private plantation company.