An ornamental police force
View(s):

By Namini Wijedasa


Public Security Minister Sarath Weerasekara will meet senior women police officers this week to discuss longstanding impediments to their promotions within the Police Department.

The meeting has been scheduled in the face of a Fundamental Rights petition filed by 33 Senior Superintendents of Police against the September 2020 promotion of Bimshani Jasin Arachchi as Deputy Inspector General (DIG), the first woman to hold such a position in Sri Lanka.

Calling it an "illegal, unlawful and arbitrary promotion", the petitioners say there is no cadre position within the Sri Lanka Police for Women DIGs (WDIG). They aver that Ms Jasin Arachchi's promotion (while made in an acting capacity) is "ex-facie violative and ultra-vires of their own approved scheme of recruitment".

This case was filed on technical grounds, said Minister Weerasekara, a former naval officer and Director-General of the Civil Defence Force. While promotions in the Police Department were separated by gender, it was not so in the tri-forces, he also observed, saying women must have a fair chance to rise within the ranks.

In 2016, several Women Assistant Superintendents of Police (WASP) petitioned the Supreme Court seeking an increase in cadre positions to females from rank of Superintendent of Police (SP) and above.

The petitioners are all from the 1997 batch of Sub-Inspectors (SIs) to which Ms Jasin Arachchi also belongs. Their case SC 91/2016, which will be taken for argument in the Supreme Court on June 23 this year, points to "unfair and inexplicable discrimination" against female police officers despite them performing duties similar to their male counterparts and counting the same number of years in service.

Retired Inspector General of Police (IGP) Jayantha Wickremeratne was second-in-command in 2007 when the NPC directed the Police Department to recruit ten female ASPs to supervise the rising number of policewomen at lower rank. Three were taken directly, three through an exam and three based on their number of years in service. It was the first time since Premila Divakara, the first female woman SSP retired, that the Department had installed women in such high position.

"What we see today is a totally unwanted situation," Mr Wickramaratne reflected. The women ASPs have now graduated to SSP and there must be another step to climb to. The NPC should have decided on the matter. "When you enlist somebody," he said, "you have to think of their future and it must be done before taking people."

In 2019, the National Police Commission (NPC) did prevail upon the Police Department to grant nine SSP positions to women (including the petitioners in the 2016 case). But they too got "leftover" male cadre positions after all the qualified men were promoted.

The police 'scheme of recruitment' continues to have just 16 chairs for female ASPs, four for SPs, one for female SSP and nothing above that. By contrast, there are 162 vacancies for male SPs, 169 for SSPs, 46 for DIGs and 12 for SDIGs.

In December 2019, after a strong but silent campaign by senior policewomen, the NPC again decreed that the Police Department create four cadre positions for WDIGs. The same month, the IGP sent a proposal along with justification to the Management Services Department of the Ministry of Finance for required authorisation.

The Department returned it to the then Ministry of Law and Order for further justification. It has sat at the Ministry (now Public Security) since then, reportedly pending further recommendation from the IGP. When the nine women now serving as SSPs apply to the Board for DIG promotions in 2025, there will be a question of where to put them.

"This whole mess is because the Police Department has refused to implement a 2006 Cabinet decision taken when Mahinda Rajapaksa was President to allocate 15 percent of vacancies in every rank to women," said another internal source who did not wish to be named. "At present, around 15 percent of the police force is women and this will ensure that they have some career progression."

Even within the prevailing imperfect system, none of the existing women SSPs have been given a division to head. And no female Chief Inspector or Inspector has been made Officer-in-Charge of a police station.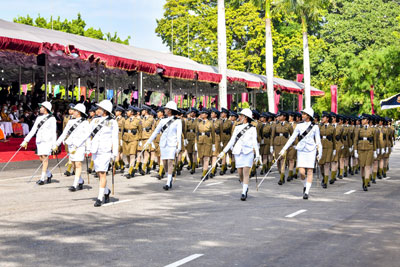 Bimshani Jasin Arachchi joined the police force in 1997 as a Sub-Inspector of Police (SI). Three years later, she applied to be absorbed directly to a single vacant slot that fell vacant for a female Assistant Superintendent of Police (ASP).

Ms Jasin Arachchi passed her interviews and sat the exam but was rejected because she was some inches too short. She challenged the decision in the Supreme Court which ruled in her favour and, in 2016, was finally promoted to ASP.

Then, on an appeal to the National Police Commission (NPC), Ms Jasin Arachchi's ASP appointment was backdated to December 31, 2007. That's where the problem began. In the Police Department, even 24 hours makes a difference where promotions are concerned.

While fighting her long court case, Ms Jasin Arachchi had remained an SI till she was promoted, along with others in her grade, to Inspector of Police (IP) in 2006. In the meantime, ten other women from her batch gained the requisite experience and rose through the ranks to ASP. By virtue of the NPC backdating Ms Jasin Arachchi's ASP promotion, women and men of her same seniority suddenly became junior to her. But it was the women that were most disadvantaged by this.

As pointed out by the 33 male SSPs who are now challenging her promotion to DIG, this "ad-hoc and arbitrary antedating" did not directly or indirectly impact them (at the time) as Ms Jasin Arachchi was being promoted to ASP within the women's cadre.

That wasn't all. On other appeals to the NPC, the Police Department also granted Ms Jasin Arachchi promotion to SP and SSP. Between 2016 and 2019–within a space of three years–she rose from IP to ASP to SP to SSP and then, in September last year, to DIG.

But the Department did not create a female DIG cadre position to accommodate Ms Jasin Arachchi. She was given a male cadre slot that had fallen vacant. She still holds an "acting" position. She cannot take over as full DIG as she did not complete the required seven years in a previous rank.

This and other departures from procedure by the NPC and Police Department have now left her appointment open to dispute. As the Sunday Times reported in November last year, a legal challenge was in the works.

---

Clear and present discrimination

The Fundamental Rights case filed in 2016 by several then women ASPs (now SSPs) makes strong points against gender discrimination in the police force.

It points out that the scheme of promotion is flawed inasmuch as it structurally and/or effectively discriminates (against) women officers without any justification whatsoever, particularly in relation to SP Grade II and above.

Women officers who have excelled in the performance of duties and competently discharged functions at the same level as male officers cannot be curtailed in violation of their legitimate expectations guaranteed under the Constitution of Sri Lanka, it states.

The petitioners must have equal opportunity to promotion if they had the required qualifications and service experience. They have been discriminated on the basis of gender.

They also stated that at the time of recruitment there was no intimation to them that there is a differential treatment at the Police Department on gender basis.

Among other reliefs, they ask the Supreme Court to declare that women officers are entitled to the same promotions as male officers in the same cadre, without any discrimination.

The respondents are the Members and Secretary of the National Police Commission, IGP, SSP-Director Personnel, Secretary to the then Ministry of Law and Order and the Attorney General.