Reflections on post-independence economic development: Economic underperformance and social progress
View(s):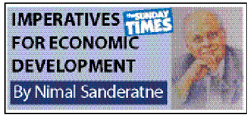 Three days ago we 'celebrated' the  country's 73rd anniversary of independence. As in past years, we cannot be content with the country's post-independence economic performance.
It has been far below our potential and expectations at independence when we had the initial conditions for an economic 'take off.' Instead it has been a tale of lost opportunities.
Nevertheless, our post-independence social development has been impressive with significant improvements in education, health and social amenities.
Future
It is uncertain whether the immediate future would be years of social inclusion, reduced poverty and unemployment. Economic stability and growth would be a precondition for continued social progress.
Economic performance
Sustained high economic growth has eluded the country. In the post-independence period (1950-2020). Annual average economic growth of around four percent has been disappointing. Short periods of high growth could not be sustained.
Recent economic growth
Even more disappointing than the long-term economic performance has been the recent slow economic growth of below the annual average for the entire post-independence period. The years after 2013 witnessed low economic growth ending in two years of economic decline in 2019 and 2020. Perhaps never in the history of the country has the economy been in such dire straits as today. In contrast, the South Asian region grew at seven percent.
The negative growth in 2020 is understandable as the COVID pandemic disrupted economies to unprecedented levels. Our fragile trade-dependent economy was severely shaken. However, in pre-COVID 2019 the economy had regressed by 2.6 percent negative growth.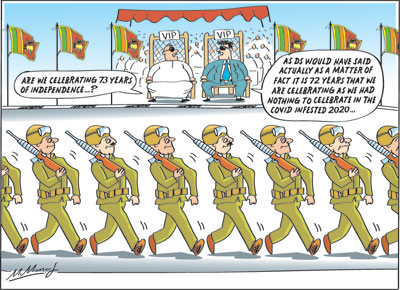 Long period growth
Even though post independent economic growth was much below potential, it can be argued that economic growth of around four percent over a long period, is not a mean achievement. However, it has been inadequate to meet the aspirations of society and was below the country's economic potential, especially considering the favourable initial conditions at independence. Economic achievements have been below the country's capacity, potential and expectations.
Economic achievements
Nevertheless, despite low economic growth, the country has had significant economic and social gains. Among them the achievements in food crop agriculture, health and education  are noteworthy.
Food production
At the time of independence, the nation imported about half its requirements of rice and many of its other food requirements. Nearly half of import expenditure was on food for a population of only seven million. Today, with a population of 22 million — over thrice that at independence — we are more or less self-sufficient in rice and have a lesser dependence on other food imports.
Tree crops neglected
In contrast, the neglect of tree crop agriculture has been a monumental folly. Tea, rubber and coconut, the mainstay of our economy at independence, as well as cocoa cultivation has been severely neglected. The declining performance of tea plantations, reduced output of rubber, coconut and cocoa are serious post independent failures.
Diversified economy
The significant diversification of the economy with agriculture constituting only seven percent of GDP, while services contributed about 55 percent of GDP and manufacturing (including construction) contributed about 35 percent to GDP is a feature of economic development. However this diversification should have been achieved by the growth of  industries and services In tandem with increased output in agriculture.
Per capita incomes
Although there has been a fourfold increase in per capita incomes, many countries that had a lower per capita income in the 1950s have much higher per capita incomes now. Poverty has declined. The official poverty count fell to 4.1 percent and unemployment was at about five percent before 2020. There is, however, a vast disparity of incomes among regions.
Human development
The most impressive achievements after independence have been in social development. The country achieved the Millennium Development Goals (MDG) set for 2015 earlier.
There have been significant improvements in education and health: literacy and school enrolment, reduction in mortality rates, an increase in life expectancy and significant improvements in social amenities such as housing, potable water, sanitation and access to electricity and telephone.
However we are reminded of the lack of these amenities in many rural areas and the government is intent on improving these in rural areas.
Life expectancy at birth increased from around 55 years at the time of independence to 75 years today and is higher for females at 77 years than for males at 72 years.
There have been significant improvements in maternal mortality, infant mortality and under five mortality. Under five mortality decreased from 560 per one hundred thousand live births at the time of independence to 100 and infant mortality declined from 82 to 8.5 per thousand by 2015.
Diseases
Most communicable diseases have been eradicated, but non communicable diseases are increasing. Illnesses associated with the country's ageing population are increasing. The current COVID pandemic we hope will be of the past when 2022 dawns.
Literacy and education
Adult literacy increased from 57.8 per cent in 1945 to 93 per cent in 2017. Female literacy improved more sharply during this period from 43.8 per cent (1945) to 92.4 per cent, while male literacy increased from 70.1 per cent to 94.1 per cent in 2015. School enrolment of children between the ages of 5-19 increased from 54.1 percent (1945) to 75.2 percent in 2016.
Human Development Index (HDI)
The Human Development Index (HDI) that is a composite indicator of development was at 0.743 (2015) and ranked 99th of 177 countries. While this ranking is above that of most countries at similar levels of income, countries in East Asia and South East Asia that were behind Sri Lanka in the 1950s and 1960s have overtaken us.
Limitations
Despite these improvements in mortality rates, literacy and school enrolment, high rates of diseases associated with poverty and poor living conditions persist. Further, the quality of health and educational services leaves much to be desired. There are also significant regional disparities and urban rural differences.
Social development
Notwithstanding these qualifications, there is no doubt that the country's social and human development indicators are impressive. This comes out clearly when comparisons are made with other developing and even some developed countries.
However, progress in social indicators could have been much better in recent years, if economic growth was more rapid.
Reasons for underdevelopment
The reasons for the inadequate economic performance are many. These include the ethnic violence and civil war, distraction from economic concerns to political and cultural issues, the frequent changes of government and the consequent changes and uncertainty in economic policies, preoccupation with politics and religion rather than a serious concern in economic development.
Concluding reflection
On the 73rd anniversary of independence, the country is experiencing slow economic growth and is in a foreign debt crisis and a middle income trap. The country is caught up in a political structure and a social and cultural milieu that is not conducive for rapid economic development. A strong resolve for development that transcends the constraints to rapid economic development are imperative.