We aren't playing well under pressure
View(s):

Earlier this week, we were in with a perfect chance to square the two-Test series against England and collect valuable points in the World Test Championship. But a session full of madness where we lost six wickets for not many saw us losing the series in dramatic style. I am lost for words with our batting approach. It was an embarrassing performance.

I can see a lot of pain in our fans. People take lot of pride in our cricket and when they come and tell me that they don't want to watch cricket any more, it's a bad sign. However, I live in hope. I hope for the day when we regain our glory days.

In sports, winning and losing are part and parcel of the game. But what is hurting is the manner in which we are losing. Our lack of fight, pride and the casual approach has been disappointing.

We simply did not bat well. There was turn by day four in the second Test but it was not unplayable turn. It wasn't as if the ball was misbehaving. England in their second innings showed how to do it; no undue risks and put the loose balls away. They did the simple things right.

It is clear now that we are not playing well when put under pressure. There's no way that we could have lost the second match after nearly posting 400 runs. A first innings total of 381 in Galle is a match winning score. We just had to bat two and half sessions in the second innings and that would have put the pressure back on England.
There is something wrong with the way we play spin. All players cannot have the same approach for spin. If you take me, I would try to rotate the strike picking up the singles and put the bad balls away. If you take someone like Marvan, with whom I formed a successful opening combination, he would want to use his feet, get to the pitch of the ball and play. Someone like Aravinda would like to play spin on the back foot.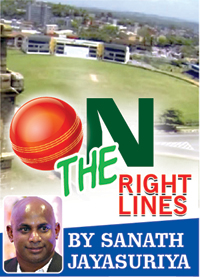 England had a different approach altogether. They were happy to sweep or reverse sweep and that upset the rhythm of our bowlers. Our spinners were then forced to alter their lengths and eventually played into England's hands.
I don't think we had a proper plan against spin. It looked to me that we wanted batsmen to take responsibility and that didn't work.
Another thing that I noticed is that our team didn't have balance in both Test matches. Our combination was wrong for both games.
We played two off-spinners in the second Test when England had six right-handed batsmen. That was the wrong choice. I have no idea why Lakshan Sandakan was left out and the story that he is leaking too many runs is not a sound argument. In Test cricket you don't worry about conceding runs. All wrist spinners will go for runs but he will buy you wickets. He is one of the players we had identified as one of our future prospects. He played a huge role when we whitewashed Australia 3-0. But he's been kept out with some lame excuses.
We also need to make a decision on Dilruwan Perera. Are we going to persist with him or are we going to look elsewhere.
Our choice for number six slot has come under intense criticism. My thought is that we need to get a proper batsman at number six as that's a pivotal position. If there's a collapse, he is the guy who battles hard with the tail to get us to a decent total. In recent times we have had too many collapses and it's high time that we back someone like Roshen Silva.
I am also surprised that Vishwa Fernando was overlooked for both Test matches. A left-arm seamer gives you so much cover as he is able to create angles and trouble the batsmen. He was in good form too having taken a five-wicket haul in his last Test match. Selections for this series had no logic.