Mr. Reliable
By Naushad Amit
Embuldeniya calmly engineers spinning out rival batsmen after opting cricket over degree
View(s):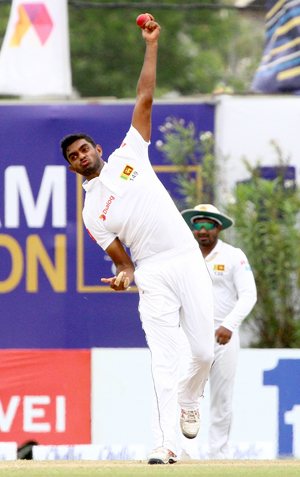 Lasith Embuldeniya was not that star cricketer when he played for Royal College, but whenever he took the responsibility to deliver his left-arm spinners, the now 24 year-old has never failed to impress. His fortunes and fate would have taken a different path had he opted to pursue his craving for Software Engineering and Mathematics. If so, Sri Lanka cricket would probably still be rotating options for a suitable replacement for the ever-reliable Rangana Herath.
Fortunately, for Embuldeniya and Sri Lanka, the youngster decided to try his luck in cricket, a result that would come in as handy and timely. From Royal College to Nondescript Cricket Club (NCC) and then the Sri Lanka Test side within a span of five years, Embuldeniya probably has begun to prove that he is truly a class of a different stature.
The 5 foot 7 inch youth, who is known to be a gentle human even at school level, continues to gather pace, or perhaps spin, for a cricketing journey that could have a fairytale ending some day. But Embuldeniya firmly believes in learning, a practice that earned him the present Mr. Reliable title in spinning.
"I do a lot of net bowling. That has been a regular routine at practice or even on a rest day ever since I could remember. I usually bowl at least one hour, the least. By doing that I could only get better as a spinner," Embuldeniya says.
In the recently concluded Test series against England, Embuldeniya captured a tally of 15 wickets, including a 7-wicket haul and earned two bunnies — Dom Sibley and Zak Crawley — who were dismissed by him three times each in four meetings. His 7 for 137 in the English first innings of the second game at Galle, comes as Embuldeniya's best in Test bowling and by far comes as one of the best wicket hauls in the recent times.
So far Embuldeniya has three 5-wicket hauls and sits with 45 wickets in just nine Test matches since making his debut on February 13, 2019 against South Africa in Durban. The then 22-year-old enjoyed his baptism of fire with a five-wicket haul, in a memorable outing where Sri Lanka secured a thrilling one-wicket win chasing 304, entirely depending on the shoulders of Kusal Janith Perera. Embuldeniya became a part of the historic moment when Sri Lanka recorded their first series win against South Africa by 2-0 in Tests, away from home, a week later.
As for now, Embuldeniya has the clear potential of claiming another record. He easily has two more matches to become the fastest Sri Lankan bowler to reach 50 Test wickets where presently, his senior bowling partner Dilruwan Perera is the only Sri Lankan in the list, next to Ajantha Mendis. Perera had to play 11 Tests to reach the milestone in 2016, and Mendis reached the feat in 12 Tests in 2010. Embuldeniya is well aware of what he is about to achieve, but still he firmly believes in sticking to basics.
"I have three five-wicket hauls by now. I know that I can reach 50 Test wickets in the next or following game, but still I'm not totally focusing on those kind of achievements. I really want to become that bowler, who claims wickets every now and then, and the bowler every batsman would respect and be vigilant about. When you genuinely play your role, others will simply follow, including records," says the soft-spoken giant killer.
Unknown to many, Embuldeniya has had some memorable seasons for his school team, Royal College during his peak as a school cricketer. Though he was not that of a star brand then, he claimed 75 and 121 wickets during his two final seasons for Royal. As for Sri Lanka now, Embuldeniya would come into bat at No.8, but steadily contributes to his batting partner at the other end, a role he similarly did top-scoring with 40, while Sri Lanka collapsed for 126 in the second innings of the second Test against England.
"Tailenders are not dead-enders. I have batted with great patience and with a straight bat whenever I walk down to the middle. On that day (against England) I did the same. I must firstly understand that I'm part of the team and I have to play my role, not only as a bowler. My role as a batsman is to help build a decent partnership," he added.
True to his words, Embuldeniya always respects his opponents, even though he would plot to claim them as victims. In 36 first class games, Embuldeniya has claimed 187 wickets, inclusive of 15 5-wicket hauls and five 10-wicket match bags.
Through his 45 Test wickets, he is never seen celebrating overly or engaging in any sort of conflict with the rival batsmen. Instead he cherishes his freshly caught fish, sporting a modest smile while his team-mates display their excitement or desperation in huge doses. This is one fashion Embuldeniya inherited from his parents, who were broadminded to give him the freedom to choose his future path.
"I have a huge obsession for mathematics and software engineering. I even won a scholarship to do a degree in New Zealand soon after school, but that was the time when cricket crossed the path. Obviously any cricketer dreams of representing the country one day, and I never thought I would be lucky enough to wear the national kit so soon, and then become a spin bowler who can rely on. But I had to consult a few experts, including my parents, to clear my mind of what I would do in time to come," recalls Embuldeniya of the crucial point in his life.
Embuldeniya had to have open chats with Avishka Gunawardene, his coach at Royal who later became Sri Lanka 'A' coach, the then NCC coach Sajith Fernando upon Shane Fernando's recommendation, the two Gamini Pereras who got involved with cricket coaching at Royal. All had said to 'give it a try for at least two years and if it fails continue the degree'. His parents, who were in a dilemma, too were finally happy with the decision Embuldeniya made to choose cricket over his passion in software engineering.
Unlike many young cricketers nowadays, Embuldeniya grabbed the opportunity and firmly grabbed his chances on his way as a versatile spinner during the past two years. He enjoys the perk of being the next thing in spin bowling of the Sri Lanka cricket team, a position the legendary Muttiah Muralidaran held for many years and Rangana Herath held on to after the Murali era.
Embuldeniya is well aware of where he could end up and what he could achieve in years to come as a spin bowler in the world. But as he explained early, nothing comes on platters, though it's really not the case with the present Sri Lankan set-up. All what Embuldeniya did was — do the basics, bowl to the line and length, do little bit of variations here and there, land the ball on the perfect spot and read the wicket — while practicing regularly, if not daily to become an effective spinner. His height comes as an advantage, while with experience and daily learning, Embuldeniya has become an expert in spotting the cracks of the pitch and making maximum use of it.
"You never stop learning. It's the same even in cricket. I've just played 36 first class matches and I have a long way to go. On the way there's a lot I have to learn and gain. But what I have become during this short time is something I really can be proud of. My commitments have paid off so far and I would genuinely want to reach the next level. For that I must learn with every step forward and by even the slightest setbacks," he explains.
From beginning his cricketing journey at Royal, and to training at Bloomfield C and AC for a couple of days before deciding to settle down with NCC, and then to earn a permanent slot in the Test team, Embuldeniya has many goals set, after his path took a different turn few years ago. One of his many goals is to claim five-wicket hauls against all Test playing sides, and also record 10-wicket match bags. On the way he intends to rack up 400 plus Test wickets or probably more by the time he winds up playing.
Though cricket has brought him fame, back in his mind Embuldeniya still holds the desire of completing the degree in Software Engineering. He very well knows now is not the time for that, because now he is Lasith Embuldeniya, Sri Lanka's 149th Test cricketer.