Lokuhettige faces sanctions after Tribunal finds him guilty
cricket
View(s):
Former Sri Lanka cricketer Dilhara Lokuhettige faces sanctions after an ICC-appointed Anti-Corruption Tribunal found him guilty of three offences under the ICC Anti-Corruption Code. However, the Tribunal gave a divided opinion on the question of the ICC's jurisdiction over a matter of domestic relevance.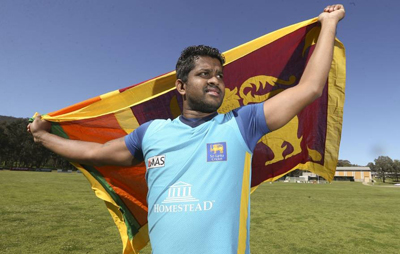 While Chairman of the Tribunal Michael J Beloff QC and Justice Winston Anderson have concluded that the ICC has jurisdiction to bring charges against Lokuhettige, Simon CG Copleston, the third member, has disagreed saying that, "The ICC has no status to apply its jurisdiction other than via contract, and any agreements on a domestic issue".
"The ICC does not administer, organise or offer the domestic league in Sri Lanka," Copleston has observed.
There is also strong opinion that, as an international federation deals with national federations and athletes the world over, it must treat them equally.
"The Tribunal must therefore reject Mr Lokuhettige's principle submission, that the question of ICC jurisdiction and charges against him must be adjudicated upon in accordance with Sri Lankan law applied under the Sri Lankan regime, for the same reason that similar arguments were rejected in the case of ICC vs Zoysa," the report reads.
Lokuhettige, who played nine ODIs and two T20 international for Sri Lanka, is now domiciled in Australia. This was a key objection raised by Lokuhettige's Counsel Chrismal Warnasuriya during the proceeding which commenced in November 2018.
Accordingly, the Tribunal concludes by a majority that the ICC has jurisdiction to bring the charges against Lokuhettige and that this Tribunal has jurisdiction to adjudicate upon those charges. It upholds the charges brought against Lokuhettige by the ICC Anti-Corruption Unit.
The Tribunal has unanimously established that Lokuhettige was the recipient of corrupt approaches by an unknown match-fixer which he has failed to report — a violation of the ICC's Anti-Corruption Code. They have also established that, pursuant to the approach, Lokuhettige has approached an unnamed Sri Lanka international cricketer to assist in fixing international matches in 2017 and another Sri Lankan international player to fix a T210 Cricket League match that took place in Sharjah in December 2017.
According to evidence given by the player whose help was sought by the accused to fix international matches, he had made the approach somewhere in September 2017 (date has been redacted) during a mercantile match where Lokuhettige said he would get him into upcoming international T20 matches if he is willing to concede 12-15 runs in an over in exchange of 'rewards'. The Tribunal was satisfied that this corrupt approach was part of Lokuhettige's wider dealings with the said match-fixer.
Lokuhettige has made the second approach on November 19, 2017, to another Sri Lankan cricketer who was representing a Sri Lankan side taking part in a T10 league that took place in December 2017. Evidence of these approaches has been placed before the Tribunal.
According to the 32-page decision, Lokuhettige has admitted to his failure to report a corrupt approach made by a fixer. However, he has argued that he was under no obligation to report as he had retired from cricket.
The four main elements of Lokuhettige's defence to the substance of the charges were tampering with evidence, the inadmissibility of the evidence, a conspiracy by ICC and Sri Lankan politicians to persuade the two players to lie and the weight of evidence as the evidence of two plyers are inconsistent with his own.