Desperate Journey?
View(s):

This phrase has been heard over and over in recent times with mass migration of people crossing continents on foot for better life. Survival instinct is a strong motivator in man. Right now, tennis and sport on the whole, are under the threat of the virus striving for survival. It is forcing professional sportsmen into desperate journeys, such is the global appeal for sports as participants and spectators.

Unprecedented arrangements and effort has been thrown into, to stage the Olympics in Japan. Football, cricket and a few others are on the same footing. Many have succeeded in staging events to successful completion. Like in all battle fronts we have registered casualties. Virus has restricted sports and the desperate journeys continue. It is to the Australian Open now.

Professional Tennis Calendar

Abu Dhabi staged a WTA event bringing in WTA-ranked players to play the event with arrangements for all known risks. Players did undertake the desperate journey. Aryana Sablenka took the title, Sakari came to be known last year and proved to be up and coming when she beat Kenin and reached the semi-finals.

Staging the Australian Open is the challenge now for tennis. It is the first of the four Grand Slam events for 2021, usually in the second half of the month of January. Now in February this year, Australia did not have it easy with the virus. Lockdowns, travel restrictions and multiple break downs is placing the Australian Open to be staged under extreme restricted conditions.

Quarantine

One such precaution is quarantine procedures. An arrival into Australia will have to go through 14 days of isolation. Any player not practicing for 14 days, kept in a hotel room will come out traumatised and ill prepared for a big event. In as much our sympathy goes out for them, Australian authorities have a greater responsibility towards their citizens and the world. Situation and arrangements are affecting all concerned emotionally and physically. It is placing another challenge to players. Many, I feel, will not go for the event. It is not only travel to Australia that is irksome, returning home can be equally bad.

Can it be safe?

Globally more than 100 million are infected. That is over 1% of the world's population. The chances of any international flight having an infected person is very high. The tennis players' flight to Australia had three. Flight cabins are an enclosed space. A high risk factor situation. The world is watching Australia for a safe Australian Open. How will it be done will be a difficult question to answer. Already spectators are not allowed or restricted. Desperately vaccine with emergency certification are being administered worldwide, as to their effectiveness. Only time will tell.

Let's get down to learn tennis

Let us return to playing tennis. Tennis like in all sports is about placing and facing a challenge within the same time frame. A notion not easy to grasp unless one takes a little time to contemplate. In the development to play tennis, the court being a constant to all players, the challenge is in handling a racquet comfortably, coordinating to an oncoming ball, timing of the swing for a good contact are the challenges.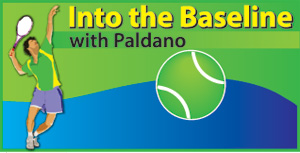 To evolve as a good stroke maker for a regularly built person, slicing the ball, that is the giving under spin to the ball is the 'easiest'. It will provide necessary power and ball control. In the wooden racquet and clay court era, players prospered using the slice technique even in the professional events.
Least dropout approach
The best path for stroke-making is acquiring the slice first and then flat and top-spin. In my opinion Roger Federer and Pete Sampras are from such development. This development encourages players to swing the racquet to generate power. A method that can give very early success even with juvenile muscles and avoid much of the arm and back injuries in later years, playing the game. Many good coaches have advised this to the associations in Europe.
There are two other tactical advantages in slice, flat and top spin progression in development. One is the ability to play from all positions of the court. Volley at net, half volley from mid court, ground strokes from the base line and have all the service variations. The other advantage is the use of only two grips to execute all the tennis strokes in the book. The current trend of mid-western grips for a player is a saga of eternal change-of-grip for every change in court position. Although not known, hordes of beginners give up tennis, with western grip stroke making a start. Change of grip during play is a bitter pill to swallow. In modern jargon, it is a tough call and not cool.
For the eastern build slice, flat, top spin is the best option. Competition experience will add the pace to take on international / professional challenges. In this aspect the ITF (International Tennis Federation) approach has been questionable. Many experienced coaches have voiced this.
Winds of change must come
It is over 100 years since the last pandemic and nearly 80 years since the World War II. Good few generations have not experienced adversity. Even the face mask has been a cause for revolt. My sincere good wishes for a great 2021 Australian Open.
  - George Paldano, Former Intl. player;Accredited Coach of German Tennis Federation; National coach Brunei and Sri Lanka, coached ATP, WTA and ITF top 200 ranked players, Davis Cup, Federation Cup coach.  geodano2015@gmail.com