Tribute to the school that nurtured, moulded and shaped them
View(s):

The Stories of Us– Coffee Table Book from the Ladies' College Batch of 1983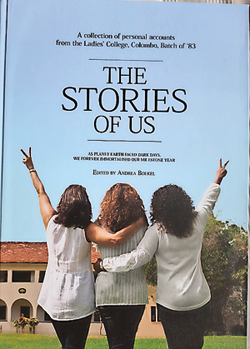 A Coffee Table book – The Stories of Us was recentlylaunched at Maniumpathy, by the Ladies' College Batch of 1983.  The 55th year of life for these ladies promised to be a momentous occasion as elaborate arrangements were being planned as far back as 2018.  These plans had to be sadly scrapped as COVID-19 gripped the world in a cycle of fear and uncertainty.  Social distancing meant that no holidays together, parties or gatherings would be possible.
An 'Editorial Team' was formed and it was decided to commemorate their milestone year with a Coffee Table Book called The Stories of Us – a compendium of life tales from the 55 ladies who formed the Batch of 1983. Now 55 years old and scattered around the world, they shared their stories through childhood, school years, adult years and finally, middle age, through a series of questions and answers.
The stories pay tribute to Ladies' College, Colombo – the institution that nurtured them, moulded and shaped their careers and characters and taught them that in a world where gender stereotyping abounded, nothing was impossible.  This is evident in the many career paths the ladies of the Batch of 1983 have forged
The stories of doctors, scientists, artists, aerospace experts, businesswomen, forest dwellers and homemakers are told with candour and tenderness.  Accounts of childhood struggles, adolescent uncertainties, family joy and tragedies, separation from loved ones in other countries and reaching the top of their chosen careers form the content.  What emerges is the gutsy and intrepid spirit that runs through these women who trod many a rocky path to reach middle aged contentment.
The Editorial Team was made up by Roshini Madanayake-Perera, Chitrani Wickrama-Adittiya and Pushpika Mapagunaratne Nanayakkara.  The volume was edited by Andrea Boekel and Jayden Ferreira and Kevin Lettendre were responsible for the beautiful photography and design.  Irushi Tennekoon also delighted with her creative doodles. The volume was produced with funds collected from the Batch of 1983 and was for private circulation.  It was a defiant testimony that even when circumstances prevent plans from being realised, they  could rise above that because as girls, they were taught that women are inherently courageous and determined.