Letters to the Editor
View(s):

13 A: An agreement signed under  mental and physical duress

I served in the Sri Lanka Air Force for almost 30 years and retired in 1990. I was the Director of Ground Operations from 1980 to 1987. As the title indicates, the security of all Air Force Bases and Stations was under my purview. This obviously included Palaly, Jaffna.

On the morning of June 4, 1987, the Officer commanding Palaly contacted me by phone and said that there were unidentified aircraft overflying the area. I was aware that a couple of days prior to this, the Indian authorities attempted to send a flotilla of boats purportedly carrying food items which they said were for the starving population in the Jaffna peninsula. Our Navy fairly swiftly repulsed these boats.

I instructed the Commanding Officer to block the runway. A couple of hours later he called to say that the Indian Air Force transport aircraft escorted by fighter aircraft (which I subsequently heard were Mirage 2000) were in the process of para dropping supplies to the Jaffna area. The Air Force Commander who had been summoned to the Ministry of Defence called me to inform Palaly that our aircraft which in fact were only helicopters were not to get airborne.  I requested permission to get a helicopter airborne to video this gross infringement of our air space. He very curtly told me "nothing is to get airborne".

He returned to Air Force Hq a little later and summoned me to his office. He produced a publication listing the capabilities of the Mirage 2000 fghter bomber. He explained that the armament carried in these four aircraft had the capability of flattening almost half of Colombo. Needless to say all of us were thoroughly disgusted with ourselves on being bullied by India. At this stage it is very relevant to mention that sometime in May that year the Army under the command of Major General Denzil Kobbekaduwa and Brigadier Vijaya Wimalaratne had broken out of their defensive positions in the general area Vadamarachchi and were steadily advancing towards Jaffna city which was dominated and held by the LTTE led by Velupillai Prabakaran. The Government of India very unequivocally told our President J.R. Jayawardene to cease this operation or face dire consequences. He had no option other than to order the ceasing of this advance which, of course, had Prabakaran in its sights.

In hindsight, it is emphasized that in this period between mid 1987 and the anhilation of the LTTE in May 2009 (22 years), the direct and indirect war casualties of our citizens exceeded one hundred thousand. Surely is it not logical to place the responsibility for this human tragedy at the feet of our so-called "Friend" India?  Is it any surprise that the rest of the country was helplessly seething at this undisguised interference with our sovereignty

In late July, we were informed that the Prime Minister of India Rajiv Gandhi was to arrive in Sri Lanka to sign an agreement with us. He did come, and the infamous accord was signed. Our country went up in flames due to the activism of the Janatha Vimukthi Peramuna (JVP). They assassinated the Member of Parliament for Tangalle,  Jinadasa Weerasinghe. I was ordered to proceed to Hambantota and assume duties as the Cordinating Officer.

I drove to my home in Negombo that evening to collect my personal items with the intention of proceeding to Hambantota the following morning by helicopter as all roads were blocked. En route to Negombo that night I dropped in at our International Airport. It was all agog with Indian Air Force aircraft. The impression was that the Indians had taken over the airport.

Our President at that time J.R. Jayawardene was being unmercifully criticized for signing the "Accord" viz the 13th amendment to our constitution.  The reality is that he had no option other than to sign it. If he had refused, there is no doubt in my mind that the Indian services would have invaded our country and we would have been another state of India.

Much water has flown since then down the Ganges and our Mahaweli. Over three decades have passed and the Governments of both countries changed. To my mind by what stretch of imagination is an agreement signed under mental and physical duress valid as per International law? The Vienna Convention of the Law of Treaties 1969 which presumably both India and Sri Lanka would have signed clearly indicates the grounds on which the validity of the accord may be challenged. In keeping with the doctrine of Sovereign equality, Article 52 VCLT provides that a treaty procured by "coercion of a state" will be void.

We have had these so-called "Provincial Councils". Have they been of use to any of the nine Provinces except perhaps to their membership and a few others? In such a situation, is it not both prudent and logical to do away with these colossal "white elephants" that will be a drain on our already depleted finances?

Pending a determination by an International Court, it is quite reasonable and logical that this vexed problem which was "thrust down the throats" of our then legislators must be resolved. Hence, these elections to the nine Provincial Councils should be held in abeyance.

Air Vice Marshal (Retired)  A.B. Sosa   Via email
---
With bowed heads  we remember and sigh
Central Bank bombing – 25th anniversary
31st January 1996,
an unforgettable date
Central Bank employees,
as usual, at work
The morning blasts
across their fate
To kill, maim and blind their future.
Remembering now -
Myriad memories of aches and soul searching
Ethnic politics splintering our lives.
Will they ever learn
fair play?
Dirty politics is the name of the game.
With bowed heads we remember and sigh,
Our lives shaken,
for the lost souls
We cry.
Central Bank pensioner    Via e mail
---
Stray cattle  a nuisance on public road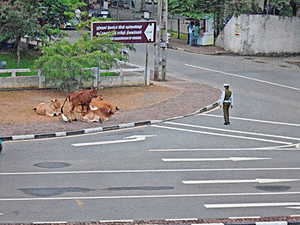 Cattle belonging to residents in the Sri Subhuthipura Road in Battaramulla opposite the Sethsiripaya and Suhurupaya buildings where the Immigration and Emigration, Registration of Persons office and several important government offices are located often frequent the area. This is a public nuisance and a hazard to pedestrians and motorists by day and night.   Cow dung is also to be seen frequently in this section of the road.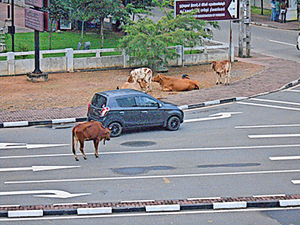 At night the intersection is poorly lit and the presence of cattle is an obstruction and hazard to motorists.   Since this is a busy road intersection, policemen are also engaged in traffic control.  The police officers on duty in the day time are oblivious to the presence of cattle.  According to the section 63 subsection (d) and (e) of the Police Ordinance it is an offence to let cattle stray on to public streets and roads.  Section 64 of the same ordinance empowers the Police to seize stray cattle and file charges against the owners.
With the COVID-19 pandemic, local police are no doubt busy assisting the health authorities. However since the area is being manned by dedicated traffic police personnel, they could be alive to this and take suitable action to get rid of this nuisance.
Wazir Sourjah   Battaramulla
---