Latest gastronomic experience at Cinnamon Grand
By Sashini Rodrigo
View(s):
The newest addition to the family of restaurants at Cinnamon Grand Colombo is all about celebrating togetherness and ensuring that there is something for everyone at any time.
Launched in mid-January, 'Plates' is a 24-hour gourmet dining venue offering a wide selection of multi-country, multi-cuisine dishes.
With the airport opening up for tourists, it seems to be the right time to kickstart the local culinary scene once more and "awaken the interest of tourism in Sri Lanka", said General Manager of Cinnamon Kamal Munasinghe at the launch.
Operating 24 hours a day, guests can enjoy a variety of international flavours in a single venue, in the comforts of the sleek, contemporary indoor seating area or in the tropical alfresco dining section.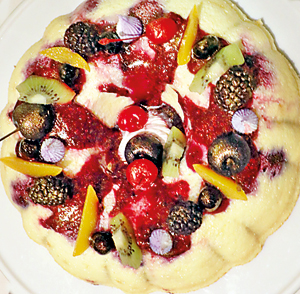 From continental fare to cuisines closer to home, Plates offers a variety of gastronomic experiences from buffets to a la carte dining, special children's menu and an extensive beverage offerings including wine and cocktails. The late night snack menu also includes hand-picked selections from the a la carte menu.
The international breakfast buffet includes continental, American, Sri Lankan, Indian and Japanese fare, while the lunch and dinner buffets add Far Eastern, Mediterranean, Arabic, carveries, pasta station, a live pizza oven, salad bar, and desserts with an action station. For something lighter or healthier, a salad-and-dessert-bar only option is recommended.
Plates' special Sunday brunch includes all the above and more, including a smorgasbord of seafood, Shawarma and Mongolian counters, an extensive range of carveries and grilled meats and a chocolate fountain adding to the dessert bar.
Adhering to stringent COVID-19 guidelines as directed by the Government and the Ministry of Health protocols, Plates has a total seating capacity of 163, with the deck area seating 41, while all guests are subjected to strict health and safety protocols.
For more details
and reservations, call
+94 (0) 112 497 377-8.