'Freaky' first major blockbuster thriller movie after pandemic
View(s):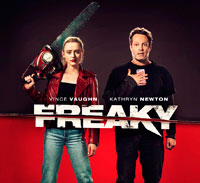 'Freaky', a  slasher thriller by 'Happy Death Day' famed director Christopher Landon is the one of the major Hollywod movies released after Covid-19 pandemic here. It is now being screened at the Liberty by Scope Cinemas, Colombo City Center, Savoy -Colombo and Rajagiriya, Majestic Ultra and a number of other theatres around the country.
Starring Vince Vaughn, Kathryn Newton, Katie Finneran, Celeste O'Connor, and Alan Ruck, the film centers on a teenage girl who unintentionally switches bodies with a middle-aged male serial killer. Jason Blum serves as a producer under his Blumhouse Productions banner.
Four teenagers are brutally murdered by a serial killer known as the Blissfield Butcher, who then steals an ancient dagger known as La Dola. The next day, bullied high school student Millie Kessler attends the Blissfield Valley High School homecoming football game, where she performs as the school mascot. As Millie waits for a ride home near the now-empty school, the Butcher attacks her. He stabs Millie in the shoulder with La Dola, causing an identical wound to instantly appear on his shoulder. Millie's older sister Charlene, a police officer, arrives and scares off the Butcher. The police collect La Dola as evidence and initiate a manhunt for the Butcher.
The following morning, the Butcher and Millie discover that they have switched bodies, and they both make their way to Blissfield Valley High School. At school, the Butcher, now posing as Millie, kills Millie's chief tormentor Ryler by locking her in a cryotherapy tank in the girl's locker room. He realizes his innocent appearance grants him immunity from suspicion and murders woodshop teacher Mr. Bernardi, another one of Millie's tormentors, with a table saw. Millie, now in the Butcher's body, finds her best friends Nyla and Josh and proves her identity to them by performing the school mascot's dance routine and answering a series of personal questions. Nyla and Josh research La Dola and discover that Millie must stab the Butcher with the dagger by midnight or else the body switch will be permanent.