Expressing herself through words and melodies
By Joshua Surendraraj
Shehara Jayatilaka Napoleon talks to the Mirror Magazine about her recently released official music video for 'Fidelity', which is the final track off her album
View(s):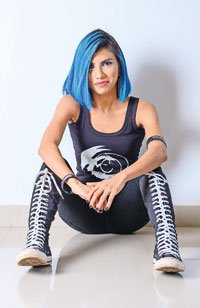 The ability to understand the beauty in every moment, and the importance of each lesson, has been an exciting aspect in Shehara Jayatilaka Napoleon's musical journey. From having to learn new skills to building a brand from virtually nothing — it took every bit of confidence, courage and a group of wonderful people around her to release her debut album 'Fountain of Memory' back in September 2019. More recently, Sheharaha released the official music video for 'Fidelity', which is the final track off the album.
Her music comes from a place of deep emotion and a plethora of feelings, she tells us. Shehara always felt that physically expressing one's hurt did more harm than good. Shehara would turn to the pen and paper, with the songs just brewing in her head.
"I expressed myself through words and melodies and it helped me heal," she tells us.
The epitome of anger to her was always "Fire! Lots of fire!". However, what she loves about fire is the fact that it also represents rebirth and purity. On this note, the video features a roaring fire, honest emotion and the simple message that if "we don't go within to confront our inner demons, the world as we know it, would crumble."
Shehara has always enjoyed getting creative with everything she does in life.
 Similarly, she had several ideas when it came to directing this new  video. Her initial plan was to include scenes of the entire band playing in front of a giant fire in the jungle, together with studio shots of them performing.
However, though a few takes were done prior to the lockdown, as the pandemic situation got worse, she decided to record the rest of the video in the safety of her home. This turned out to be much better than her initial plan, she says.
The process in itself was fun, she tells us, especially so when it came to the storyboard for the track.  "I had many crazy ideas, with the right people on board to make it possible," she recalls adding that these ideas were simple ones, with an end goal of using them in a creative manner.
Shehara was also happy to be given the opportunity to work with Shameem Ismail and Thahani Mohamed, who filmed the video, Ramona Abeyewardena, who was behind the makeup and dressing and Destiny by Minoli who supplied the hand knitted Phoenix dress worn by Shehara in the video.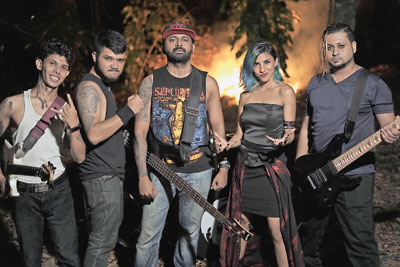 She was fortunate to work with her husband Tennyson Napoleon, the lead/ rhythm guitarist of Stigmata, who helped her write the music for 'Fidelity'. The track was then recorded with Azlan Sherriffdeen and Izzy Wildchild. Shehara is grateful to her band which includes RewanJayatilaka (Rhythm Guitar), Izzy on lead, Dimitri Cooray on bass and Ash Lanthra on drums. Ash also co-edited the video with her, and helped design some of the promo work.
'Fidelity' features Shehara's signature extreme vocals. She recalls the recording process being fun and energetic, which resulted in a powerful two minutes and 37 seconds. Her musical influences for this particular track were primarily Eminem and Metallica, who she grew up listening to. Though in general, she draws influences and inspiration from bands such as Death, Devildriver, Devin Townsend, Iron Maiden, Gojira, Meshuggah, Pantera, One ok Rock, and even artists like Celine Dion and Shania Twain.
Shehara says that she is honoured and humbled that 'Fountain of memory' is the first Metal album to be released by a female in Sri Lanka.
She feels fortunate that it was received well by the metal community and has had people make reference to it, whilst introducing Metal music to those who haven't given the genre a chance yet.
 "It's become somewhat of a gateway album and that's exactly what I wanted; to show others the beauty of Metal and the fact that I got to do that is something I'm very grateful for," she says.
Though the Covid-19 pandemic has taken its toll on artists, both creatively and professionally, it takes courage and a firm belief in one's ability to face the negative situation.
Shehara's personal philosophy is based on her never giving up, no matter what comes her way. It is her determination to achieve what she sets her mind and heart on, while always striving to help those who have helped her. That has kept her going during this time.
"The pandemic had us cancelling shows but, I'm blessed to say that all the plans I had by then were all executable digitally," she tells us.
 On this note, Shehara also launched her online store www.sh3hara.com, which sells merchandise for many local acts, as well as digital copies of their music. It is her hope that this platform will enable Sri Lankan artists and bands to earn more than what they make on other digital streaming platforms.
Off the stage and camera, Shehara is a loving mother to two boys, who inspire her on a daily basis. Through them, she has learned so much about life, herself and also the ability to be more patient.
"The best part has been noticing my weaknesses and coming to terms with my past trauma in order to be a better person. They've helped me unlock many levels in life," she says.
The apple has certainly not fallen far from the tree and music (particularly metal) is strong in the Napoleon household. While her eldest son enjoys drumming, her youngest son enjoys screaming to the music. "It's a proper metal show sometimes," Shehara tells us with a chuckle. "But the best part is being able to appreciate all kinds of music and headbang together when we really need to."
The music video for 'Fidelity' is a combination of passion and hard work. It can be viewed on her page at- youtube.com/Shehara.
Her music video 'Loved for Eternity', which was released in August last year, could also be viewed on the channel.