Cementing her creative flair
By Anoushka Jayasuriya
View(s):
"When someone thinks of cement, the first thing that comes to mind is buildings or drains or massive structures but I use it to create something so delicate, but so strong on the inside,"  says 25-year- old Sandra Vishudi who launched her new business, Cement Crafts, last year.
Interested in art from her childhood, making crafts and cards for her loved ones as a hobby, Sandra however had a different future planned. Studying Software Engineering, it wasn't until reaching her final year in that programme that Sandra decided it was not her line. She enrolled for a course in Fashion Design and has not looked back since. "I followed my dreams and my passion," she says, "I didn't let anyone else tell me what to do."
Cement Crafts has a range of decorated cement pots, cement wall hangings, jewellery holders, coasters and most recently, canvas paintings in cement. As a self-taught artist, Sandra made use of YouTube tutorials and other social media to guide her. A more personal source of assistance is her brother, an engineer, who's helped her with designing her brand's logo and selecting suitable materials to make her products.
Cement unexpectedly became Sandra's choice of material during the nationwide lockdown last year. Excited to celebrate her sister-in-law's birthday but unable to shop for a gift, Sandra used her talents to make a gift by hand instead. She was able to create a set of her, now signature, coasters as a gift. Since then, Sandra has experimented with cement in different forms. Cement coasters are more durable than wooden coasters while being able to absorb condensation and are easy to clean, she says.
Her brother urged her to continue experimenting as her regular lectures were on hold. With five months off from University, she used this time to practise her new craft.
Taking inspiration from all around her, Sandra says, "I am mostly inspired by nature and natural things. In a day and age where plastic and polythene is used for everything, I wanted to create something more sustainable and durable." Her work features intricate floral designs, picturesque coastal or aquatic scenery, lush greenery and more.
Some of her creations can take 4-5 days – a single coaster can take this much time to complete
The cement coasters have become her favourite. In the six months since first starting the business she's made more than 1000 coasters to date. "You learn from every design you make. Your next product will be better than your previous one – we all are born creative and it takes practice to know what we are  capable of."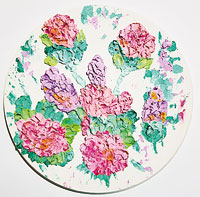 Runnung her own business is time consuming but her favourite part is receiving customer feedback. "I have customers who are like family to me," she shares.
Her biggest source of support throughout has been her family- her parents and her older brother who recognized her talent and encouraged her to share her gift, appreciating her creativity while being her 'biggest critics', a much needed combination that pushes Sandra to go even further.
Follow Cement Crafts on Instagram @cementcrafts_sl