Dr. Jayatissa de Costa, PC completes 50 years at the Bar
View(s):

Dr. Jayatissa de Costa, PC, LLB (Cey), LLM (Lond) and PhD (Colombo) had an impressive 50-year career as a practising lawyer. He did not confine himself to legal practice.  He taught law at Sri Lanka Law College and had the distinction of supervising PhD programmes in a British University of Solent.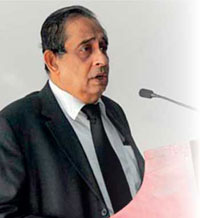 Later, he served as principal of Sri Lanka Law College.  He also served in the Board of Governors of the Lakshman Kadirgamar Institute for International and Strategic Studies.  He was Deputy Chairman and Chairman of the Public Utilities Commission of Sri Lanka from 2002 to 2013.
I met Dr. de Costa at the Museum Library almost 50 years ago.  At that time, I was a student of at the Colombo Law Faculty.  I was impressed that he was intending to sit the Final Year at Sri Lanka Law College and the Colombo Law Faculty Final examination at the same time.  He had to answer 17 three-hour papers within 30 days.  He was successful in both examinations in one shot and he demonstrated his capacity to meet the challenges with success.
He started practising in Colombo and also in Horana.  He decided to establish the Sinhala Law Institute to teach law in Sinhala in the early seventies.  He called me to assist him in this endeavour at the Alexandra College, Colombo 7 which was run by late Douglas Weeramantry at that time.  Other Lecturers at the Institute were Dr. Palitha Kohona, Nimal Siripala de Silva and the late Athula Anthony.  It was a roaring success and I earned many times more the salary I received from the Legal Draftsman's Department.
He is the lawyer who has contributed the largest number of articles to press on legal, political, social and scientific matters in this country.
In 1975, he entered the University of London to do the LLM degree under the supervision of Prof. James Reed and Prof. Eugene M. Cotral in comparative constitutional laws of the Commonwealth. In addition, he has followed courses on Principles of Civil Litigation under Prof. I.H. Jacob QC and courses in criminology at King's College.  He was awarded a grant under Edvina Mountbatton Trust.  Later on, he obtained a PhD from the University of Colombo.
Dr. de Costa not only taught law, but also published many books in Sinhala.  His publications include: Cases on Constitutional Law (1971), Cases on Criminal Law (1972), Roman Law (1978), Criminal Law (1978), The Legal History and legal System of Sri Lanka (1980), The Science of Law (1980), Constitutional Law (1984), Laws of Parliamentary Elections (1985) and Election Law (1986).
He was a multidisciplinary and renaissance personality.  He published in Sinhala the following science books for the benefit of the people of this country: Activities of the Earth (1989), Agricultural Sciences (2001), Plants and Environment (2002), Animal World (1993) and Water (1997).
Dr. de Costa trained many lawyers as apprentices.  He holds the record of the largest number of apprenticing lawyers working under him in Sri Lanka (79 apprentices at the same time).  More than 500 apprenticing lawyers have gone through his chambers. On many occasions, he appeared pro deo for litigants who were unable to pay high legal fees.  He was kind and compassionate as a practising lawyer and caring as a law teacher.  He was indeed a magister magistorum (teacher of teachers).
He has served his motherland with distinction.  I am very happy that he has requested me to write this tribute at the time he has completed 50 years at the Bar.
In concluding, I wish to say that as Cato said of Cicero in the Roman Senate, "From one, we can all learn" (Ab uno omnes discent), I can say today the same of Dr. Jayatissa de Costa in paying this tribute on his 50-year successful career at the Bar.
Dayantha Laksiri Mendis
(Former Ambassador to Austria and Permanent Representative to the UN in Vienna and Former UN and Commonwealth Legal Expert.)