Chathurya Nilaweera, creates tennis history
View(s):

Chathurya Nilaweera, a 16-year-old student from Stafford International School, made waves in local tennis when he achieved a great feat of becoming the youngest player to reach the final stages of the Men's top categories at a Tennis National Championship.

Chathurya, a bottom seed player in the Men's Singles, was the first from his school to reach the semi-final stage though he lost to eventual 2020 champion Yasitha de Silva. In the previous year, Chathurya was 15-years-old when he was pushed out of the Men's Singles third round. But the exposure made him a finer player in the junior category, as Chathurya went on to clinch the Boy's Under-16 Singles championship in 2019.

This year, in the 105th edition of the National Tennis Championship, Chathurya played a matured game defeating 20-year-old Vibuda Wijebandara 7-6, 7-6 in a close battle, to reach the Men's Singles semi-final.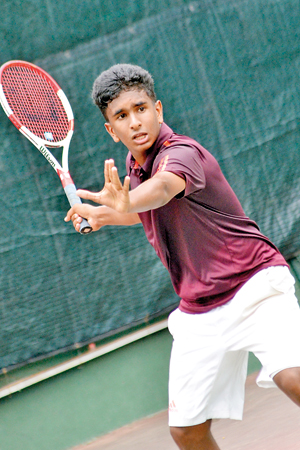 The youngster, currently placed 1473 in ITF rankings, however achieved a much bigger feat in the Men's Doubles category. Chathurya paired up with Thehan Wijemanne, another 16-year-old aspiring athlete, to defeat much experienced and favourites Yasitha de Silva and Sankha Atukorale to clinch the Men's Doubles title.
The win in this year's Men's Doubles final puts Chathurya and Thehan in the history books of local tennis, in particular at top level. In the history of over 100 years of National Tennis Championship, the teenage duo becomes the youngest ever pair to win the Men's Doubles title.
Interestingly Chathurya's Men's Double partner Thehan, has a connection to the previous record holders. Thehan's father Sanjaya Wijemanne was 17-years-old while his partner Rohan de Silva was 18-years-old when they became the youngest pair to win the Men's Doubles at a National Championship in 1989.
This year, before turning tables on much fancied Yasitha de Silva and Sankha Atukorale in the final, Chathurya and Thehan stunned another pair of favourites, 2019 Men's Singles champion Sharmal Dissanayake and Rukmal Cooray during the earlier stages.
As Chathurya, who reached the semi-final stage, Thehan too impressed in the Men's Singles by reaching the last Round of 16. Chathurya, who achieved the best of 1469 in ITF Rankings, is a promising player in the local tennis arena and banks on his determination, commitment and skills to become a more sought-after international player in time to come.