Cement carrier runs aground on Little Basses Reef; Navy, SLAF teams rush to the spot
View(s):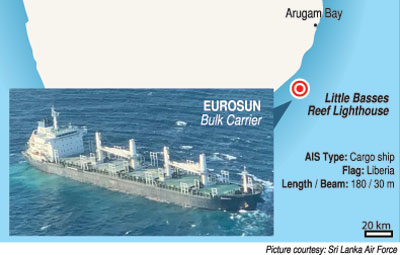 MV Eurosun,' a deadweight tonne bulk carrier flying a Liberian flag, ran aground on Little Basses Reef off Sri Lanka's southern coast yesterday.
The vessel had been enroute to Trincomalee from Abu Dhabi carrying 33,000 metric tonnes of cement clinker and other cargo when it ran aground, the Sri Lanka Navy (SLN) stated.
Navy sources said that all 18 members of the crew however, were safe and onboard the vessel.
SLN vessels were on their way to the location last evening while a Sri Lanka Air Force (SLAF) Beechcraft 200 maritime surveillance aircraft was also dispatched to monitor the stricken vessel.
Authorities claimed that the ship had not declared the contents of its bill of lading.