Sunil Ariyaratne to film Simon's cinematic novel
'Kseera Sagaraya Kalambini'
View(s):
Award winning filmmaker Sunil Ariyarante is ready to film the late writer Simon Navagattegama's novel 'Ksheera Sagaraya Kalambini', one of the novels with a cinematic screen play. The film is to be produced by H. D. Premasiri for Sarasavi Cineru films.
The film was to be made by a number of filmmakers including Parakrama Niriella and Ananda Abeynayake. Mr. Abeynayake even has got the copyright from Mr. Navagattegama.
The Muhurath ceremony was held on January 21, to mark the 74th anniversary of Sri Lankan cinema. Prof. Ariyaratne was grateful to award winning teledrama director Ananda Abenayake for giving the copyright of the novel to make it into a film.
The late Navagattegama had won a number of awards for his earlier screenplays based on his own novels. He won the Best Screen play award at both Sarasai and Swarna Sanka awards ceremony for 'Suddhilage Kathawa' in 1986 and in 1996 both Sarasavi and OCIC awards for 'Seilama' (The City).
Speaking at the Muhurath ceremony Prof. Ariyaratne said that out of all novels by Mr. Navagattegama "Ksheera Sagaraya Kelambini'' was the most suitable to be adapted to a cinema. He recalled how on August 27, 1989 Mr. Navagattegama himself handed over a copy of the book to him. This was at the launch of the book." This novel is one that would be cherished and could be adapted to different art forms even so many years later," Prof. Ariyaratne said.
Producer, H. D. Premasiri of Sarasavi publications and Sarasavi Cineru Films said that it was a risk to start producing films at this moment but he would take the challenge for the benefit of the cinema industry.
"While promoting cinema as a form of art, we also want to develop it as an industry," Mr. Premasiri said. He said he remembered how he started producing Parakrama Silva's film 'Biththi Hathara' in 1978 with just Rs. 850,000.
'The film was produced with a loan," said Mr. Premasiri who won the Best Film award at SIGNIS Salutation for 'Sakkaran' directed by Dr. Dharmasena Pathiraja and in 2019 the Best Film Award for 'Yashodhara' directed by Prof. Ariyaratne.

Veteran journalist and cinema writer A. D. Ranjith Kumara described the rare talent and genus of Simon Navagattegama as a writer, philosopher and a visionary. Starting from a humble background of rural Navagattegama off Putlam, Simon was the only son of a hired farmer. Lived in a village covered by a jungle, Simon got inspired by his surroundings. Simon's character was rare as he worked the way he wanted and he chose teaching as his profession.
The stellar cast of the film is to be played by Jackson Anthony, Gihan Fernando, Hemal Ranasinghe, Harini Kavyanjani, Udari Warnakulasuriya, Ravin Kanishka, Lucian Bulathsinghala,Kalana Gunasekara, Sarath Kothalawela and Priyanka Samaraweera.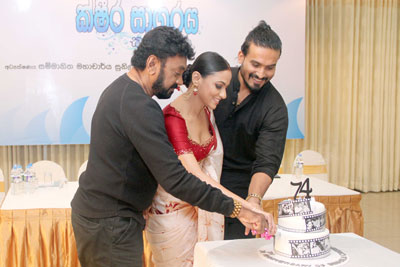 Co-produced by H. D. Premasiri, Kumuduni Dias Haputhanthry, Chandra Haputhanthry, the screenplay is written by Jackson Anthony, camera by Channa Deshapriya and music director is Rohana Weerasinghe.
Edited by Ajith Ramanayake, costume designing is by Wenuka Wickremarachchi, art director is Dhammika Hewaduwatte, and makeup and hair styles are done by Priyantha Dissanayake. Choreography is by Kapila Palihawadana, sound designing by Sasika Ruwan Marasinghe production coordinator of 'Ksheera Sagaraya Kelambina' is by A. D. Ranjith Kumara.