Simple meals made well
By Joshua Surendraraj
View(s):
This week the Mirror Magazine speaks to the minds behind the Hourglass Kitchen, a unique concept that allows anyone to experiment in the culinary arts while at home with the best ingredients
Simple meals always taste exceptional when it's made with the right quality and combination of ingredients. Longtime friends and neighbours Roshni Gunaratne and Meenal Mahtani were always fascinated with combining different flavours to create something unique and special, and needed no excuse to meet up and cook.
During the first lockdown in March, they'd often call or message each other to figure out their meal plan for the day. The two found it exciting to finally have the time to experiment with new dishes and flavors.
After a few months of experimenting and finalizing their own gourmet recipes, they knew they had to share this experience. This led to the Hourglass Kitchen.  The idea behind Hourglass Kitchen revolves around time: saving it while also spending it well. Being two like minded individuals who are always busy with multiple things, the pair wanted to shorten the time they spent in the kitchen. But as foodies, they weren't going to compromise on anything less than perfection.
Both Roshni and Meenal understand the pressure that comes with the daily work life , which in turn could affect one's eating habits and health. Since most people don't have the time to prepare a meal from scratch, they wanted to provide an easy solution to prepare good food, yet with minimal time spent in the kitchen.
Currently, the products offered by Hourglass Kitchen falls into two categories. The first of this include fresh frozen meat items that consist of gourmet chicken meatballs and gourmet chicken burger patties, made with a special spice blend in two variants: Classic &NaiMiris.
The second category includes fresh sauces and cooking blends such as their renowned PeriPeri Sauce, Thai Red Curry Paste and Thai Green Curry Paste.
They also hope to launch two new products soon, which will include a vegan cheese.
Perhaps the best aspect of Hourglass Kitchen is their products are ideal for both non-cooks and foodies alike. They'd typically take less than 15-20 minutes to prepare, which gives one plenty of free time.
These products also come with detailed but simple cooking instructions, which makes things much easier for the customer.
Though they commenced operations in October, starting with orders from close friends and families, word spread quickly from that point on. Today, both Roshni and Meenal are "blown away and so grateful" for all the support, positive reviews and even a few repeat customers.
Hourglass Kitchen tells us they are very stringent when it comes to quality and freshness, and their products are prepared with fresh ingredients that have been carefully sourced, with no artificial preservatives or coloring.
The duo also take care of every aspect, from sourcing ingredients, to the marketing aspects, the prep work and cooking or assembling the products. This level of care ensures that quality checks and consistency in their products are maintained and adhered to every step of the way.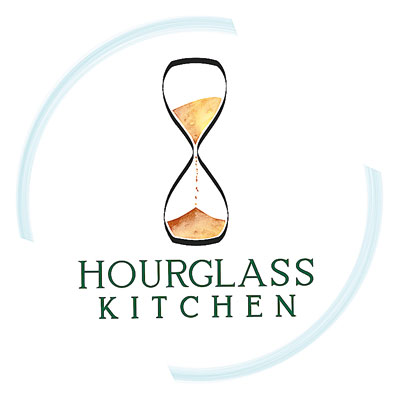 Keeping in line with hygiene protocols, they make sure to carefully clean their ingredients, surfaces, packaging and so on before use, while maintaining thorough sanitisation throughout the entire production process. They also use food grade gloves and face masks during the production process, and the final products are then immediately kept refrigerated or frozen once prepared.
Hourglass Kitchen delivers fresh batches on a weekly basis, and is now open for pre-orders via their Facebook page 'Hourglass Kitchen' or their Instagram page @hourglass_kitchen
Their products are also currently available on dropoff.lk for home delivery, with more online vendors and retail outlets coming soon.