AYU to be released soon
View(s):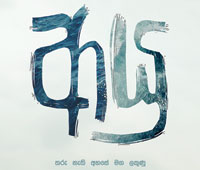 'AYU', the debut production of former Army Commander, General Daya Rathanayake and the second direction of Chathra Weeraman is to be released soon.
 'Aloko Udapadi' famed Chathra Weeraman has cast Malani Fonseka the 'Queen of Sinhalese Cinema' to play in  her 155th film. Malani has completed 50 glorious years in the cinema industry.
'AYU' brings a companionate love story of a young man and a woman brought together by their fate. Together they set on an intriguing journey of soul-search over the hustle of material life. They will inspire you to think about the purpose of life. Life is simply the experience of being alive from birth to death, which is however an endless struggle whether it gives a feeling of achievement or otherwise. Life is subjected to impermanence: good times and bad times both keep interchanging. When life is pricked with this bitter truth and become challenging, people tend to seek distraction and find relief from such unpleasant realities. They sometimes engage in entertainment or ensnare in fantasies which is known as escapism. In such situations the usual thinking patterns break and suddenly they want answers to life's bigger questions. Lack of answers may trigger a personal conflict causing frustration and loss of inner joy. Nevertheless they will continue their search for a meaning as a primary motivation to get rid of the abysmal sensation of hopelessness and emptiness in their lives.
Presented by Weeraman Brothers, 'AYU' stars Sandra Mack, Jagath Manuwarna, Malani Fonseka, Ashan Dias, Kenara Wiratunga, Samanalee Fonseka, Sampath Jayaweera, Priyantha Sirikumara, Thumindu Dodantenna, Nalin Lusena, Udara Abeysundara, Kasuni Kavindi Fernando, Akalanka Prabashwara, Dinushika Senevirathne, Thiwanka Ranasinghe, Prasanna Dekumpitiya and Dasun Pathirana in a guest appearance.
The crew includes Kalinga Deshapriya as the Director of Photography, Chamara Selara as the Assistant Director, Bimal Dushmantha as the Production Designer, Saman Alvitigala as the Editor, Milinda Tennakone as the Music Composer, Harsha Manjula and Haroon Shaideen in Makeup Department, Sasika Marasinghe as the Sound Designer, Dinindu Jagoda as the Colorist, Kumara Karawdeniya as the Costume Designer, Shehan Obeysekara as the Production Photographer, Iresh Karunarathne, Primal Ranasinghe and Sashika Ganegodage in Production Management and Anuradha Weeraman as the Associate Producer.