A little book that will leave you with a great sense of enrichment
Reviewed by Yomal Senerath-Yapa
View(s):
Anecdotes from a Surgeon's Life in Sri Lanka- by Dr Channa Ratnatunga
128 pages
Price: Rs 500
Available at the PEMSAA Office, Faculty of Medicine, Department of Surgery, Peradeniya or the College of Surgeons, Noel and Nora Bartholomeusz Centre, 6, Independence Avenue, Colombo 7.
(All proceeds from the book will go to a Medical 'Studentship' Trust Fund)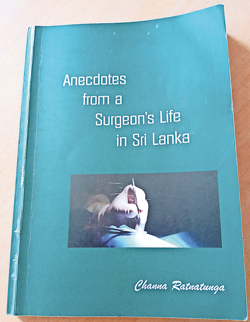 Being a surgeon in the late '60s and the early '70s, especially one serving across the island, was, inevitably, to amass a Gladstone bag full of weird anecdotes- stories as intriguing and colourful as a missionary's tales from a Pacific island. For we must remember that this was when only two medical schools served Ceylon – and the one at Peradeniya still very nascent.
The doctor to patient ratio was then very disparate and besides, a surgeon gets to see humanity at its most extreme (not to say at its deepest). All this makes Dr. Channa Ratnatunga's slim collection of fresh and pithy vignettes 'Anecdotes from a Surgeon's Life in Sri Lanka', absorbing, compelling and entertaining, if not mostly the kind of stuff you can recount over a polite dinner.
Spanning almost six decades, they form a miscellany, seeing as the surgical theatre can be the arena of high comedy equally as well as heartrending tragedy. The author's gently ironic tone which is the mark of experience carries you through with terse, often jocose prose.
Fresh out of the 'Reid Avenue School', Dr. Channa was one of the 'guinea pigs' chosen to blaze the trail for the all-new Peradeniya Medical Faculty in 1962.The first anecdotes have to do with the wobbliness of his salad days when, pushed off the deep end as an intern, often he had to learn the ropes from nurses and attendants.
Humour is what keeps this medley of tales buoyant, fizzy and bubbling. It is not contrived sophisticated wit, but the raw, real-life funny- from the mildest (how when, new in Britain as a surgery student, he followed his English houseman to the 'loo' thinking they were heading to the 'Louvre') to the more riotous (like when the dhobi in Kandy, washing Dr. Channa's bloodstained clothes from the surgery, plucked up courage to ask him shyly whether he was really a man or a woman).
The humour is darker in the tale of the 'Visiting Cow' and the 'Holman' story, and there are anecdotes not for the delicate and the faint of stomach. These are the medical anecdotes of the surgical procedures which are, however, fascinating, full of the nimble precision and deft incisiveness of the chirurgeon's art.
It is a fact that doctors, everywhere, have a queer obsession with the bodily gruesome. They tend to relish talking of bile and phlegm and such substances in detail. This book has some of that but it proves that this minutiae is really part of the attention they have to pay to anatomy, just as an English don analyzes the denser, more ambiguous passages of Shakespeare.
As written by a 76-year-old, the book has many a pearl to cast. There is much for the medical student to imbibe, from practical lessons like the wryly titled "Don't chase the relations away" to demos of quick thinking, 'examining not assuming', ethical conduct and "take a good history- it's worth the time spent".
One of the most compelling elements of course is to do with disease and medical phenomena he encountered, which range from 'limbs avulsed by crocodiles (and) thighs penetrated by swordfish' to the curious case of monozygotic (identical) twins having fits at the same time even if living continents apart from each other.
The book is saturated with Dr. Channa's gentle, deep commitment to allay human suffering as much as possible. Throughout, there is heightened empathy for those who seek his succour, from a woman in the UK who frequently swallowed handbag latches so she could at least momentarily escape the depraved bedlam that was a woman's prison, to a teacher with a prostate problem that almost led him to suicide.
There is a host of colourful, peculiar people besides crowding these pages- from a Kandyan drummer to whom the feudal rajakari (duty) was sacrosanct, worthier even than his life, to a jewellery thief and even a brush with the 'supernatural'.
The book leaves you with a sense of enrichment which should be the ultimate touchstone gauging whether a collection of anecdotes has passed muster or not. This book will prove a quick read, but its wise tenor and strange tales, spiced with drollness, will resonate within you, for a long time to come.