Researcher finds formula to eradicate
By L.B. Senaratne
Fall Armyworm; will share it with farmers
View(s):
A formula to eradicate the crop-destroying insect Fall Armyworm or Sena Caterpillar has been found by a Peradeniya University agriculture expert and he is willing to share it with farmers free of charge.
Speaking about his successful research, researcher and entrepreneur Dhammika Wettewa said the formula had been tested and registered for patent.
Mr. Wettewa is an experienced researcher who had worked for Upali Group of Companies in its agriculture projects. He now grows asparagus for export. With this background, the researcher conducted extensive research and came up with the formula to eradicate the Fall Armyworm, which has been identified by the United Nations as a serious threat to global food security.
The new formula comes at a time when the worm is destroying large extents of maize and other cropsin Sri Lanka.
Mr. Wettewa formula was examined by entomologists of the Field Crop Research and Development Institute in Mahailuppallama for its efficacy and applicability.
The Department of Agriculture in a report signed by Direcor General W.M.W. Weerakoon, says a high level of larval mortality was recorded two days after the product was applied to the infected maize crop. "Larval mortality was higher (90-95%) in treated plants compared to untreated plants (below 5%). Therefore, the tested product can be used for large scale application to control the Fall Armyworm in Maize," the report says.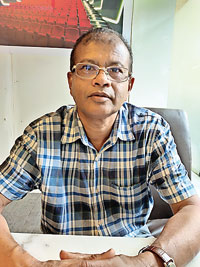 It adds that further studies are being conducted at the Mahailuppallama institute to confirm the chemical nature of the product.
Mr. Wettewa formula comprises one litre of water, three grams of detergent powder, three grams of salt, three grams of powdered chillie and three milliliters of Neema oil (Kohomba ). These ingredients should be mixed well and sprayed within four hours of producing the mixture, Mr. Wettewa said.
He told the Sunday Times that if he wanted he could have marketed his product and made money, as the demand for such a product was high. But he preferred to share the formula with the farmers free as they were the life blood of the country. "Money is not everything in life. Life will be meaningful if we share what we know with the country and with those who toil and till the land for the prosperity of the country," Mr. Wettewa said.