Fans rush for Thai Pongal movie fix with latest hit, 'Master'
Pix and text by S Rubatheesan
View(s):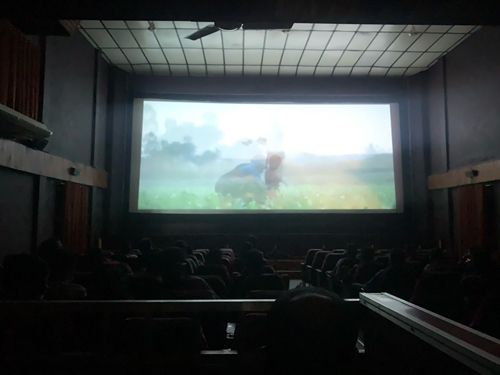 Along with every Thai Pongal festival in recent years, at least one South Indian superstar movie is released across the globe, with fans gathering in large numbers to celebrate with banners and giant cutouts of stars.
In Jaffna this week, despite the COVID-19 pandemic, fans streamed into cinema halls for all three daily shows to see South Indian Tamil superstar Vijay's latest release, Master.
Diehard fans of the South Indian star reserved tickets online months ago for the premiere at midnight before Thai Pongal on Thursday. They came wearing masks and maintaining social distancing rules that mark the "new normal" of everyday life.
Master is the first big-ticket Indian film to hit screens after the coronavirus lockdowns that saw the cinema business battered.
"We are accepting ticket reservations online for 90 percent of seats. We have stopped issuing tickets over the counter since it would attract more crowds at the openings," a staff member of a cinema chain company at Cargills Square in Jaffna town said.
Theatres are issuing tickets only for half-capacity audiences in keeping with COVID-19 guidelines.
One cinema in Jaffna town that sold seats for more than half-capacity was shut down by health officials.
Some cinemas, such as Bala in Chavakachcheri, insist that audience members present a photocopy of their National Identity Card at the ticket counter for contact tracing in case anyone is tested positive.
Without an online booking scheme in place, this budget cinema had theatregoers lining up briefly outside the building while their personal details were collected, and then their tickets were issued at the counter.
As the day's first show began at 10.30am on Friday, fans at Bala cinema welcomed their favourite star on screen with screams and whistles.
"Nothing compares to going to the theatre with my friends to watch our favourite star in a movie. Even though it was a bit difficult to be seated with a mask on for three hours straight we felt that, after months, we are at last returning to normal times after this experience," a keen schoolgoing fan said after the show.