Appreciations
View(s):

Legacy of integrity, friendship empathy and generosity
Dion Jayasuriya
We first met Nearcus Dion Jayasuriya on the first day of Fifth Form in January 1966 when he and a few others including R.G.A. Perera, S.T.B. Jayasinghe, S. de S. Jayasinghe, B.R.Ranaweera and D.T De.S. J. Gunawardena joined our grade – as the inimitable MC Arun Dias Bandaranaike quipped at a class get- together in March this year, 'for reasons best known to themselves'.
A classmate L.R. Aponso recently recalled how in Form 5A, R.S. Fernando, N.D. Jayasuriya and he, had been ordered to 'stand up on the form' by the teacher. To the uninitiated, this meant that all three had to remain standing on the long three-seater bench they shared, as punishment for a misdemeanor until the master saw fit to allow them to be seated again. After the trio had been upstanding for some time, the lanky Jayasuriya, in his customary knee length blue shorts, had asked Aponso how many periods 'this gentleman' had that afternoon. On being told that the master had three consecutive periods, Jayasuriya had nonchalantly sat down saying that he 'couldn't be bothered standing on the form for that long'.
Two years later in Upper Sixth, N.D. Jayasuriya, K.H. Samarasinghe and the writer shared a three seater desk and bench. 1968 was the year of the Mexico Olympics in which Jim Hines of the US ran the 100 metres in 9.9 seconds. Jayasuriya kept us enthralled with the happenings of the games, and proved to be very well informed. Students in Upper Sixth were required to haul huge text books in preparation for the upcoming Ordinary Levels. This somehow never bothered ND as he only ever carried two of the flimsiest available exercise books to school.
It was also in Upper Sixth that ND gave us the exciting news that his older sister had been awarded an AFS scholarship to the US. After her return, Hiranthi, who was a brilliant student at Visakha, entered the Colombo Medical Faculty.
After leaving school, Dion had a stint at Pure Beverages before joining Carson Cumberbatch and Company Limited. By this time, Dion then in his mid-twenties, had matured into a very well read, intelligent, personable young man with a penchant for marketing. His success with the Michelin and Carlsberg brands was perhaps the catalyst to him being one of the youngest ever executives to be appointed a Director of Carson Cumberbatch and Company.
Some years later, when the opportunity arose to acquire a subsidiary of Carson's, CML Edwards – a team headed by Dion and Sega Nagendra, a highly respected corporate leader, took on the challenge and ventured into the construction industry. Dion, who had great analytical skills and was brilliant at numbers, grasped the business quickly, and the company grew steadily under his leadership. The cornerstones of their corporate philosophy were integrity, transparency and good governance.
Around this time Dion had set up his personal 'pension plan' for retired domestics, drivers, golf caddies, and friends and relations who had fallen upon hard times. Even when business was tough, particularly during the time of the war, the company policy of paying employees' salaries on time was very strictly adhered to. He took it upon himself to ensure that the book lists of children of all members of staff were paid for by the company every year.
When the dreaded disease struck Dion in June this year, his family and friends were devastated. Sherouza, Dimitri and Nadira did everything humanly possible to ensure that Dion had the best possible medical attention. A team of tireless, dedicated specialists made themselves available around the clock.
After the initial shock wore off, Dion decided to take his illness head on. During walks at Galle Face on 'good days', he had to be reminded to slow down, and at times be told that he should not try to jog. His ailment gradually wore him down physically, but his mind remained as sharp as ever. Evenings were mostly spent in the TV room watching IPL, tennis, rugby, movies, and the news channels. Umma would sit quietly in her favourite seat nearby. His little brother Udenaka would visit him regularly and the two would reminisce about trips the Jayasuriya family made in their Borgward Isabella.
Dion had obviously inherited the intellect of his father M.D.F. Jayasuriya, a classics scholar and a President of the Chess Federation. Denzil Jayasuriya, Executive Director of United Tractors and Equipment, had been a school contemporary and close friend of legendary teacher D.N. Pereira. Dion's counsel was often sought by his siblings, friends, relatives, businessmen and even heads of schools. Though not an overtly spiritual person, he had an English translation of the Dhammapada on his office desk which he referred to from time to time. He understood that the principle of impermanence applied to all living beings, and he came to terms with the inevitable. His transition from this existence to another, occurred very peacefully in the early hours of December 18.
Dion Jayasuriya has left a legacy of honesty and integrity, of friendship and sincerity, and of empathy and generosity. Sherouza, Dimitri, Nadira, his siblings, friends, relations and employees have a challenge ahead of them. Life after Dion.
Wimal Heenetigala
---
He was a part of our life, we miss him dearly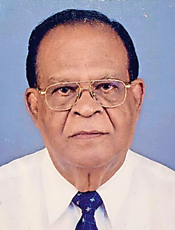 Piya Senarath
A 65-year long association with a dear family friend has ended with the demise of Piya Senarath one year back at the end of December 2019.
My first encounter with Piya – S.A. Piyadasa as he was known then – was on the road in front of Jayatillaka Hall, Peradeniya Campus in June 1955. Clad in white satin drill trousers and long sleeved white shirt, when he stretched his hand to greet me he appeared different from the rest of us who were in our teens. He looked a little mature and reserved. He was introduced to me by Chandrananda who knew me already, as 'Mr. Piyadasa' because he had been a teacher on the staff of Rahula College, Matara.  Piya became an instant friend. Over time, we treated him like an older brother.
Although older in years, Piya was young at heart joining in all the fun and mischief at Ramanathan Hall including the 'bucketing and hooting sessions' .Yet Piya was always very proper and calm, always neatly dressed, willing to help and proffer mature advice, not getting involved in anti-social activities. Although we probably had a few common interests and he was in  'cliques' other than my own, there was a chemistry that kept us close and together.
However, it was after leaving campus that our bonds grew stronger.  We kept in touch while applying for public service jobs, buying cars and taking driving lessons.
By the time Piya joined the Department of Census and Statistics, I was already in Colombo still on the lookout for permanent employment.
When Piya moved to Kandy as Statistical Officer, I used to frequent the campus pursuing intellectual as well as cultural interests.
By the mid-60's each of us had our own brand new cars, thanks to government car loans and that was a 'weapon' we had in those heady days to venture out across the country. My adventure of travelling from Moneragala to be in time for Piya's wedding in 1964 was one such-  Moneragala to Hambantota by bus, and from there collecting Kapila's car from his home sans permission and driving to Colombo chasing Chandrananda since my own car was somewhere else to 'get me to the church on time'!!
After Piya's marriage his wife Monica's home at Kirillapone was home away from home for me. Piya guided me through many official, personal and sensitive situations through mature advice and support. Since my own marriage and then my joining the Ministry of Agriculture in 1970 we met on a daily basis and our family ties became still closer. This bond continued for half a century through work, holidays, trips and family events.
From the time Piya joined me at the Ministry of Lands we had very close personal and professional contacts including travels locally and overseas. Having held progressively responsible and senior positions in his chosen field in the public service, he entered the private sector after retirement, switching easily to the private sector work style and progressed to be an effective business manager and consultant.
Our relationship was founded on a deep mutual trust, unmatched confidence and generosity on the part of Senarath and Monica towards our families.
Belying his mature calm exterior, Piya was 'game for any occasion' –for a drink, a singsong, a wild dance, to play with the kids, to attend weddings and funerals -you name it. So much so we as a family, miss him on a daily basis.
Piya was absolutely loyal to his friends and colleagues. Among his sterling qualities, one that stood out was that of 'Muditha' –vicarious joy- an ability to be happy in the success of others.
Piya was always forthright in his views and words, held long memories and was loyal to the cause he believed in.
In later life he changed radically to become a vegetarian and teetotaller and adhered to it religiously.
Although we all miss Piya, we take comfort in the fact that he led a productive and virtuous life, being a lifeline to his family and friends. He had a good life of 91 years and passed away peacefully without regrets or rancour. Our sympathies go to his beloved wife Monica, son and daughter-in-law, Sanjaya and Nayani and grandchildren Lyana and Bihaan.
May his sojourn in Samsara be short and may he attain the supreme bliss of Nibbana!!
Nanda Abeywickrama
---
The pleasant memories she left will remain with us, for a long time to come
Kumudinie Abeywickrama
 More than a year has elapsed since the demise of well-known professional  K.K.Abeywickrama (nee Ahangama). We still cannot believe that she is no more with us.
She was born to a well-known family at Thellambura in the Galle district. She had her early education at the Sangamitta College, Galle and entered the University of Peradeniya where she completed her degree, specializing in Geography. Thereafter she joined the government service in 1970 and after a few years entered the Sri Lanka Planning Service after getting through a competitive examination. She got a scholarship to the University of Wales in England, where she completed her Postgraduate Msc. in Management.
Her career spanned many districts such as Galle, Matara, Hambantota and Colombo as an Assistant Director, a Deputy Director, and a Director of Planning. She was a Class I officer in the Sri Lanka Planning Service where she held many responsible positions like Director of Planning and Monitoring at the Ministry of Agriculture and Livestock, Battaramulla.
Her government service culminated in the city of her birth as the Deputy Chief Secretary (Planning and Monitoring) of the Southern Province. She was an example of how dedication and commitment to work is rewarded professionally, having received scholarships to countries all over the world.
Mrs. Abeywickrama retired from government service in 2007 but continued to be involved actively in community development activities in civil organizations such as the National Peace Council, Sarvodhaya, Samadhana, Saviya, Lessons Learnt and Reconciliation Commission, URI, Help-o etc. She was a Justice of Peace All-Island and received awards from many organizations.
Mrs. Abeywickrama was kindness personified to everyone who knew her and very hospitable to all who visited her.  Elegantly and neatly dressed, she never had a hair out of place.
She was blessed with a devoted husband G.L. Abeywickrama, who was a retired Director of Education, former Chairman of the Mediation Board of the Galle Fort Gravets, and a civil society activist. She was a devoted mother to her two daughters.
The pleasant memories she left will remain with us, for a long time to come.
May she attain the great bliss of Nibbana.
Mrs. K. Senanayake
---
My wife, an unforgettable person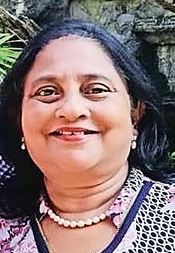 Lilanganie Izzadeen
She was a wonderful, honest, God fearing wife - Lilanganie aka 'Silindhu'.
Born as Janaki Lilanganie Peiries on March 14, 1955, to a highly respected family of  Peirises from Moratuwa, we were married 46 years ago, following both Islamic and Christian traditions, and they blended well in our wedded journey.
There were hiccups down the passage, and all such hiccups were my fault. As a good lady with high religious beliefs, she tolerated them all and kept our marriage bonds undamaged. That was the quality she possessed that I most appreciated. I love her loads for that.
She had a talent for singing and dancing and on most occasions, the two of us would open the dance floor. I could not sing for 'toffee' but could make up on the dance floor! Now I have lost a great partner, in my whole life. The loss is unbearable.
As advised by her great set of siblings, and the extended family, I know I need to be strong and get my life on track.
My own siblings and all connected feel the loss of Lilanganie deeply. Lilanganie was a livewire on any occasion with very great organising capabilities, for party games and sing song sessions.
Fazeela, our eldest daughter and son-in-law Yasas were rocks in our mature age, and our two greatly talented sporting grandchildren Nethwin and Previndhi's love for their grand mum was immeasurable.
All directly and indirectly connected to my family were full of praise for the great lady Lilanganie. She was an exceptional unforgettable human being.
I will surely miss her company, till I join her wherever.
Till we meet with Fazreen, and my sister Rukshana.
Fazal Izzadeen
---
A scholarly professional and  quintessential Jaffna man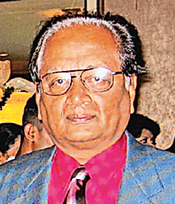 Dr. Brahman Sivaprakasapillai
Brahman died peacefully on December 28, in Fairfax, Virginia. He had just celebrated his 84th birthday one week earlier.   He and his three children were fortunate to see each other before he passed.
He was predeceased by his loyal and beloved wife Vijayalakshmi and he is survived by his two loving daughters and son, Narayani, Dharshana and Sanjeevan, his daughter-in-law Maya and also his brother and sister, Dr. Pratab  Sivaprakasapillai and Dr. Premala Sivasegaram.  In addition, he was a very involved grandfather to his three grandchildren, Neel, Vaishnavi, and Nitish.
He was born on December 16, 1936 in Colombo to late Professor Thambyahapillai and Leelamani Sivaprakasapillai. Brahman entered Royal College in 1947 and achieved a remarkable academic and professional record from here.  He was admitted to the Faculty of  Engineering, University of Sri Lanka and obtained a First Class Honours degree in Mechanical Engineering in 1959.  He proceeded to the United Kingdom where he undertook postgraduate research in Aeronautics and earned his PhD from Imperial College, London in 1964.  He stayed on in the U.K. to serve as a Research Engineer at the National Engineering Laboratory, East Kilbrid, until 1968.
He returned to Sri Lanka and joined the State Engineering Corporation where he was actively involved in with national research and development. He was known in Sri Lanka for his design and manufacture of pumps and dredger. In 1978, he joined the World Intellectual Property Organization (WIPO)) in Geneva in 1978 and he served very closely with the Minister of Foreign Affairs.  Subsequent to this appointment, Brahman and his family relocated to New York where he joined the United Nations and later did engineering consultation.
Brahman is my elder first cousin, our fathers were brothers. I remember fondly how we would regularly meet to celebrate birthdays.  After each get-together I would return home and my mother would give me a hard time saying that Brahman is a model son and student and why couldn't I be like him.  Brahman's classmates also looked up to him.  One of his Royal College friends, Gnanam Supramaniam, recollects, "Whenever a teacher posed a question to the class on any subject, the whole class would turn round and look at Brahman. Brahman's hand would surely be up.  He had the ready answer."
When Brahman moved to New York, our families became even closer.   Brahman, myself, and eight other families from Sri Lanka created what we dubbed the "Thanksgiving Group".  This group became our U.S. family and we celebrated Thanksgivings, Christmases, and New Years together for over 30+ years.
All of us were in awe of his self-confidence and the breadth of his knowledge in a variety of fields – politics, history, literature, music, science, religion, and languages.  He became an avid New York Yankees fan and could talk for hours with friends about baseball.
One interesting anecdote that makes many of us laugh is when Brahman was elected President of the Sri Lanka Association of New York.  He addressed his committee members with this, "I will communicate with you through email.  If it is urgent and I need to call you, I will call collect, being a Jaffna man."
May his soul rest in peace. We will miss him.
Dr. Sanath Nallainathan
---