Chinese mint new Rs.20 coin for Central Bank
By Kavan Ratnatunga
View(s):
Chinese coins have been found in Yapahuwa and date back to the period when Lanka paid tribute and was visited six times by Admiral Zheng between 1405 and 1433. 600 years later, China has minted coins for the Central Bank (CB) to celebrate its 70th anniversary. A commemorative 20-rupee Aluminium Bronze collector coin was sold to the public on January 1 for Rs.1300.
Made of Aluminium Bronze, unlike the Silver coins minted for the 40th, 50th, and 60th CB anniversaries, the coin is seven lobed sided, and a specified diameter of 28 mm and 2 mm thickness. The weight not specified was measured at 8.7 grams, approximately to the weight and size of the old Rs. 2 coin except for the shape.
The obverse has image of the CB building and the reverse is similar in design to the new 2017 coins
This coin was planned to be issued on August 20, 2020 and was delayed by the COVID-19 pandemic as the shipment of circulation coins had not yet arrived.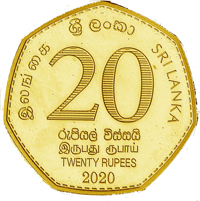 An advance limited lot of 3000 Brilliant Uncirculated coins in presentation boxes, with certificates of authenticity, were air-freighted. The first coin was officially presented to President Gotabaya Rajapaksa, by CB Governor Prof. W D Lakshman on December 31, 2020.
A strict limit of one coin per customer with a record of NID was adopted for fair distribution among collectors. Only 1200 will be sold to the public made up of 600 coins from the CB Museum in Colombo and 100 coins each from the CB regional centres. Coins will be gifted to CB Staff and the rest are for the CB Museums and Archive.
This is the first coin minted in China for CB by the China Banknote Printing and Minting. This interesting fact was not mentioned in the press release and maybe for political reasons.
The same design is being used for a circulation coin which is expected to be issued into circulation in a few months. This is of cheaper metal, probably Cr-Steel like the current coins, and probably also minted in China which was unconfirmed by the CB. The circulation coin will probably become the prototype for an Rs.20 coin when the Rs.20 banknote is discontinued. However, with a face value of only about 10 US cents, it will probably not be used much in circulation, as most transactions tend to be in banknotes. The Rs.1, Rs.2, and even the Rs.5 are disappearing, now hardly seen as transactions are rounded to the nearest Rs.10.