Prestigious IVY Young Entrepreneur certificate programme now in Sri Lanka
View(s):

The Academics Group, Sri Lanka's first cross-sector education think tank, has collaborated with IvyPlus Network – a professional network of alumni from Ivy League and other leading universities worldwide – to launch IVY Young Entrepreneur (IYE), designed for those aged 17 to 23.

IYE is a 2-week online programme designed to tap into participants' natural potential and craft it for greater applications and success, like the process of launching a start-up. The programme will run from 18th to 29th January 2021 from 6 pm to 8 pm. Students will be guided by industry experts, and work with peers to solve business challenges. The programme will help them learn how to innovate, conduct market research, develop prototypes, craft user testing, develop a clientele and run a successful venture. There are 20 hours of live workshops. ​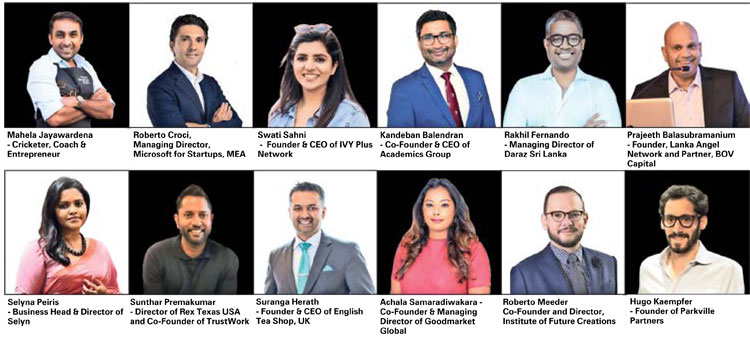 IYE Sri Lanka will feature some of the country's most successful business leaders and will also provide a platform for students to be inspired by internationally acclaimed start-up gurus.
Our distinguished speakers include:
Roberto Croci, Managing Director, Microsoft for Startups, MEA
Mahela Jayawardena – Cricketer, Coach & Entrepreneur
Achala Samaradiwakara – Co-Founder & Managing Director of Goodmarket Global
Prajeeth Balasubramanium – Founder, Lanka Angel Network and Partner, BOV Capital
Swati Sahni -  Founder & CEO of IVY Plus Network
Sunthar Premakumar – Director of Rex Texas USA and Co-Founder of TrustWork
Rakhil Fernando – Managing Director of Daraz Sri Lanka
Hugo Kaempfer – Founder of Parkville Partners
Selyna Peiris – Business Head & Director of Selyn
Kandeban Balendran – Co-Founder & CEO of Academics Group
Suranga Herath – Founder & CEO of English Tea Shop, UK
The programme will feature:
Introduction to elements, myths and facts about entrepreneurship
Quiz to understand various aspects of entrepreneurship
Identifying innovative opportunities
Masterclass on how to identify ideas that work
Creating an elevator pitch for your business
Class pitches – vote on ideas and ranking
Masterclass on building the start-up muscle
Masterclass on the hard things – journey of building start-ups
Understanding customers
Masterclass on using design thinking to build world-class products
Financial principles of running a business
Business ethics and social impact
Crafting the perfect presentation
How to raise capital for a startup
Masterclass on how to build a profitable business
Designing your offering
Mentor support and feedback on the business plan/pitch Practice
Mentor support and feedback on the business plan
Business plan competition
The IVY Girls Lead Sri Lanka Edition by the IvyPlus Network successfully concluded on 18th Dec 2020 and 25 young females participated in the programme from leading schools.
One of our participants, Devanga Silva, Overseas School of Colombo mentioned, "this programme has been one of the most holistic ones I have attended thus far; I came into this experience open minded setting my expectations at a fairly average mark only for them to be exceeded in a plethora of aspects.
It was amazing getting to interact with the guest speakers; a selection of women who have found their success as empowering roles in the corporate world and day to day life. Each of these women provided us with pointers on how to navigate the waters of being a woman in any setting, encouraging us to break norms and contribute what is best for society without sugar coating a single aspect of it; with hard work comes great success.
Not only that, but this opportunity gave me the chance to interact with many girls around the country with different backgrounds, passions and stories to tell, many of whom I look forward to either working with or simply staying in touch with for the upcoming months, all thanks to the IvyPlus Network".
For further information, contact with Academics Group on +94 768 909 983 or hello@academics.lk.