Big step for little shorebird
By Kumudini Hettiarachchi
View(s):
It is a small innocuous bird, nothing like the iconic flamingoes that turn all eyes.
But as a duo from the Zoology & Environmental Sciences Department of the Colombo University trudged up and down the sandy landscape in arid and dusty Mannar island engaged in research, they became riveted and intrigued by the polkichcha-size plovers.
It was this attraction by Honours Graduate Jude Janitha Niroshan and his supervisor Senior Lecturer Dr. Sampath Seneviratne which led to a closer look at the drab little plovers, with their big beautiful eyes, in their white-and-brown feathers, blending-in while nesting, that revealed a brand new species.
The 'Hanuman Plover' is endemic only to Sri Lanka and the Palk Bay areas of India!
Before talking of the Hanuman Plover, Dr. Seneviratne who is a Research Scientist on Molecular Ecology, Evolution & Ornithology, explains that plovers are small shorebirds living in the interface between water and land – those strips of beaches, wetlands, sometimes even paddy fields and salterns.
Among plovers, the smallest are Kentish Plovers (Charadrius alexandrinus) from the family Charadridae and distinguishable from other plovers by their prominent white hind-neck collar.
Pointing out that up to 2018, scientists believed that under Kentish Plovers there were six sub-species in different geographical regions across the world, Dr. Seneviratne explains that with modern-day genomics and widespread research, it had been found that there is no gene flow (reproduction) among some of these sub-species.
He says that winter migration of birds usually helps to widen their distribution and over time, millions of years, new groups are formed in different regions. Then some of these isolated groups are called 'sub-species'.
After 2018, the Kentish Plovers were categorized into four sub-species:
Snowy Plover or Charadrius alexandrinus nivosus (later identified as C. nivosus) – a breeding resident in the southern part of North America
Kentish Plover (Eurasian) or C.a. alexandrinus – a migrant to tropical Asia including Sri Lanka
Kentish Plover (Indian) or C.a. seebohmi – a breeding resident in the Palk Bay on the southeast coast of India and  Sri Lanka (Puttalam, Mannar, Jaffna and Hambantota districts)
White-face Plover or C. dealbatus – breeding resident along the Chinese coast.
Referring to their finding of a brand new species, the Hanuman Plover, Dr. Seneviratne says that using their strong bonds with Chinese scientist Dr. Yang Liu of Sun Yet-Sun University, they set about identifying the differences, both morphological and genetic divergences, among C.a. alexandrinus [Kentish Plover (Eurasian)], C.a. seebohmi [Kentish Plover (Indian)]and C. dealbatus (White-face Plover).
From 2019 up to the lockdown this year, they collected samples from 29 field locations in Sri Lanka and China and data; they checked out blood samples for genetic variations (phylogenetic analysis using different markers of the genome); they attached Darvic rings to birds (coloured plastic rings which can be viewed from a distance with binoculars); they measured wing lengths and compared and contrasted plumage patterns of both the migrants and residents; and they also looked at specimens in major museums in Europe and Asia.
It was then uncovered that what scientists had thought was a sub-species of the Kentish Plover – Kentish Plover (Indian) or C.a. seebohmi – is a new species.
Dr. Seneviratne gives an insight into shorebirds – there are over 500 species globally and about 70 species in Sri Lanka. True shorebirds, unlike forest birds which live on trees, have unique adaptations to suit their lifestyle.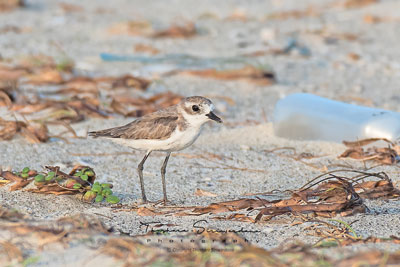 These adaptations are longer legs to walk on water and being three-toed (forest birds have four) to get their food more easily. This is while, forest birds who are sheltered have lovely vibrant colours but shorebirds have dull colours as they would be more prone to bleaching. Shorebirds also have long beaks which help them to poke into mud and dig out the likes of insects, crabs and clams.
Among shorebirds, says Dr. Seneviratne, there are the visual predators (like plovers with their big eyes) which see their food in the mud and pick it up, using the beak as tweezers and there are those who use their beaks as sensors (sandpipers) to poke deep into the mud and bring out food such as worms.
"Plovers have large eyes in big heads but small beaks. They live 10-12 years," he adds.

At risk from roaming dogs
A strong appeal goes out from the researchers to protect all shorebirds in the country.
Shorebirds including Hanuman Plovers are in danger, says Dr. Sampath Seneviratne, explaining that the biggest risk comes from marauding dogs which roam these areas.
The Hanuman Plovers lay about 2-3 eggs, brown speckled with black, lightly 'submerged' in the sand, without much protection. Since the rearing of the young is very intense, it needs the contribution of both parents and as such mother and father sit on the eggs for the incubation period of about three weeks. If disturbed, they lightly cover the eggs with sand, camouflaging them and run away.
A few hours after the babies emerge from the eggs, they will be with the parents for about 2-3 weeks before they move away from their family. These young families are very vulnerable, he adds.
'Hanuman', they named the new species of plover to encourage the conservation of shorebirds and the related isle ecosystem across Rama's bridge, while showing the common Indo-Sri Lanka heritage through this beloved mythical character.
Stressing that Hanuman is a widely worshipped deity in Hinduism, Dr. Sampath Seneviratne says that he is associated with love, compassion, devotion, strength and intelligence. Son of the wind-god Vayu, Hanuman was the divine vanara (monkey) companion of Rama and is one of the central characters in the Hindu epic, Ramayana.
The scientific Latin name for the Hanuman Plover will be given in the formal research paper, he adds.