Appreciations
View(s):

A career dedicated to attending to displaced people in the most troubled parts of the world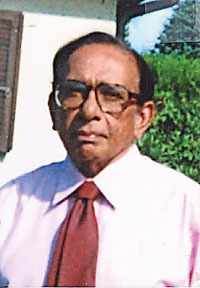 Angelo Rasanayagam
Angelo Rasanayagam, retired UN diplomat who worked for nearly three decades with the United Nations High Commission for Refugees (UNHCR), passed away in Colombo, on December 9. He was 84 years old, and had been living in Colombo for the last four years. While at UNHCR, Angelo covered practically every refugee hot spot in Asia, Africa, the Middle East, and the Mediterranean countries that erupted between 1979 and 1996, including the Vietnamese boat people crisis when he was stationed in Hong Kong, and the Afghan imbroglio from Peshawar, Pakistan.
An alumnus of St. Joseph's College, Colombo, and the University of Ceylon, Peradeniya, where he completed English Honours in 1959, Angelo taught at St. Benedict's College for a few years before leaving for Geneva, Switzerland, in 1964. He pursued graduate studies in Political Science, Economics and International Affairs at the University of Geneva and the Graduate Institute of International Studies, completing his Masters, but interrupting his doctoral studies to join the UNHCR. Over 25 years, he was Chief of Mission in Thailand, Laos, Hong Kong, Cyprus, Iran, and Pakistan, and frequently travelled to Latin America and Africa from Geneva as the Regional Officer for those continents.
His most challenging assignments were in Hong Kong (1979), at the peak of the Vietnamese boat people exodus, and in Pakistan (1991-93) during the Afghan crisis. It was in Hong Kong that Angelo publicly rebuked a visiting US Congresswoman from California, who later became a US Senator, for talking out of turn to the media. And out of his work in Pakistan and Afghanistan came his magisterial monograph, entitled, Afghanistan: A Modern History.
Between their itinerant diplomatic postings around the world, Angelo and Anandi, his wife of 46 years, established their home in a garden bungalow in Coppet, a little hamlet outside Geneva. He stacked his house with collector's books and works of art, loved his garden of roses, enjoyed his music, exercised his culinary skills, went to the theatre, besides reading and writing all the while. After retirement, he even volunteered into municipal politics for a while in Coppet, under Switzerland's impeccably orderly local government system. For neighbourhood company, there were always the likes of Kofi Annan, Sérgio Vieira de Mello, and other UN or international dignitaries. He was perfectly bilingual in English and French, fluent in German, and he found time to master Greek reasonably well during his stint in Cyprus.
He was the son of the late X.J.S. Rasanayagam, well known teacher and principal in Catholic schools in Negombo and Colombo, and Ranee (Xavier) Rasanayagam. Angelo would later write that his father "filled their house with books", while his mother "loved and cherished" him.
He is survived by his wife Anandi (nee Vanniasingham), and his siblings, Mano Alles, Lakshman, Vasanthi Visvalingam, Soundari Selvarajah, and Amali Philips. He was a kinsman of mine and we became brothers-in-law when his sister, Amali married me.
Born and raised in a large Catholic family, and a much larger extended family of uncles, aunts, and cousins, his easing into a long career in international diplomacy may have been serendipitous, but everything else about Angelo's life, personality, character, generosity, conviviality, values, and interests was quite pre-ordained in the settings of his home and in the social universe of his upbringing. He used to reminisce that as a 16-year-old, he started proofreading for 'Tamil Culture', the first international academic journal devoted to Tamil studies that was launched in 1952 by Reverend Thani Nayagam, our mutual uncle.
More than anything else, Angelo's intellectual pursuits shaped his life even as he navigated through a career of attending to displaced people in some of the most troubled parts of the world. And in his diplomatic work he found the niche for what became his virtual life work – the study and understanding of Muslim and Islamic societies. His depth of historical scholarship and well grounded insights informed his journal articles and book reviews on the history and politics of Muslim societies and evolved into a comprehensive work on Afghanistan that was published in the aftermath of September 11, 2001.
The book was praised as a "magisterial work" that connected Afghanistan's "difficult past with a difficult present in order to extract necessary lessons for the future." It is not often that Sri Lankan scholars and writers in the social sciences produce a work of recognition on a subject that does not involve Sri Lanka. Angelo Rasanayagam's book on Afghanistan belongs to this rare genre of scholarly writings, and is a fitting legacy to his life work and interests.
Rajan Philips
---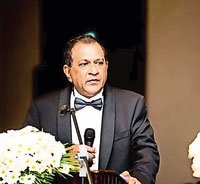 He did so much to bring happiness to others
Dion Jayasuriya
Dion Jayasuriya joined S. Thomas' College, Mount Lavinia in January 1959 from year 1 in the Lower School. I joined S. Thomas' Mount Lavinia to Lower Four (Standard 6) from St. Thomas' Prep. School, Kollupitiya and had the good fortune of becoming friends with Dion. He was very respectful to our teachers and won their admiration. We observed his very genuine, generous and kind qualities from way back then. We were very close friends up to the time of his demise at 2 a.m. on December 18.
Dion suggested we name our batch "The Thomian Freshmen of 59" since many started College in 1959 with others joining this batch from Prep School, Kollupitiya, Bandarawela and from S. Thomas, Gurutalawa. There were a few who also joined our batch from other schools. He was fully involved in all the college and class group projects and was a very useful member of the Old Boys' Association in which body he held many positions in committees. He was a live wire of 'The Thomian Freshmen of 59' Group.
After leaving College, Dion joined Pure Beverages Co. Ltd. and thereafter, Carson Cumberbatch & Co, rising to be a main Board Director. Later, he became the Managing Director of CML-MTD. Dion was a man of integrity and honour and would get very affected emotionally if anyone engaged in acts of fraud or deceit.
Dion was a former Captain and President of the Royal Colombo Golf Club (RCGC) and in May 2004, he was elected President of the Sri Lanka Golf Union (SLGU).
Dion never turned down any one who came to him for help. He was large-hearted and magnanimous in his association with his friends. He sponsored those classmates who were not doing too well and also financially supported their families whenever any of them died. What is noteworthy is that he insisted that his contributions and donations be kept anonymous. Such was the calibre of the man, a truly rare breed. He did not choose his friends to gain benefit from them but rather to enjoy genuine friendship and fellowship. He was well-read, very knowledgeable and was able to engage in conversations of diverse subjects. He was straight in all his dealings and was courageous to call a spade, a spade. What was best in him was that he emulated and brought to life, the poem 'IF' by Rudyard Kipling.
Although we share a common surname we were not related. However, I being the only child in my family, saw Dion as my sincere brother who stood by me at all times. My wife and children considered Dion as a 'brother' to me and family member.
He leaves behind his grieving wife Rouza, son Dimitri and daughter Nadeera.
"Age shall not weary him, nor the years condemn. At the going down of the sun and in the morning, we will remember him."
The many meritorious acts Dion performed to make others happy and the most meaningful life he led setting an example to others, will certainly help him to shorten his journey through samsara and attain the supreme bliss of nirvana.
Dr. Nalin N. P. Jayasuriya
---
A father who led from the front
Colonel Dudley Fernando
For every child, their father is their hero. I was no exception. But my father wasn't my hero because he bought me a racing car (he didn't), or because he helped me with my maths and English homework (he did). My father served in the military for almost 30 years, served the nation through many major conflicts – two southern insurrections, a very long northern terrorism, a military coup and countless other challenges and missions for neighbours and innocent human beings in need. He did this every day not for the pay check or publicity but because he was passionate about his work and about helping people.
I only came to truly appreciate my father's heroism as I followed his footsteps and joined the Sri Lanka Air Force. His hard work and patriotism solidified for me after I had the opportunity of talking to officers and soldiers of the Army, much older than I, who had been nurtured by him and were holding very senior ranks. They spoke about his professionalism and what he practised – the 3 F's – firmness, fairness and flexibility. He was a great leader who always exhibited honesty and fairness to his fellow men. He did not ask anything of them that he would not do himself. He was commended many times for his great camaraderie. He gained the respect of not only his superiors but all who came in contact with him.
I realised how my father looked after the officers of the Army, just as he always looked out for me and my brothers. One of the primary principles taught to us in life was to "respect elders" – he would get us to dress smartly most evenings and walk us down the lane to visit his father, our grandfather. There were times that we were made to take two hair cuts a day if we had not taken a proper hair cut while the barber too got reprimanded.
He was a devout Buddhist and took us to temple, Sunday dhamma school and for Bana sermons.
My father was so proud of us six boys doing well in sports and studies, though he never forced us in these two avenues but assured fullest support to us, our friends and the entire school to do well. Be it sports, cadeting, band, scouting, leadership training and academics – he was a pillar of strength for the entire school – Isipathana Vidyalaya. He was a full blooded Royalist but his heart was with Isipathana and he allowed us to continue our studies at Isipathana without forcing us to switch over to Royal except for our eldest brother after O/Ls.
He was a very loving and caring husband to our mother Swarna, a great father to us and a good neighbour to the entire community in Wellawatta. From my father I learned to respect authority, to work hard for what I want, and to be fair, honest and good. I practise with my fellow employees the excellent leadership qualities I learned from my father. I owe all my success to him.
Thaththi would be the first to greet us in the mornings. He woke us up with a firm and promising wake up call. He made sure that we wore properly ironed clothing and combed our hair well before we set out to school. As night fell, he would be the one who put us to sleep with a strong blessing and a hug. He was extremely proud of his eldest son and our dear brother, late Major Milroy, when he joined the Sri Lanka Army and was serving in the Northern Province. Being a very senior serving officer, he never attempted to keep our aiyya out of the battle zone but face equal treatment like all other soldiers and officers.
Neither my father nor anyone ever guessed that our Milo aiyya would be brought home in a sealed coffin draped in a Lion flag – he departed very early in life due to a land mine explosion while serving the country in the North. That single incident shattered my father- his health deteriorated badly there after.
Unfortunately, that shock made him depart early in life before we made promising starts in our own lives. The day he bid goodbye, his colleagues handed us a folded Lion flag that draped his coffin, we heard the shots from a 21-gun salute in his honour as the sun went down.  We cried and our hearts broke, but we know that our Thaththi would be attaining the supreme bliss of nirvana as for all the good he did while living as a great practising Buddhist throughout his life.
May he attain the supreme bliss of Nirvana.
 Wing Commander(Rtd)
Sanjaya Fernando
---
An epitaph to console myself on the loss of a longstanding friend
H.B. Herath
My lifelong friend H.B. Herath (Hera to friends) passed away on October 7, after a brief illness in a private nursing hospital. Besides being a longstanding friend, for over 60 years, our journey in life was somewhat similar.
This epitaph in some way is to subdue my grief and emotions in losing such a dear friend.
Hera, if my memory holds good (marked C- by friends) had his secondary education at Maliyadeva College, Kurunegala. Being a bright student, he won a Commonwealth Scholarship for a four-year undergraduate programme, obtaining a BSc in Agricultural Science at Massey University in New Zealand.
He was selected to the Tea Research Institute Talawakelle where we met each other. We were both housed in a semi-luxury single room senior hostel. Coincidentally, we both left the Tea Research Institute in 1968 and joined the School of Agriculture, Kundasale as lecturers.
At Kundasale we rented a house together. I was privy to jazz, classical and country music of Joan Baez and others, from his hi-fi stereo music set from New Zealand, new to us locals. We had an enjoyable life together.
We parted ways when he got married in 1969 and I in 1972. I left the School of Agriculture and joined the Department of Agriculture as a Research Officer in 1974. In 1976 Hera joined the Department of Agriculture, the Education and Training Division.
Due to his hard work and dedication, he was sent for a Master's programme in education at the University of Edinburgh in 1979. This was followed by a month's training at the International Rice Research Institute in the Philippines and training in management in at Illinois, USA in 1989.
Recognizing his capabilities, the Division appointed him to the senior position of Director of the In service Training Institute at Bandarawela in 1984. As a result of exemplary work at Bandarawela, he ascended to the central premier In service Institute in the country in Peradeniya in 1986 as Director and CEO.
In his last few years of government service, from 1986-1990, he reached the peak position in the division as the Deputy Director at the national level.
He retired from government service in 1990 and went on to work for the United Nations Volunteers, where he was assigned to areas of civil strife and risk, such as in Cambodia, Sierra Leone, East Timor and Kosovo; in most places serving as supervisor or head of mission.
I must not fail to mention his devoted wife and family. Due to the COVID-19, his two sons and their families were unable to visit him. His daughter, after undergoing 28 days of quarantine in Sri Lanka was lucky to be by his bedside, during the last month. Mala his wife, who actually looked after his welfare his whole life, turned their house into a 'mini hospital' being the physician, matron, nurse and attendant all in one, during the final stages.
How do I console myself on the loss of my longstanding friend of 60 years – Kalyana Mithra. I wish you the peace of Nirvana in the cycle of birth and death.
Dr. G.G.M. Sikurajapathy