The 'face' of 2004 Boxing Day tsunami 'boxing on' with a brave face
By Kumudini Hettiarachchi
Nine-year-old boy now a responsible adult of 25
View(s):
He was Sri Lanka's "face" of the tsunami of 2004.
The nine-year-old boy whose tear-streaked face, crumpled up in heartrending agony at his mother's funeral, was published in hundreds of major newspapers around the world.
Today, 25 years old, he is the head of the family providing not only for his wife and two sons but also seeing to all the needs of his grandmother, his eldest sister and her three sons and his second sister.
Asitha Fernando is now working two jobs in his hometown of Moratuwa and has grown up to be a mature, responsible and caring adult.
His mother, Ranjani, had been engulfed and swirled around by the Boxing Day tsunami of 2004 and her bashed and bruised body was found later. With no one imagining that life could be any crueller, the very next year Asitha's father, Ivan, hurrying around to arrange his wife's daane (almsgiving) with his meagre earnings as a fish-monger, fell off the train and was killed, leaving Asitha an orphan within the span of one short year.
Back then, the Sunday Times went in search of little Asitha in the alleys snaking into densely-populated settlements in Koralawella, Moratuwa, and found him with the help of Sr. Jacintha Silva of the Sisters of Charity, Jesus and Mary from a nearby convent. We wrote his tragic story, after which through our pages support, both in cash and kind, was showered on this beleaguered family.
On Tuesday (December 22), it was time for the Sunday Times to revisit Asitha, now a handsome and bearded young man, who is bearing his onerous responsibilities with equanimity.
His wife Shashinika (24) and their two boys, eight-year-old Ayesh, two-year-old Venush Manudam and Asitha himself are all smiles as they meet us at the home of Ashani, his eldest sister, at Egoda Uyana, while two striped ginger kittens laze around, ignoring all and sundry. Asitha and his family live a little distance away in a rented home in Koralawella.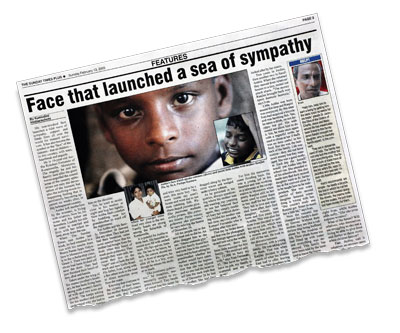 Eighty-four-year-old 'Thaaththamma' (their paternal grandmother), Ashani's three boys – Rashoda (16), Rashinda (10) and Abiru (3) – Bunty (Ruwangika, his special second sister) are all there to greet us, like long-lost family members.
Ashani's husband, Tharanga, is absent and she murmurs that he is incarcerated at the Mahara Prison, convicted of murder having got unwittingly involved in a family dispute on his side. He has been achchukarala for 20 years but has appealed and is now terrified as there is trouble including corona at Mahara. "He was weeping when I was able to talk to him for three minutes," says Ashani, as she serves us chocolate biscuits and a drink, inviting us to stay and share their humble lunch.
In a corner of the house, donated to the family by a well-wisher following the Sunday Times article many years ago, stands an artificial Christmas tree, a-dazzle with tinsel and fairy-lights. Just outside the front-door, the children are tenderly placing statues in the straw-thatched crib, telling us that Baby Jesus would take his rightful place amidst the lowly and humble only at midnight on December 24th.
While the family celebrates Christmas, it is always tinged with sadness, for up on the wall near the glittering tree are the black-and-white photos of their parents who are no more.
"Usually, every 26th we give a sarong and a shirt to an elderly man who looks like Thaththa and a skirt and a blouse to an elderly woman who looks like Amma," says Asitha, as a shadow of sorrow passes across his face, making his bright smile vanish fleetingly.
He regains his equilibrium as he says that this year it will be on the 27th that they will not only take these gifts in their parents' memories but also a meal prepared by both his sister and his wife.
"There will be rice, a meat curry, batubedala, kos and their signature dish, spicy dehi-ambulak (cucumber, tomato, onion, with a lavish dose of thinly-sliced green chillies, laced with lime juice)," smiles Shashinika, ribbing her in-laws and her husband that no meal is complete without the dehi-ambula. This was what Amma would have ready when Thaththa returned after his toils those days, when they were alive.
We chat about life and Asitha tells us about his two jobs – at the crack of dawn, he gulps down a cup of tea and gets on his motorcycle to deliver racing paththara for a private organization, starting at 4.30 a.m. and finishing at 7.30 a.m. At 8 a.m., he heads to the wadu-weda workshop where he labourstill evening, coming home for a quick lunch, even rice and sambol, thereafter working again for the betting company from 4.30 p.m. to 8 p.m. going up to Aluthgama and back.
Dead-beat, he comes home, has a scrap dinner and lays down his weary head for some sleep, a routine he follows scrupulously on all seven days of the week, taking a Sunday off rarely, for he is paid daily wages.
Both his employers are good, he says, adding that the organization for which he delivers racing paththara and the winnings of those who have won bets on horse races in England twice a day to five places – between Moratuwa, where the Head Office is located and the endpoint in Aluthgama – has given him the motorcycle. "When he does not go to work, they call him," says Shashinika who cannot do a job because the younger child needs looking after. "Asitha does not drink or smoke and does not spend time with any friends. A lingering regret, however, is that his Amma is not here to see our children."
All the families depend on Asitha's earnings to keep hunger at bay after Ashani's husband got embroiled in the murder case.
"I will never forget how my sister looked after me and also Bunty, while bringing up her own family," says Asitha, adding: "It is a duty I will never forego."
Often though, after they pay their rent, recently increased to Rs. 8,500 by the landlord, there is just no money left for food. They then rush to Ashani's home and she rustles up whatever food she can and the bright red plastic flowers that adorn the dining table in the hall have been a gift to her from Asitha.
To many urgings by both elder sister and wife that the families should live together, Asitha who seems wise beyond his years has stood firm, knowing that too much familiarity would lead to trouble.
At 25, Asitha is the father-figure – the role-model to teenage nephew; beloved uncle to his other nephews; pillar of strength to his two sisters and Thaththamma; and loving husband to his wife and endearing father to his two sons.
What more can any family ask for?