Real life tragic drama at Dhaka Film Festival
Film 'Hithumathe Jeewithe'; Brother's sacrifice to avenge injustice caused to his sister
By Susitha Fernando
View(s):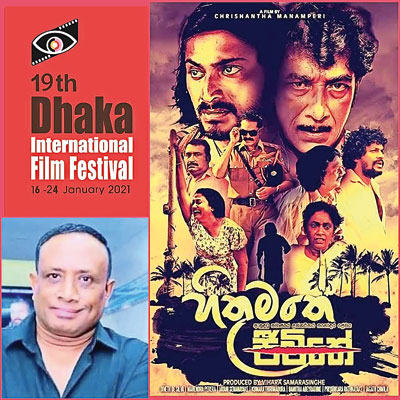 Batugahage Don Sumathipala who became well-known as 'Hithumathe Jeewithe' based on the same words marked across his chest was a murder convict who was serving on the death row in Sri Lankan prisons. At the age of 17, he was made a criminal by the urge to avenge the gang rape and brutal murder of his school-going sister. Those responsible for this heinous crimes were none other than the Headquarters Inspector (HQI) of Kalutara Police, the school Principal, a politician and a few others. Served with several death sentences, Sumathipala was in prison for over four decades, escaping seven times finally, receiving a Presidential pardon.
His criminal record was special as he was sentenced to death on four occasions based on the 'crimes' of killing members of the group which gang raped and murdered his young sister. Though the brutish rapist and killers escaped the system of justice, they could not do so from the loving brother of the sister they killed.
 Hailing from a small hamlet off Kalutara, Sumathipala's sister was crowned as the Beauty Queen of village's Sinhala New Year Festival in 1972. But subsequent to this the HQI of Kalutara, who was the chief guest at the event followed the young girl who refused his congratulatory wish with a kiss. Enraged by this, brutish police officer abducted the young girl with the support of those 'respectable leaders' in the area like, school principal, GramaSevaka and a politician. She was gang raped and killed and her body was burnt to destroy all the evidence. Sumathipala who was just 17 years then visited the Police Station and killed the HQI on the spot and beheaded him. He carried HQI's head and handed it over to the Superintendent of Police in the area. The result, he was convicted and sentenced to death in 1975. However Sumathiapala escaped from the prison on seven occasions and killed the rest of the killers of his sister.
Sumathipala's contemporaries in the prison were not just infamous IRCs like Maradankadawala Yakadaya, 'MaruSira' and 'PodiVijey' but renowned politicians or political prisoners like Rohana Wijeweera, Vijeya Kumaratunga, former Army Commander Sarath Fonseka and present Prime Minister Mahinda Rajapaksa. However a few days prior to carrying out the death penalty by hanging him, the then government stopped the practice of carrying out death penalty in Sri Lanka. Later following a protest on the roof of the prison, Sumathipala was released. This is not a fiction but a true story that took place over the last few decades in Sri Lanka.
This tragic yet shocking story of a brother who dedicated his life to avenge the greatest injustice cause to her sister is featured in the film 'Hithumathe Jeewithe', a debut cinema direction by Chrishantha Manamperi.
A Sinhala biopic thriller movie around Sumathipala has been selected to represent Sri Lanka at the 19th Dhaka International Film Festival which will be held from January 16 to 24 at Dhaka in Bangladesh. Produced by Vihara Samarasinghe, the film is to be screened in non-competitive section of 'Cinema of the World section'.
Started in 1992, DIFF is held under the theme 'Better Film, Better Audience and Better Society'. The Festival is organized on a regular basis by Rainbow Film Society, which has been dedicated to the promotion of a healthy cine culture in Bangladesh and in celebrating the global mainstream in film and its social relevance since 1977.
Rainbow Film Society is one of the most active film entities in the film society movement of Bangladesh. The DIFF is one of the most prestigious film events in Bangladesh and, to a great extent, has helped shape an increasingly healthy and positive national film culture. DIFF is a bold expression of resistance against the decadence, vulgarity and cheap commercialism that pervades the mainstream Bangladesh film industry.
The festival has also created space for young and aspiring filmmakers in Bangladesh and larger South Asia to connect with global artistic trends and to strengthen the parallel development of Bangladeshi cinema.
In the short span of twenty-eight years, DIFF has attained international recognition with eighteen festivals held in 1992, 1993, 1994, 1995, 1997, 2000, 2002, 2004, 2006, 2008, 2010, 2012, 2014, 2016, 2017, 2018, 2019 and 2020 respectively. During the 19th DIFF, about 200 films representing 60 countries are to be screened. The screening will be held at the Alliance Francaise de Dhaka, Star Cineplex, Bangladesh Shilpakala Academy, Central Public Library Auditorium and Bangladesh National Museum Auditorium.
The festival will have a competition for "Asian Cinema Section", "Retrospective", "Bangladesh Panorama Section", "Cinema of the World Section", "Children Films Section", "Women Filmmakers Section", "Short and Independent Films Section" and "Spiritual Films Section".
Dineth de Silva plays the titular role as Sumathipala while the other leading roles are played by Mahendra Perera, Kumara Thirimadura, Jayani Senanayake, Mariyan Weththasinghe, Damitha Abeyrathe, Priyankara Ratnayake, Jagath Chamila, Palitha Silva, Anuruddhika Padukkage, Gihan Fernando, Ishan Gammudali, Sarath Kothalawala, Harshika Rathnayake and Sarath Chandrasiri.
Screenplay by Indika Athula Priyantha, cinematography by Nishantha Pradeep, editor Rukmal Nirosh, music direction Sagara Wijesinghe, sound designing and colour grading by Dilan Gunawardena. Make up by Priyahtna Easwearan, Special effects by Jayasinghe Weerakkody and production management of the film is by Viraj Warnasuriya.