'Gindari' in Down Under
View(s):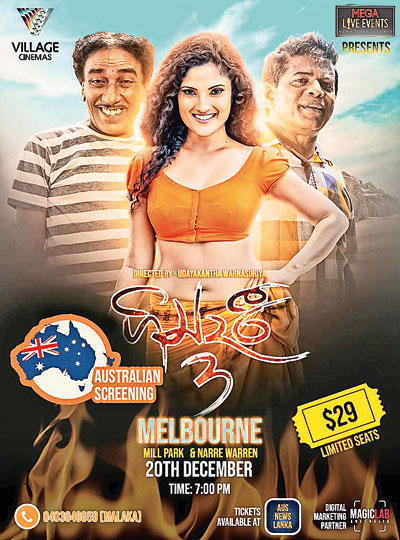 The Australian screening of 'Gindari-3', Udayakantha Warnasuriya's latest creation and the third sequel to 'Bahu Boothayo' launched at Mill Park and Narre Warren on December 20.
Continuing the previous installment of 'Bahu Boothayo' and 'Gindari' series, the film stars  Paboda Sandeepani as 'Tikiri', Mahendra Perera as 'Lanty', Rodney Warnakula as 'Bunty', Chulakshi Ranathunga, Srinath Maddumage, Saman Hemarathna, Richard Manamudali, Tina Shanel, Chanchala Warnasuriya, Chavin Wijesinghe, Nilmini Kottegoda, Sarath Kothalawela, Sarath Chandrasirii, Ananda Athukorala, Keerthi Rathnaayke, Wasantha Vittachchi, Dilip Rohana, Sujeewa Malmaalarachchi, Sunitha Wimalaweera, Tharindi Fernando Udeni Chandrasiri and many more.
The film revolves around Tikiri, a she-devil who appears in human form as a beautiful girl. But once transformed into her real form, Tikiri would breathe fire from her mouth and this is only in defence of an oncoming danger. Tikiri lives peacefully with her journalist husband 'Bunty' and their son Supiri.
One day while dropping Supiri to school, Bunty witnesses a robbery on the road and photographs it. The photos are published on the newspaper and the thugs now want Bunty eliminated to destroy evidence and prevent them being identified. Bunty is attacked by the rowdies, however he manages to escape using his and his son's supernatural powers.
However it is not only from human but Bunty and his family is troubled by even from the supernatural powers. Three other she-devils have come from 'Tikiri's land to take away Supiri, as they believe he belongs to their world. Tikiri along with Supiri attempts to get rid of them by fighting using their supernatural powers.
Meanwhile 'Bunty' bumps into his old journalist friend 'Lanty' and explains the dilemma he is going through. One of the gods whom they had come across earlier has come down to earth with another celestial buddy. Bunty and Lanty request help from them to chase away the thugs and the she-devils that have come to disrupt their peaceful family lives.
Story, dialog, production and direction by Udayakantha Warnasuriya, cinematographed by K. D. Dayananda and editing and sound designing are by Praveen Jayaratne. Assistant director is Donald Jayantha, music by Ananda Perera, make up by Nalin Prematillake and art direction is by Aruna Dias and production manager is Ashoka Ariyaratne.