Big, bad Santa is coming to town
View(s):

My dear Santa Claus,

I thought I should write to you, even though it is a couple of days late, but I thought you might still be doing your Christmas rounds in this island paradise of ours, what with the lockdowns, local curfews and quarantine restrictions because of the coronavirus making a comeback.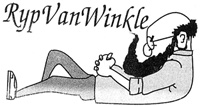 Just in case you are running late, Santa, you do not need to rush because not everyone in Paradise needs presents this Christmas as some of them have got them early, well before Christmas. There are of course others who are desperate for a gift but will sadly not get them -  not this year, anyway.
To start at the top, Gota maama not only got his biggest present last year – the top job – he also got two additional presents this year. One was the election victory by the 'pohottuwa' chaps just short of a two-thirds majority and the other was the 20th Amendment which was passed without much of a fuss.
Santa, now that Gota maama is the Lord and Master of the Land, it is more appropriate for you to ask him for a gift of your choice than give him gifts. I say so because already we can see that many people are giving him gifts, doing deeds that will win them favour and saying only what he wants to hear.
For instance, if you have heard of anyone who has been 'naughty' and have already been punished, you could ask Gota maama for a pardon for them. If they haven't been punished yet, you need not worry because these days, the courts are acquitting many who were charged over the past few years.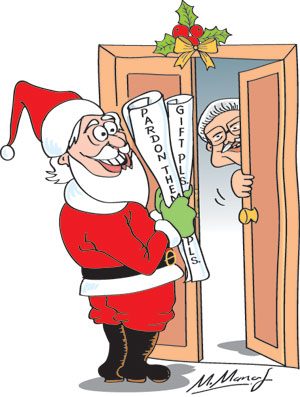 I don't think Mahinda maama needs a gift either. He appears quite content with his lot, issuing the odd statement once in a while and playing second fiddle to Gota maama. I suppose he had his hour of glory and is now content to sit back and relax while his younger brothers and son run the show.
Among the others in Gota maama's team, the unhealthy lady Pavithra desperately needs a gift. The best gift for her – and for those of us in Paradise – would be millions of vaccines against the coronavirus, but if you ask her, I am sure she would prefer pots of 'holy water' and more bottles of 'peni'!
Then there is the chap who is in charge of Justice. Some say he has already got his present, being given a prestigious portfolio the first time he made it to Parliament and that too not after contesting the elections, but then he is also the President's counsel, not just another President's Counsel!
I think he too desperately needs a present, Santa, which is a solution to the issue of disposing of the remains of coronavirus victims. His community wants him to deliver on that because they believe he has the ear of his Lord and Master, but it seems there is little even he can do.
Another chap sulking without any presents this year was Cheerio Sirisena. He would have expected at least a ministerial portfolio but he got none – and it doesn't seem like he is getting one soon either. Many would say he deserves what he got – which is nothing – but surely you can give him something?
Then there is young Sajith who also badly needs something to be happy about. He didn't get the Christmas gift he wanted last year, losing the election to Gota maama, but even at the end of this year he doesn't even have a stable political party he could rely on, with some deserting him so soon.
The best gift for Sajith would be a return to the Green party and taking over its leadership so it could be restored to its former glory, but that is too much to ask even from you, Santa, because there are so many who will claim that mantle if and when the Green Man decides to call it quits in the New Year.
As for the Green Man, I don't know what gift you should give him, Santa. Some say it should be a retirement package. Or else, he must be allowed to ensure that his party survives its greatest crisis. In fact, the Green party and the Blue party could both do with new leaders and a return to respectability.
As for the rest of us lesser mortals, Santa, what we need right now is the gift of rational thinking in people who make decisions for all of us and for them to be guided by facts and evidence – and not superstitions, mumbo-jumbo, quacks and those profiting from human misery. Is that too much to ask?
Yours truly,
Punchi Putha
PS: Santa, I know a secret – who you are getting the biggest present for this year, possibly a few weeks after Christmas. It is for Basil maama isn't it – in the form of a return to the House by the Diyawanna Oya through the National List and a portfolio which will give him control over all economic activity?