Fisheries industry caught up in the devil but not the deep blue sea
View(s):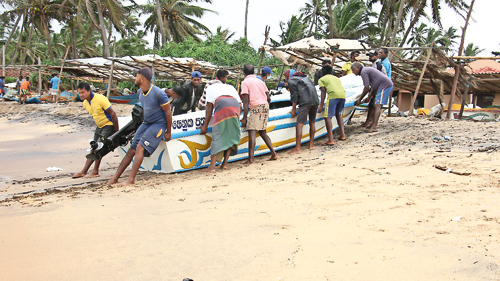 Sri Lanka's fishing industry is facing immense challenges as its lifeline – local and export markets – have ground
to a near halt due to failure of successive governments to develop the industry
The present government has also failed provide any concessions for 2.7 million fishermen although it has given tax concessions to business ventures engaged in the fishery industry exempting from tax in the next five years, representatives of fisher community complained.
Budget 2021 has allocated Rs.200 million for the development of Fisheries Farm Zones in the districts of Batticaloa, Jaffna, Puttalam and Mannar.
But it has failed to even provide a kerosene subsidy or any other considerable financial assistance to fishermen badly hit by COVID -19, they added.
An UNCTAD report has urged the authorities to support the transition from fresh fish to value-added processed seafood products where feasible, to offer new economic opportunities to those working in the sector.
It has recommended to enhance coordination between fish and seafood suppliers and transport, warehousing and logistical services to minimize loss of produce and food waste.
Making a loud plea to state authorities, National Organiser of All Ceylon General Fishermen's Federation Rathna Gamage said that the Fisheries Ministry should look into the present status of the industry and the plight of fishermen caught up in the devil but not the deep blue sea.
Fisheries Minister Douglas Devananda doesn't seem to be actively involved in the sector while only the State Minister Kanchana Wijesekera is visible in inspecting some fisheries harbours, attending ceremonies and meetings, he alleged.
Successive governments including the present regime had ignored the real issues of the fisheries sector and have not taken any measures towards improving this field as an industry, he pointed out.
The government has only proposed to simplify the administrative process for the exportation of most-sought after fish and aquatic plants, and to develop tissue culture methods.
There are immediate issues such as providing necessary facilities and assistance for fisher folks and streamlining of purchasing and marketing process eliminating the domination of big fish traders (fish mudalalis who have become loan sharks), he urged.
He also emphasized the need of solving the problems faced by ornamental fish industrialists including divers catching fish under water who earn much needed foreign exchange for the country.
Mr. Gamage, adding that Sri Lanka with an abundance of fish should not be importing fish, disclosed that fish imports stood at 49595 metric tons and exports at 11461 mt up to June this year.
He alleged that over 6000 Indian vessels are used for poaching illegally in Sri Lankan waters posing a threat to over 50,000 fishermen from the North and surrounding areas. (BS)