Economy will recover in 2021: BT Poll
View(s):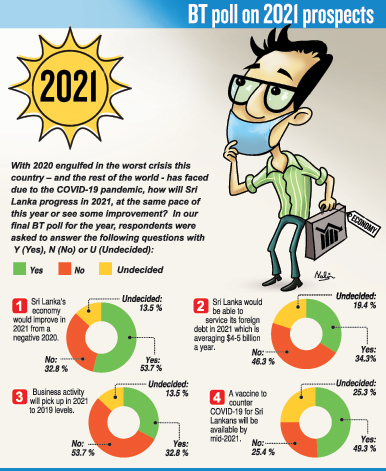 Most respondents in a Business Times poll conducted this week believed the COVID-19-affected economy will recover in 2021 but were less confident about the prospects of Sri Lanka meeting its foreign debt obligations and on business activities recovering.
The BT poll, examining the prospects for 2021, asked about 200 respondents from different backgrounds including business and professionals, their views on an economic and business recovery and whether a vaccine would be available next year.
While respondents were enthusiastic about the economic prospects for next year, one respondent cautioned that the pandemic effects should not be bunched with the already fragile macroeconomic situation that Sri Lanka was in during 2020.  "This was due to the heavy debt issue that had been warned off for some time. So please do not promote the idea that the economic crisis in Sri Lanka is only related to the pandemic," he said.
To the first question that Sri Lanka's economy would improve in 2021 from a negative 2020, 53.7 per cent said Y (Yes) while 32.8 per cent said N (No).
Asked whether Sri Lanka would be able to service its foreign debt in 2021, 46.3 per cent responded with N while 34.3 per cent said Y.
On the question of whether business activity will pick up in 2021 to 2019 levels, 53.7 per cent were doubtful responding with N while 32.8 per cent said Y. On whether a vaccine to counter COVID-19 for Sri Lankans will be available by mid-2021, 49.3 per cent said Y while 25.4 per cent said N and 25.3 per cent were U (Undecided).
Respondents said that if the government works hard the economy can recover while a positive business activity is likely in the second half of 2021.
But there were doubts about servicing foreign debt with one respondent saying: "They will pay off from the reserves that is dwindling at less than US$6 billion today. Then we will run into a major catastrophic forex shortage." State Finance Minister Ajith Nivard Cabraal has defended against such naysayers saying the government is confident of meeting all its foreign debt obligations.
On the availability of a vaccine, one respondent took the government to task saying the authorities will keep trying the "Dhammika Paniya" and several other concoctions and people will fall prey to the gimmicks of politicians who want to cover up their "sins"!
Another respondent said there was no need to tax people and give free vaccines, if the rich are willing to pay. "Also businesses may be willing to vaccinate workers at their own cost. All these avenues should be allowed so that people who can pay can do so without waiting in line," she said, adding: "However there is a genuine concern about the side effects and in the past Sri Lanka had a very strong immunization programme by only using WHO vaccines which have minimal side effects."