Deck your home with something new or old
View(s):

While many will be confined to their homes this year due to the pandemic situation, decorating will be an activity that old and young people alike can look forward to.

Take a look at some of these online businesses – some which have been around for a few years and others which were set up only this year – with their interesting and unique Christmas decorations.

Some of the designers and entrepreneurs behind these ventures have decided to stick to the traditional wreaths, table decor and tree ornaments, while others have decided to take a more creative path.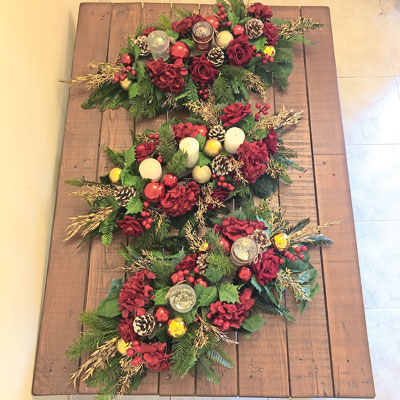 Beyond Petals
Beyond Petals is a venture by Nadeesha Wijesinghe – an entrepreneur and hospitality sector employee. She creates wreaths, centrepieces, Christmas decorations and also bridal bouquets and personalised flower arrangements.
"I've been making decorations since I was in school. Creating decorations is a stress reliever for me, and I love doing it. When I made a bridal bouquet for my cousin, I decided to continue that craft and that's how Beyond Petals began. I started making Christmas decorations last year, because a friend wanted a wreath done for Christmas," Nadeesha said.
Since last year, Nadeesha has been making decorations for clothing and food outlets, and she also makes Christmas home decor. She uses fresh flowers, artificial flowers and handmade felt flowers for her creations, which are delivered island wide.
Orders can be placed through Facebook (Beyond Petals), Instagram (beyondpetals.lk) and Nadeesha can be contacted on the following number: 077 411 1109.
---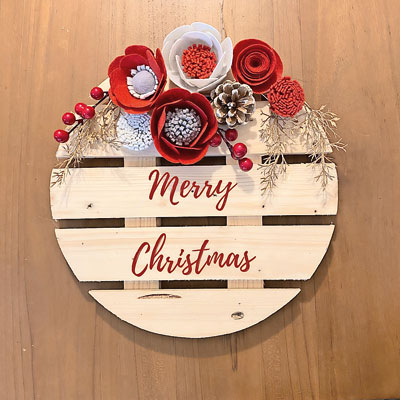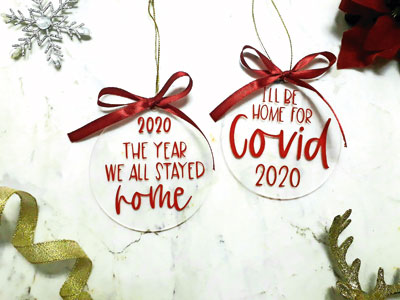 Simply Décor
Simply Décor Colombo is a business run by a mompreneur, who wishes to remain anonymous. She creates handcrafted party décor, Christmas décor and home décor.  Her seasonal decor includes personalised items  like stockings and customised baubles and other ornaments, which make great gifts and keepsakes.
She also has a range of customised cake and cupcake toppers and other party décor and home decor – like wooden wall hangings, coir mats, trinket dishes, key holders and personalised mugs and bottles – with custom wording.  "We try to use natural materials as much as possible for our creations," the owner of Simply Decor told the Sunday Times Magazine.
Orders can be placed through Instagram (simplydecor.colombo) and Facebook (SimplyDecorByRushi). She can also be contacted through Whatsapp (0778565203). Island wide delivery is available.
---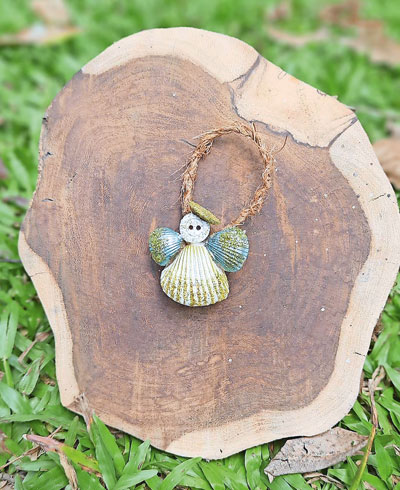 Christmas hand made
Christmas_hand_made is a venture by Jade O'Mahony, who uses only natural materials and waste materials which can be upcycled.
"I started making decorations and gift items during the first COVID lockdown. I wanted to use all the plastic waste, old bottles and other waste which had not been collected, and this became my hobby during that time," Jade told the Sunday Times Magazine.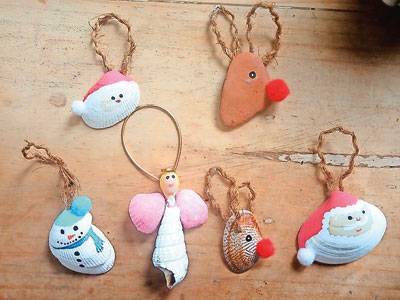 "I wanted to experiment by making different things, starting with gifts for friends and family. When I stopped getting paid from my full time job, I had to find a way to earn money, so I launched christmas_hand_made," she said.
Jade's handmade decorations and other products can be purchased through Instagram (christmas_hand_made) and Facebook (Jadehandmadeco), and they are delivered through a registered post.
"The proceeds from my Christmas collection have allowed me to support myself and my ten rescue street dogs. I have also been able to support the Millennium Elephant Foundation, where I work full time, by buying medicine and food for the elephants through sales from my "Elephantastic range"," Jade said.
---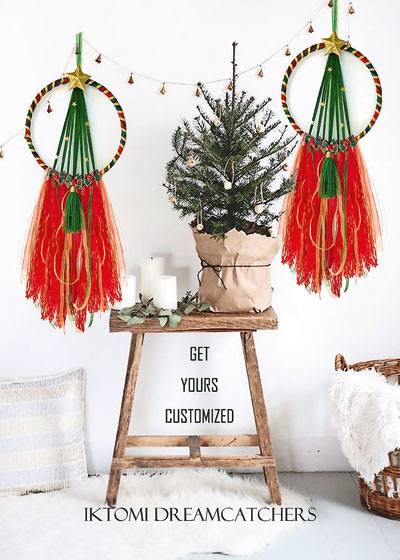 Iktomi Dreamcatchers
Shankari Raveendhran, a freelance fashion designer and Raffles Institute of Higher Education graduate, is the mind behind Iktomi Dreamcatchers. Iktomi is an online business with a range of Christmas themed dreamcatchers, wreaths and other decorations.
"I was planning to launch a clothing line this year, and I had to stop working on it after the pandemic outbreak as my raw materials were to be brought down from abroad. So I started Iktomi Dreamcatchers in August," Shankari told the Sunday Times Magazine.
"I use quality raw materials for my products, because I believe my customers should have long lasting products. We also use materials which can be upcycled if the clients are fine with it," she said.
Shankari's dreamcatchers and other products can be purchased through Facebook (Iktomi Dreamcatchers – Colombo), Instagram (iktomi_dreamcatcher) and WhatsApp (077 5552 785). She provides free delivery for addresses located in Colombo 3-7, Dehiwala and Mt. Lavinia. Products are delivered outside Colombo – with a delivery charge – through local courier services.
---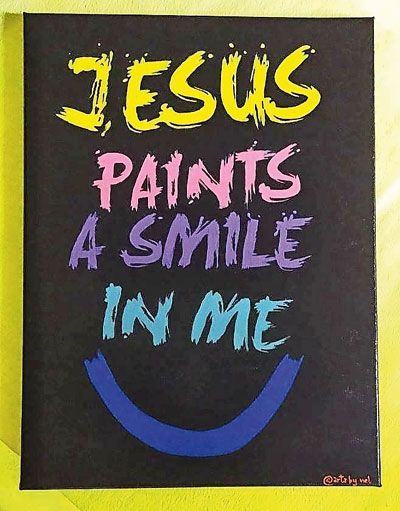 Arts By Nel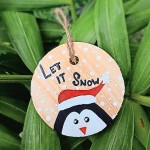 Arts By Nel was an art page by Inelka Jayawardene that became an online business venture in August this year. Canvas paintings, phone covers, notebooks, ink art, wrapping papers, wooden circles and squares, craft kits for kids and teens and seasonal décor and crafts are some of the products available.
"Family and friends encouraged me to start a business and use my talent, so this is one way I share my love for art with other people. As the business grows I will be introducing new products and services. Customers are allowed to customise their orders and get exactly what they like," Inelka said.
Acrylic paints, canvas, wood, paper are some of the materials used for Inelka's handmade decor, and she mainly uses popsicle sticks, egg cartons, paper and paint for her craft kits.
Orders can be placed through Instagram (artsbynel_), Facebook (artsbynel_) and WhatsApp (076 945 4530) and Inelka delivers the products either personally or through a courier service.
---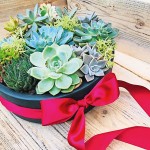 Spikey me
Spikey me is a small start up that specialises in succulents and plants such as poinsettias which are ideal for home decor and can also be given as gifts. They have plenty of customised succulents arrangements, and signature arrangements which they supply to all SPAR supermarket outlets.
"We support small scale succulent growers in the hill country. Each supplier grows different plants for us. We also mainly use clay pots for our designs to support the Sri Lankan pottery industry," they told the Sunday Times Magazine.
Orders can be placed through Facebook (Spikey me) and Instagram (Spikey.me), and they will also be launching an online store soon. They deliver within Colombo, through Pick Me delivery and other local delivery partners.