Appreciations
View(s):

Fond memories of our Richmond days will always remain

Madhawa Waidyaratne

Madhawa was a versatile and multifaceted intellectual par excellence who displayed unparalleled skills in many disciplines. He was an administrator of the highest calibre, author, poet, composer, musician and most of all, a humble gentleman.

He held prominent positions in the state administration as Deputy Director of the EDB, Director of the National Physical Planning Department and culminated his public career as Additional Secretary of the Ministry of Megapolis and Western Development.

He was a proud alumnus of Richmond College, Galle and the University of Colombo where he was one of the visiting faculty until his untimely death.

Madhawa happened to be the first contact I made when I was admitted to Richmond in 1977.  Before my entry to the school, he commuted by train from Hikkaduwa and by chance made acquaintance with my father who was also a regular in this routine on his way to office and so forth. My father was highly impressed by his intellect as a schoolboy and asked him to take care of me on my entry to school.  Fortunately, we found ourselves in the same class and became friends from the outset.  Madhawa was a promising student who was studious and quite serious.  But his personal traits never stood in the way of associating with his friends.

On leaving school, we chose different paths. He made a career in public administration after university. I hardly met him thereafter although I followed his meteoric rise in public life through the newspapers and other sources.  I spoke to him a couple of times on the phone but that was it.  However, our friendship was renewed when he started attending our annual class get-togethers on the first day of the big match in March every year.

In 2019, he was invited as a special guest at our get-together where he delivered the keynote address recapping our schooldays so vividly.  It was such a touching inspirational speech appreciated by all. He then went on to sing a couple of favourite oldies and mingled with the crowd freely, talking and enjoying the occasion to the fullest.

That was in March 2019. Today, he is no more. Poignantly, it marked his last appearance with his classmates; we never thought that he would leave us forever the following year.

He made us proud of his professional achievements, many of which  were unknown to us until some speakers highlighted them with awe at his funeral. We came to know that it was he who introduced the Sinhala word for 'smart' as 'Suhuru'. The edifice 'Suhurupaya' which stands out in Battaramulla will therefore be a living monument for long in his memory.

May you attain the supreme bliss of Nirvana.

Squadron Leader (Retd) Lasitha Mendis
---
She found happiness in helping others
Fidelia de Silva
Fidelia de Silva was the eldest in our family of eleven, born to Felix David Lionel de Alwis and Hilda de Alwis on April 10, 1921.
She was the formidable spirit in our family. She schooled at Methodist College, Colombo and passed the senior matriculation with hopes of  qualifying  as an academic. However  given the social climate of that era our father had other plans for her. And she complied with his requests without question.
I recall with nostalgia the period that she was engaged to the late Capt. Joseph Jayawardena. His visits to our house were frequent and the sound of music and laughter would fill every corner of our house, down Walukarama Road.
When she married Joseph, I was the page boy. Their life together had just begun. However, what should have been a full and happy life together was not to be, as her husband fell ill within a short period of three months. He was misdiagnosed and died due to a medical misadventure.
She was with child at this period and her beautiful daughter Hemakanthi was born on December 20. It was at this juncture she moved to live with my brother Denzil, who was a planter at that time, but he too passed away due to typhoid.
My sister decided to move back to our ancestral home in Galle in the village of Kalahe on Rockhill Estate. Hemakanthi schooled at Southlands College, Galle excelling in her studies. However at the tender age of 12 years Hemakanthi was diagnosed with blood cancer and she passed away within a short period of time.
Fidelia was devastated by her continued loss of kith and kin. In her sorrow, she immersed herself in voluntary work with the YWCA of Colombo surviving on her widowed pensioner's salary. It was at this period that she encountered her future mother-in-law, who approached her with a proposal to meet her son. The stars were aligned and they eventually married and she became Mrs. Douglas de Silva. They were a happy couple, who were subsequently blessed with two sons Dilhan and Harin.
Her past had taught her many lessons and she understood the blessings that God had given her and she dedicated her life to serve the Lord. She engaged in social service with the YWCA at Rotunda Gardens and it was the beginning of a lifelong journey that developed her passion to help the poor and the needy. Her effort to develop the institute she served was achieved through her untiring efforts and work with donor nations like the Netherlands. It was during her tenure of office that she created opportunities for hostellers, guests and a very active restaurant which catered even to the public.
Fidelia was to me and the rest of the family a teacher, adviser and guide along with our sister Viola and our late brother Chandra. She not only played the role of a teacher in our family, she was also a teacher at Richmond College.
The tsunami in 2004, touched a nerve with my sister, as the most affected town was our hometown – Galle. She then took it upon herself to work for the needs of the children who had been rendered orphans. She built two homes from the donations received  from Sri Lanka and abroad.
After the death of her husband she continued to live at Bagatalle Road, in a house provided by her late husband Duggie with the best of facilities provided under the supervision of her sons Dilhan and Harindra.
With her health deteriorating she was moved to an apartment at Nawaloka Hospital which was well equipped to accommodate elderly persons.
We visited her regularly and she was fortunate in having regular communion given to her by the Methodist priests.
Sister, all your siblings, children, extended family, cousins, relations and faithful friends will never fail to remember your Christian ways and the exemplary life you led.
Nihal de Alwis
---
I close my eyes to picture happier times
Bryan Paul  Senanayake
A challenging year of COVID,
A world wrapped in fear
Has not made your absence any easier
Or the pain of your loss clear.
No farewell words were ever spoken
No time to hold your hand
A parting that still leaves me heartbroken
No one will understand.
I often wonder what it would have been like
If you stayed a little longer…
The joy that you would have been a part of
And the joy you would have shared.
I close my eyes to picture you
A happier time, without any pain
A time of love and laughter
That I believe is now, yours again.
I know you are with the Lord Jesus
Mother Mary, by His side
Watching over me daily
From heaven where you reside.
Years pass by unknowingly
And 14 seem a maze
Of not having you near
And sharing your warm embrace.
Your loving daughter,
Shima Senanayake
---
To a father with  a golden heart
Anton Pulle
It's with  deep  sadness  and  pride  I   penned  these  few  lines
For  a  father  who  was  so  dear  to  Aiya, Malli  and  me
He  did  not  love  only  us  but  he  loved  all  humankind
And taught  us  also  to  do so
He did not care for money, clothes or any worldly pleasures
But cared to uplift the downtrodden the  marginalised  and  the mentally handicapped
He was honest to the core in all his dealings
And taught us also to do so
He was a loving  husband, father brother, father-in-law, grandfather and a friend to  all
He loved all  religions
He loved all races
And taught  us  also  to  do  so
So  dearest  Dadda, as  God  wanted  you  in  his  kingdom
We bid a loving goodbye to you
And thank you for teaching  us  all   the  good  things
So  that  we  too  can meet  you
The  Pulle  Family
---
He taught us the importance of selfless service
Kanagaratnam Theivendirarajah (Theiva)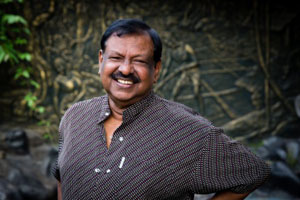 It is still with some disbelief that I write these few lines about the passing away of my dear friend and colleague K. Theivendirarajah (Theiva or Deva to his colleagues) who was the Senior Programme Manager of Caritas Sri Lanka – SEDEC, the social arm of the Catholic Bishops Conference of Sri Lanka. Theiva was one of the main pillars of this organisation and contributed in no small measure to its growth and development.
Thieva, true to his Catholic beliefs served this institution for an astonishing 40 years which is about two thirds of his own life.
His strong faith in the Catholic social teachings which is focused on supporting the poor and marginalised to improve their quality of life, irrespective of ethnicity, religion, caste and class saw him becoming an important cog in all the activities of Caritas Sri Lanka.  And in many of these activities particularly addressing emergency support services during natural disasters and supporting the relief, rehabilitation and reconstruction activities of war affected communities, I was fortunate enough to be associated with him and my other colleagues at Caritas Sri Lanka in alleviating the sufferings of the affected communities as well as learn from his years of experience in handling complex humanitarian crises. These required the fulfilment of so many rules and regulations as stipulated by several foreign and local donors who insist on accountability and transparency for their funds.
This experience is what endeared him to Caritas Sri Lanka's foreign partners and donors who recognised his capacities and consulted him on important issues related to project development and the situation in the country. He was frequently invited to attend international workshops and meetings where he was able to share Caritas Sri Lanka's experience.
Countless are the journeys we made together to the remotest parts of the country. We would discuss the many challenges in serving the needs of the poor and getting them to overcome their sense of dependency and become masters of their life. Our joy was to see at least a few of these overcoming their initial difficulties and making every effort to be masters of their life.
In the end nature took its toll on this man who served the faith of his choosing with so much dedication for over 40 years at the expense of his own health. His personal qualities especially his patience and sense of humour were legendary. There are so many in the Caritas Sri Lanka network spread all over the island who have learnt the intricacies of humanitarian project management from him and gone on to serve in their own regions with great dedication. With every one of them he somehow found the time to give his personal quality time which those who were fortunate enough to benefit from will remember all their lives.
In the "Gaudium et Spes", the Pastoral constitution on the Church in the modern world, it is mentioned thus;
"A Society that wishes and intends to remain at the service of the human being at every level is a society that has the common good – the good of all people and of the whole person – as the primary goal. The human person cannot find fulfillment in himself, that is, apart from the fact that he exists "with" others and "for" others". The common good is always oriented towards the progress of persons; "The order of things must be subordinate to the order of persons, not the other way around"
Thieva exemplified the above philosophy in deeds far beyond the expectations of those who knew him and all those who benefitted from his selfless service. May God grant him the salvation he richly deserves.
Vareeswaran (Varees)