When you've got cookies on your mind
By Shannine Daniel
View(s):
Some of us fell in love with these childhood goodies baked at home with lots of love and sugar while others discovered these sweet treats in adulthood.
Over the past few years, home bakers in and around Colombo have tried their hand at perfecting their recipes which have either been handed down in their families or created from scratch on their own.  Take a look at some of the home bakers who have taken a leap of faith with their beloved cookie recipes.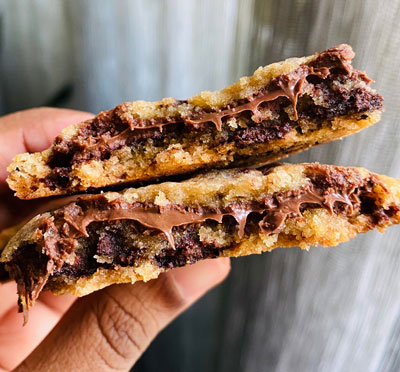 Cookies and You
Cookies and You is run by part-time teacher and home baker Rukaiya Reeza. Her signature items are the giant cookie and cookie dough brownies, and she also has salted caramel popcorn, tarts, cakes and cupcakes in her range.
"Six years ago I saw an opportunity to combine baking with photography, and my business grew from there on Instagram. At the time there weren't any home bakers who specialised in cookies and that is why I decided to start my business," Rukaiya said.
"Our products have been created from scratch with trial-and-error recipes to become the perfect treats. Baking is truly a science, and it is also about building on your strengths to provide your customers with treats they cannot find anywhere else."
Before the pandemic, Cookies and You delivered their products within Colombo and the suburbs. Customers can now pick up their orders from Rukaiya's residence in Colombo 3. Orders can be placed through Instagram (cookies.and.you) and WhatsApp (077 4622 894).
Yum Cookies by Nala
Yum Cookies by Nala is run by mother-of-two Nalini Manimaran who celebrated one year in business on November 12 this year.
"Ma don't be an ordinary mother, you're someone unique," Nalini recalls her elder son telling her and when her younger son suggested she make cookies like the ones she made for his birthday, she took the plunge. "My husband and my friends also encouraged me," she told the Sunday Times Magazine.
Nalini also sells cookie butter in three different flavours – original, chocolate and ginger – edible cookie dough as a dessert, monkey butter, cookie cuppies (cupcakes made from cookie dough), cookie cakes, profiteroles, sticky toffee pudding and brownies.
"The quality of ingredients and unique ideas make our business special – 100% butter and 200% love is our motto. I do not compromise on the quality of my products for cost," Nalini said.
Customers can place their orders through her Instagram page (yumcookies_by_nala) or her Facebook page (Yum Cookies by Nala). Orders are delivered within Colombo and the suburbs and can be picked up from Rohini Road in Colombo 6.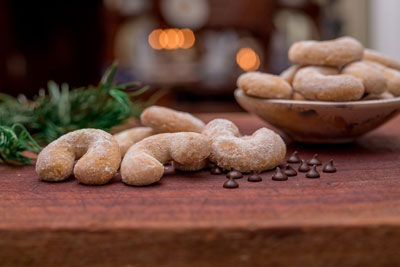 Chesma's Cookies
Chesma's Cookies run by Nirosha de Silva has been in operation for three years. Nirosha's unique cookies take the shape of cashews, and are available in 17 flavours and include vegan, gluten free and her popular chocolate chip and nutella cookies.
"I worked as a banker for nearly 30 years. When I bid farewell to my banking career, I chose to switch to baking," Nirosha told the Sunday Times Magazine.
"This product is based on a recipe given to my aunt by a Polish lady who lived in Sri Lanka more than 70 years ago. I used to bake it on special occasions for loved ones, and it was my daughter who now lives abroad, who inspired me to start a business as the cookies were relished by folks over there," she said.
Chesma's delivers islandwide and orders can be placed through Facebook, Instagram (chesmascookies), Whatsapp (072 2244520) and regular calls or text messages (0777 205840). Nirosha's brand has a store at One Galle Face Mall too.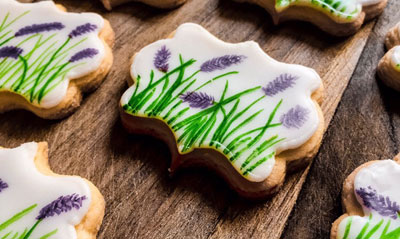 Elegant Cookies
Elegant Cookies is another store on Instagram run by university student Hajarah Anas.
"I am currently studying for Natural Science, but I did not want to lose my passion for creativity, so I started this small sugar cookie business," Hajarah told the Sunday Times Magazine.
She launched her business just over a year ago and now sells colourful sugar cookies with intricate designs done in icing.  Based in Kandy, Hajarah delivers her cookies to Kandy city and the suburbs and also Colombo – if there is no lockdown or curfew. Customers can reach her through her Instagram page (elegant_cookies.lk).

The Brick Lane Cookie Company
The Brick Lane Cookie Company run by Chathura and Amanda Jayatissa, was one of the first small businesses to launch cookies in Colombo.
Their store in the Crescat Boulevard Food Court opened in 2014, and since then they have been popular for their large cookies in flavours such as Classic chop chip, Classic Nutella burst, Red Velvet, Coconut choc chip and Oreo crunch.
They now have a second store at the Colombo City Centre, and are available on Uber Eats. They also have their own delivery service. Customers can call 0112083054 or Whatsapp 0750763342 to place their orders.

Cookie Bar
"At a young age, I fell deeply in love with baking. I was always baking cookies for family and friends. It was my family that encouraged me to believe in myself and my passion for baking, and they helped me take the leap to begin Cookie Bar," says Yumna Rahman.
Cookie Bar began in November 2017 and now offers over 15 varieties of cookies in tempting flavours such as Nutella stuffed, Oreo, peanut butter, red velvet and cheesecake stuffed, and also cookie based desserts, like choc chip cookie cheesecakes, as well as giant cookies.
Operating primarily on social media such as Instagram, customers can drop a message through their page (cookiebar.sl) for orders. They can also be reached on Whatsapp (0773924845). They offer delivery through their delivery partner Road Runner, within Colombo 1-15 and most of the suburbs.