Moditha Magic
The young actor who dream to leave his audience spellbound wins Best Child Actor at Asian Film Festival in Los Angeles
View(s):
Young  Moditha Dabare fell in love with acting with the very first stage play, 'Macbeth' by WorkShop Players-watched at the age of 14. The characters of William Shakespeare's 'tragedy of ambition', played by Sri Lanka actors led by Jerome de Silva brought a magical experience to Moditha and he often used to put himself in drama characters in his imagination. But little he thought that the first short film, the opportunity he got to act would never win him and international award.
Moditha won the Golden Diamond Best Child Actor award at the recently concluded Asian Film Festival Los Angeles (AFF) 2020 for his role in Thisen Umagiliya's short film 'Catharsis'.
"The play Macbeth had a great influence and we in the school decided to start a drama," said the young actor, an Advanced Level student at the Royal Institute International School. "Macbeth left with a magical experience and I wanted to leave those who would see my acting with the same feeling," Moditha said enthralled by the magical power of acting.
"For the drama club meeting we made an invitation to Workshop Players and surprisingly it was Rehan who played Macbeth along with Hidayath came for to train us," said Moditha.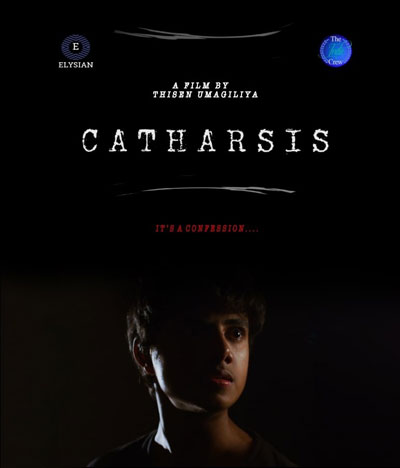 At the AFF which was held as a virtual festival due to the ongoing Covid-19 pandemic, Moditha was competing with  four other final nominations from Canada, China, Venezuela and Australia. His victory among more than 500 films came after about 20 rounds.
Screenplay written by Sandali Pathiran and Thisen Umagiliya himself cinematograph by Thilina Prasad and produced by Shiran Mahendra and Thishen Umagiliya.
Thisen, a colleague from the same school, the 'filmmaking' idea was initiated in September 2019 and it was shot within six days.
The film earlier won the Most Promising Director award at the Agenda-14 Short Film festival and it was also the Best Student Film at the Direct Monthly Online International Film Festival recently.
Moditha, a 17-year-old social science student studying Law, Psycology, Gloable Perspecitve and Researach and English has plans to cotinue his acting in future.
"My family motivates me to keep on following my dreams. I follow theatre and drama as a hobby," says the young actor.
Moditha and Thisen, childhood friends, follow acting under their teacher Gopitha Kiribandara at her theatres school, 'Elysian'. "Ms. Gopitha played a major role in our victory. We are ever so grateful to her," he said.
"When we made this film we never thought about awards. Ms. Gopitha our teacher was a great strength and a support. When I was nominated for the Best Child Actor award I never thought I would be able to win it,".
A coming-of-age story around an innocent young man, 'Catharsis' depicts how he is forced to go through a social and psychological dilemma mainly due to unfair and cruel system. Moditha does a double acting, the two contrasting to each other.
Both Thishen and Moditha were grateful to veteran cinematographer Channa Deshapriya who helped in the production
Moditha's father serves as a Deputy Labour Commissioner at the Labour's Department and his mother is a Gayani teaches Bio Science at the same school where Moditha studies.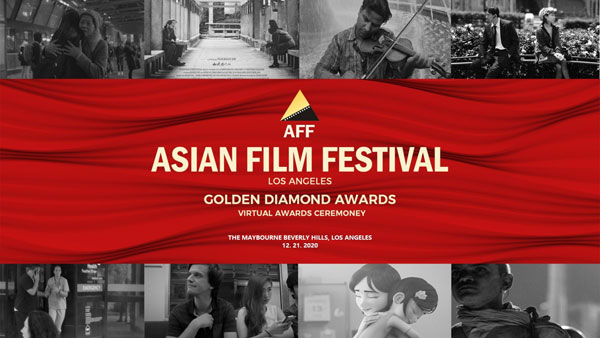 The winners of the 2nd Annual Asian Film Festival were announced at the Maybourne Beverly Hills Los Angeles and due to the Covid-19 pandemic the award ceremony was held as a virtual awards ceremony. The festival featured twenty competitive categories including Feature, Foreign Language Film, Documentary, Animation, Short Film, Documentary Short, Student Short Film, Director, Director Short Film, First Director, Director Student, Script, Cinematography, Editing, Production Design, Music, Actor, Actress, Child Actor and Child Actress.
The Asian Film Festival Los Angeles Chairman Holmes Stoner Said, "This year's program featured so many wonderful films, and we are grateful to our jurors for selecting our award-winning films, We thank and congratulate all of the filmmakers who shared their films with the festival this year and look forward to great things from each and every one of them."
"While we are not yet able to celebrate these incredible films at their premieres, we are so proud to celebrate them in partnership with our generous team through our 2020 Golden Diamond Awards virtual ceremony" said Festival Executive Chairman Jason Quin. " AFF Los Angeles chose to recognize a daring, innovative, entertaining, diverse group of films and filmmakers, and the Festival is pleased to honor all of them with our first ever virtual awards ceremony at this particular moment in 2020."
Some of the other main awards at the festival were, the Best Feature "Stowaways", USA, Best Foreign Language Film: "A Touch of Spring", Canada, Best Documentary: "Heart of Gold", Thailand, Best Animation: " Let's Eat", USA, the Best Short Film: "Song of the Crickets", Switzerland, the Best Documentary Short: "Parental Guidance Suggested", USA, the Best Student Short Film: "What We're Owed" Australia, the Best Director: "Fire on the Ridge", USA, the Best Actor: "Father And Son", China, the Best Actress: "Homa And Sisters", Iran, the Best Child Actor: "Catharsis", Sri Lanka, the Best Child Actress: "Bringing Schools To Where There Are None!", Italy, the Best Director Short Film: "À La Carte", Vietnam, the Best First Director: "Magic Kingdom", Hong Kong China and the Best Director Student: Eris Zhao, "Landing", USA.