Litro Gas Chairman receives special award
View(s):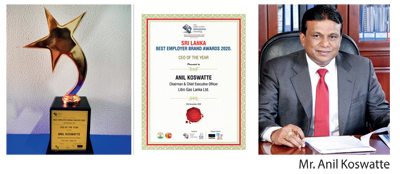 Litro Gas Lanka Ltd was showcased on the international stage when its Chairman and CEO, Anil Koswatte was awarded the 'CEO of the Year' at the Sri Lanka Best Employer Brand Awards 2020 hosted by the World HRD Congress.
For the 15th consecutive year, the Sri Lanka Best Employer Brand Awards has recognized and feted industry leaders for their exceptional leadership in empowering key stakeholders of their respective companies and the community, Litro Gas said in a media release. The award ceremony was held virtually on November 24.
Commenting on the award, Mr. Koswatte said that this award echoes the commitment and dedication of the management and employees at Litro Gas Lanka Ltd, whose contribution towards the company's success, made it all possible.
"The Litro Gas Lanka team is powered by the support of our customers who make everything a possibility for us, our channel partners and our key stakeholders. As a customer centric company, our focus is enhancing and improving the level of service and the product portfolio we deliver to our customers, thereby strengthening our core competencies as the industry leader," he added.
As the island's leading provider of LPG, Litro Gas has consistently undertaken a national enterprise of keeping over four million Sri Lankan homes supplied with cooking energy, while ensuring the supply of LPG to industrial operations and business entities across various sectors.
With a market share of 76 per cent, the company generates a turnover of Rs. 45 billion and operates as a state-owned enterprise enriched with a multinational heritage.