Then he dared not read the book, now he plays the role of Arjie
Brandon Ingram who stars in the soon-to-be released film version of Shyam Selvadurai's award-winning novel Funny Boy, talks to Yomal Senerath-Yapa
View(s):
Brandon Ingram graphically remembers not reading Funny Boy. The book would have been number one in his Christmas stocking wish list; it may have given his teenage-self butterflies in the stomach and a dizziness in his head but he never dared pick it off the bookstore shelf.
As the Shyam Selvadurai novel is about to be released as a Deepa Mehta film, one is surprised to hear that the boyish Brandon with two gay novels under his own belt had given this acclaimed South Asian queer bildungsroman a wide berth.
The reason was not internalized homophobia or fear of what might be within the covers: it was the daunting walk to the counter and the momentous self-confession for a teenager of presenting the book to the eyes behind the cash register.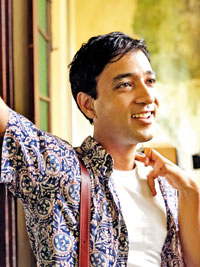 My interview with Brandon who plays the title role of Arjie Chelvaratnam in the film cuts very close to the heart given that this was a casting made in rainbow heaven. Arjie, as loyal readers imagine him, would have been darker, more doe-eyed and shyer, but both he and Brandon share the same defiance, somewhat camp and dramatic.
But there is a lot of contrast, too, according to Brandon. At 14 Arjie comes to terms with his sexuality in that quietly rebellious way of his. Brandon at the same age was more the prima donna, while being deeply vulnerable and soul searching within.
Having schooled at Wesley College and joined advertising at 17 as a copywriter, Brandon took to drama with flamboyance first playing Jim – a suicidal teenager in Enda Walsh's 'Chatroom'. Eighteen years on, he is a creative director at Wunderman Thompson.
His voice cracks when he remembers that boy by the bookshelf at Vijitha Yapa, afraid to finger the spine of a novel that fascinated him feeling that "I am effeminate enough that they might suspect- but buying the book makes the statement."
He has come a long way from there to this recent Cinderella moment when he got to play the boy he had secretly envied.
"I think it's important for anyone who is struggling with the truth about their identity to know that acceptance is possible and before it is possible with anyone else – because miracles such as this happen!"
But at 34 chosen to play a 17-year-old, Brandon had to cover up all his tattoos, wear hair extensions, and shave every day.
Filming itself began after a three-day workshop when director Deepa Mehta's close friend, Neelam Mansingh Chowdhry took the primary cast back to ancient Indian basics grounding them in the Bharata Muni's Natya Sastra – a treatise on dramatic theory written around 200 BCE.
"It really helped us cut away at the core of who these characters were." Brandon recalls having to go through the 'nava rasa' exercise. Here the nine basic emotions/ sentiments or the 'rasa' are drawn on the ground as nine boxes. Each actor selects one line from the script and renders that line according to the rasa box – romance, terror, compassion and so on on which he/ she stands.
While working with Deepa was a privilege and joy, Brandon says that each person in the cast was inspiring, each "like a pillar holding up this fantastic story in the strongest possible way."
Seema Biswas who plays Ammachchi morphed from the stern inhibiting grandmother in the book to a vivid central presence.  Brandon is full of admiration: "I have no words to describe her emotional range- such a diverse and giving actress and very instrumental to the role I played."
Then there was Nimmi Harasgama playing Amma, little Arjie's goddess who secretly nurses a broken heart having not been allowed to marry her Burgher lover, forced instead into an arranged marriage. Brandon calls her 'the backbone of the story' as in the first half it is she who like a gorgeous butterfly conducts little Arjie's life with her unfolding wings.
Ali Kazmi who plays Chelva, that most upper middle class of fathers, was a hearty presence on location who kept the laughter alive. But most joyous was it to share the set with Tracy Holsinger, Brandon's first drama guru playing Kanthi Aunty, and buddies Ruvin de Silva (Anil) and Arun Welandawe-Prematilleke ( Arjie's teacher). Rehan Mudannayake playing Shehan Soysa, Arjie's lover had 'great chemistry' with Brandon. Arush Nand, who is Arjie's seven-year-old avatar gave Brandon many ideas on how to bring out the older version.
The dark horrors of Black July 1983 had to be revisited with Errol Kelly and the art department deftly recreating the 'look and feel and smell and vibes' of the '80's. For Brandon it was a rude awakening- the hatred, the tyre pyres, the fires and violence. In a scene at a refugee camp Nimmi and Brandon confronted with the terrors faced by inmates cling to each other overwhelmed. "It was an intensely emotional moment and Deepa had to yell at us to concentrate on the scene at hand."
One of the climaxes in the novel is the garage scene where Arjie makes love for the first time with Shehan. Now Brandon had been 'deeply intimate and more' on the stage for Arun Welandawe-Prematilleke's play 'The One Who Loves You So' before audiences amounting to a thousand but in front of the camera, things proved different.
Mehta ensured that only the most essential crew was present when shooting the scene. Brandon says, "she guided us step by step ."
Brandon would later quip that he'll never be intimate with anyone afterwards without having Deepa also in the room but jokes apart he confesses it was a beautiful scene – not titillating or explicit but tender, sincere, full of the true feeling of love.
"So do watch the movie," urges Brandon. One of the things he hopes it will do is pull down the walls of taboo about alternative sexualities. It is important to know that American stereotypes and examples of being gay do not serve us. "I am still finding out what it means to be a Sri Lankan gay man. Because the things that I want in life in terms of intimacy, in terms of how I want to build a life, a home, how I see partnership, the values I want to imbue into a relationship are very different to the western world."
"We are still in colonial hangover, still to figure out our identities as Sinhalese, Tamil, Muslim, Burgher, or straight or gay Sri Lankans. Moments like these can be a catalyst for those conversations to be had," he says bracingly, "a beginning, if nothing else."
In cinemas in Canada from last Friday, Funny Boy will be on Netflix and select US theatres from December 10. The film represents Canada at the 2021 Oscars in the best international feature film category.