Ideal getaway from lockdown blues
View(s):

Having been through an extended period of lockdown, everyone is longing for a getaway.

Mount Havana Luxury Boutique Villa is the perfect place for a quiet retreat with family and friends this season. Located in the cooler climes of Gampola in the Kandy district, this 25-acre estate is lush and green, a soothing balm to anxious minds. The rolling tea estates that encircle it offer stunning views. Its position atop a hill is a vantage point and on a clear day it is even possible to see Adam's Peak.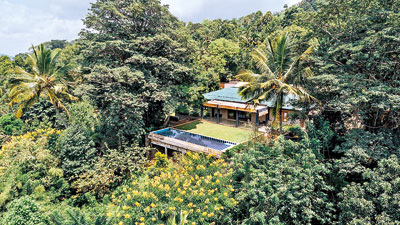 The grounds of Mount Havana play host to a diverse range of flora and fauna. A forest planted with the specific aim of encouraging wildlife habitation, is home to many medicinal plants and endemic varieties of flora and fauna. The stream that runs through it finds its origin in a natural spring not far from the property. Breathe in the clean, fresh air and enjoy the tranquility of nature as you take a leisurely stroll through the forest. Stop by the butterfly gardens or go bird watching at the dedicated bird watching hut located on the property.
The villa at Mount Havana consists of five bedrooms, including two suites. Each room is equipped with every modern amenity, providing you with comfort and luxury in a truly rustic setting. The sophisticated interior is adorned with the works of  artist-turned-naturalist Channa Ekanayake, depicting landmarks and people in the locality. A verandah that overlooks the garden and pool is a wonderful spot to relax, watching nature or enjoying your meals.
Mount Havana was closed to guests during the lockdown period, and also put through a thorough disinfecting and sanitizing process, with official approval of the Public Health Inspector. Rigorous hygiene procedures are implemented to ensure the wellbeing of both staff and guests. Numbers are currently restricted to a maximum of 12 guests.