Appreciations
View(s):

Gentle being loved by all in the legal fraternity

Gamini Jayasinghe

Gamini Jayasinghe passed away peacefully on November 18.  He was hospitalised for a few days on losing consciousness, on account of a fall. By his untimely demise, his family, friends, colleagues at the Bar and his many clients have lost an eminent senior lawyer and a gentleman.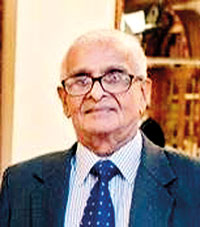 I would like to first write about his ability as a lawyer. Gamini specialised in civil law and practised in the Colombo courts – mostly in the District Court and appellate courts. He gave his full effort towards his clients' cases and endeavoured to get justice for them; but not at any cost. He was a conscientious lawyer who knew and practised his duty towards the courts before whom he appeared, his lawyer-colleagues who appeared for the opposing party and without in any way undermining his clients' interests. He worked hard, studied the briefs thoroughly and inculcated the same habit in his juniors who were fortunate to work with him. His ability was well recognised among the legal fraternity in Colombo.
He was one among a few practising lawyers who were in the rarest circle of being a real gentleman in every way. He always had a beautiful smile, spoke kindly and gently to everyone, whether high and mighty or the down-trodden juniors; but when the occasion demanded he could be quite firm and tough. Because of his abilities he was chosen by his fellow colleagues, first as Secretary to the Colombo Law Society and then as President to guide the Society in its many endeavours to benefit the members and the public. I had the privilege of watching him speak at the Bar Council of the Bar Association on many occasions, when he skilfully helped the members to take the right decision without being outflanked by peer or political pressure. One such instance was in the case of a former Chief Justice who by his misconduct brought the Sri Lankan judiciary to low levels where even the International Bar Association sought to intervene to do damage control.
Perhaps the most outstanding feature was that he was universally loved by all the judges before whom he appeared, his colleagues, juniors, and the litigants, whether of his own side or the opposing side. That was his hallmark: a rare quality.
I came to know Gamini, when I was introduced to him by my elder brother – a law student of the Law College, when I joined them at the unofficial hostel known as Gray's Inn in Maradana, just within the vicinity of the Court complex in Hulftsdorp. I too was pushed to take to the law when I was drifting without any aim in life. In this hostel, there were a few lawyers and many law students who lived as one big family; eating, drinking, sharing, and making merry hell during good times and bad times.
Eventually, when I scraped through the exams and took oaths as an attorney-at-law, it was Gamini who gave me the first brief on the very day I took oaths, to appear in the Supreme Court to make a procedural application, together with a fat fee of Rs.500, which was a big amount in the 1970s. He introduces me to his peers at the Law Library, as his son and guided me along my career; he was a father figure and reliable friend.
I believe that there would be many who would feel the loss by the demise of this gentle being. We must face reality that 'nothing is permanent in this long journey in samsara'; but we can be certain that Gamini would have been reborn in a better, higher realm.
May he attain nibbana (enlightenment).
Kanagasunderam Narendrakumar
---
Missing our daily chats
Upali Dhanapala Abeyewardene
My brother Upali passed away just 11 days fter his 91st birthday which he had celebrated by offering alms at the temple and to some residents of an elders' home. Upali was a handsome gregarious youth with many friends. Educated at S. Thomas' College and St. Peter's College, his secondary education was at St Mary's Kegalle where he captained the cricket team. He then moved to St. Joseph's College in Colombo where he excelled in his studies and gained University entry. His prowess in boxing saw him appointed Boxing Captain at Peradeniya University.
After graduation, he taught briefly before taking up a post as a Labour Officer, setting high standards in efficiency and dedication. When working as an Assistant Commissioner at the Kalutara Labour Office, he wold travel to work by train, breaking journey to pay obeisance at the Kalutara Bodhi, such was his religious zeal. Following his success at the Sri Lanka Administrative Service exam, he was appointed a Deputy Commissioner of Labour. He was seconded to Air Ceylon as Director for a time and then returned to the Labour Department where he was often tasked with conducting labour disciplinary inquiries, even after retirement. He was also awarded a scholarship to the UK. In retirement, Upali enjoyed playing cards with his friends particularly Rummy and writing poetry, contributing frequently to the newspapers. Upali leaves his wife Chintha and their four children, all of whose names begin with N. His eldest son Nalaka predeceased him.
Upali Aiya I miss our daily chats very much.
Budu saranai.
Bandula Abeyewardene
---
A friendship that began when we were eight years old
Ranil de Soysa
His initials H.R.J. stood for Harold Ranil Jayantha – "Harold" after his uncle Bishop Harold known as "Mahappa" by the family. At S. Thomas' College, Mount Lavinia his nickname was "Charger", perhaps because it rhymes with H.R.J.!
I knew Ranil and his younger brother Shiran from about the age of eight years. The friendship grew as we attended STC and our respective parents took turns and arranged to take us to Mount Lavinia and back; Aunty Kaminee sometimes drove us to College in their Renault Dauphine. It was at STC we gathered lifelong friendships with many others like Jith Pieris, Janaka Rockwood, Michael de Zoysa, Druvi de Saram, Derek Cameron, Nazeer Rasheed, Anura Gunesekera, late Ravi Pereira and Bandula Perera (Nalandian) just to name a few. We used to play cricket at Savitri lawn (No. 55 Turret Road) where even our respective sisters would join us and followed up by playing other healthy outdoor games that kids of that era did frequently.
Ranil was always very quiet and composed unlike Michael, John and myself often getting into fisticuffs at soft ball cricket matches played intensely. When a decision was not to our mutual liking, Ranil would intervene and be the peacemaker!
Later Ranil's cricketing talent was noted by coaches such as Lassie Abeywardena and Orville Abeynaike and he represented the college cricket teams from Under 14 right up to the First XI. However much to his father's disappointment, he missed playing in the big match and therefore was not awarded colours in 1965.  He was a very elegant batsman but sadly missed a few opportunities in the couple of First XI matches he played! If he had stayed on in College, he would definitely have played in the Royal-Thomian of 1966. Instead he opted to go for higher studies to the UK and lived at the International Students House before entering Hatfield College of Technology to pursue a diploma course in Civil Engineering. Whilst in London, he met and fell in love with Rehana Jayewardene, daughter of Harry Jayewardene, QC.
From UK he proceeded to join his parents and siblings in Perth and returned in January 1974 and married his true love – Rehana. The story goes on but is too long to mention! He maintained close friendships throughout especially with his college mates, Chrisantha (MEC) Perera, Udena Gunawardena, Nimal Welgama. D.V. Gunatunga, Kabir Issadeen, Dr. S.M. Soysa, the late Ravi Pereira and Lasantha (L.S) Perera to name just a few.
The "Ranil" I knew was intelligent but argumentative and his comments said in jest were often misunderstood. His sudden demise was a shock to all of us since he had recovered fairly well after a serious illness many years ago.
Do not let your hearts be troubled. Trust in God; trust also in me. In my Father's house are many mansions: if it were not so, I would have told you. I go to prepare a place for you-John 14: 1-2
May his soul rest and abide with the Lord.
Christopher Dias
---
Blessed for having known him, loved him and been loved by him
Susil Moonesinghe
I first met Susil aiya with Sumi akka when I was a student at Devi Balika. He treated me like his own sister, the sister he never had. I lived with them from 1974 to 1988.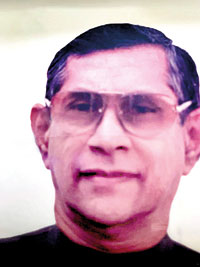 I then moved to Singapore with their two daughters (who are like my own) to attend the United World College, as it was unsafe for them to be in Colombo due to the JVP uprising after Susil aiya became the first Chief Minister of the Western Province .
He was a brother-in-law in a million and I loved and respected him very dearly. He touched so many lives by his charming, selfless and countless acts of kindness. He was very humorous and he loved teasing their friend Thanchi, entertaining everyone around.
I enjoyed election times, when l was totally involved in helping him with his campaigns. We had many political leaders in and out of their home, and as a result we had politics for breakfast, lunch and dinner. He was very close to Anil aiya who was a frequent visitor to their home.
He looked after our parents, and our family members who went to school or to their work places from their  tranquil home in Albert Crescent.
We are all blessed for having known him, loved him and been loved by him.
May he find ultimate bliss as preached by the Buddha.  
Rohini Senanayake
---
We were all proud to be this glass maker's children
Hector Francis Campbell Fernando
When my youngest brother, Gihan (GAF), as a boy of six years, was interviewed by Canon R.S. De Saram, the Warden, S. Thomas' College Mt. Lavinia, prior to his admission to the College, and asked what his father's profession was, he had replied, ' he is a glass maker'. The Warden like many other members of the community had got his 'glasses' from his one-time student, HFC, and knew what the boy was talking about.   My father found this most amusing and related it to many friends and relatives. He knew that to many people he was indeed, simply a 'glass maker'!
He was the first Ceylonese to qualify as an optician in the United Kingdom. He returned to Sri Lanka just before the Second World War broke out. Until then this was a profession dominated by British nationals. Many young men who wished to be trained in the field of optometry, apprenticed under him and went on to become big names in their chosen field. He never considered himself a businessman and refused to set up his own optical business. He considered himself a professional and was very proud of his profession. Kindness and skill, care and attention marked his service to his clients. He established the Ceylon Optometrists Association, and became its founder president. The main purpose of this association was to further the professionalism and professional standards of those in this field of work.
My father and his four brothers attended S. Thomas' College, Mount Lavinia. His love for physics and optics in particular, he attributed to his beloved teacher Dr. R.L. Hayman, who went on to become the founder headmaster of S. Thomas' Gurutalawa.
Born on November 26, 1910, he returned to his Maker on  June 17,1962. It was too soon. I was just 15 and had two brothers who were younger, and this was a time in our life when we would have really liked a father to be around. Both my sisters had left school, and one had just got into university, and all five of us found ourselves making huge adjustments to meet a situation that we had not imagined in our wildest dreams.  But it was our mother who was devastated by the loss of a devoted husband. A teacher who never took any leave, she could not get back to work for over four weeks, such was the effect of this loss.
He was a wonderful father, who set high standards for us to follow. Not once had he ever raised his hand against any of his children. Even when it came to simple things like how you dress he insisted on standards. I had once slackened my tie knot and unbuttoned the collar button, (I was only 14). He saw me and he told us the story of how he had done this at school (those were days when senior boys wore tie to school), and his teacher, who also taught me English, V.P. Cooke, had made him stand in front of the class and told the other students, "Look at this chap, he is neither a loafer nor a gentleman'. The lesson was learnt.
Next to his profession his other love was the YMCA. He was a loyal member of the Colombo Association, and many were the occasions when we as a family trooped into the YMCA building for functions involving the family. He took a special interest, in the Y's Men's Club of the Colombo YMCA. This was the service arm of the 'Y'. At the time of his death he was serving his fourth term as President. He was held in very high esteem by all those with whom he associated, and I can do no better than to quote from an appreciation written by the then General Secretary of the Colombo YMCA, Lennie Wijesinghe, soon after his death.
"Hector is dead and with his death we of the Association have lost a loyal Active Member and a sincere friend. Our Y's Men's Club has suffered even a greater loss for he was its President. It was under his leadership that the Club achieved its present status in Y'sdom. He carried himself with dignity wherever he went. It was not a cold dignity but one which was surrounded by the inimitable charm of a friendly personality. Indeed, this was one remarkable characteristic of the man. Nobody meeting him for the first time could think of him as a stranger. It would be correct to say that in such circumstances one was more inclined to look upon him as a dear friend. Such was the impelling force of the love that throbbed in him. Hector never gave himself airs. Simplicity was the very essence of his nature. And yet it was not of the ordinary variety, rather was it one springing from the depths of a kindly disposition. Nor was his spirit of service limited. It reached out to others wherever the need arose."
 May his soul rest in peace.
 Eksith Fernando