SVCC presents online Sarod Musical Performance
View(s):

Arnab Bhattacharya, a young talent in Sarod, drew his inspiration at a tender age from his father Sri Swapan Kumar Bhattacharya. Arnab's father introduced him to the world of Hindusthani (NorthIndian) Classical Instrumental Music under the able tutelage of Pandit Buddhadev Dasgupta. Arnab's journey in the world of Indian Classical Music followed the repertoire and style of the traditional Seniya Shahajahanpur Gharana. He made his own impression with his dedication, depth, and expansion to the existing lineage of The Gharana.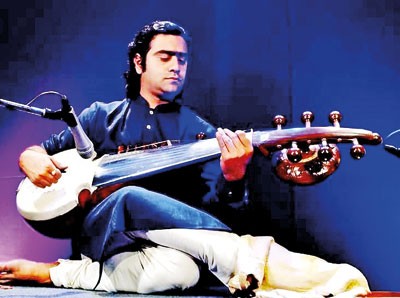 Arnab's unique ability to weave the most intricate textures of sound, even at a higher speed, keeping in mind the grammar of The Raaga, sets him apart in the world of Indian Classical Music. In short, he has his own signature style, in his performance.
In acknowledgment of his extraordinary performance, he was awarded Sarod Sundar, Sarod Nayak and many more from all over the world. He has performed globally and successfully collaborated various forms of music with their distinct styles. He has travelled extensively with his music in the USA, Europe, Central Asia, and Russia. He had recently been invited by the University of Geneva, Switzerland for a session on lecture Demonstration.
He got an opportunity to perform around the globe and perform in some prestigious festivals, such as Taj Mahal Festival,Geneva Percussions and Strings Festival, Malaysia Jazz Fest,Aralash Festival, World Music Festival,Yuva Music Festival, and Esplanade World Music Festival.
He is also a part of A Western Band, AROY (A Reflection of You) where he has successfully combined the Indian and Western music with grace and purity. Besides, he was acknowledged for his charming back ground music for the documentary film on The great Indian Painter, HemendranathMajumder. Arnab's background musical innovation also struck audiences in "Bhorer Kolkata," an advertisement depicting the heritage and traditions of Kolkata. He will be accompanied by Nilimesh Chakraborty on tabla.
Further details, could be obtained by contacting the Swami Vivekananda Cultural Centre on telephone no: 0112684698 and email: iccrcolombo2@gmail.com.