Gourmet treats on delivery
By Joshua Surendraraj
View(s):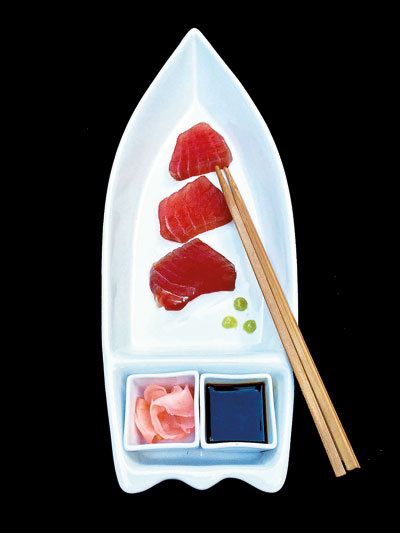 As the existent pandemic has forced a change in lifestyles, one area that has seen a huge shift in experiences is perhaps hospitality and fine dining. However, despite not being able to go out and enjoy a good meal, there is no reason why one cannot have gourmet dishes brought to your doorstep. This week we put together a list of places that cater to such gourmet needs.
Crates
'Crates' was an idea that was influenced by the lockdowns in March this year. The goal is to have their customers feel involved and be a part of creating, high quality seafood dishes at home. To this end, 'Crates' offers everything the customer needs to make this happen.
From the best/ fresh seafood ingredients, to simple and delicious ideas, they are keen to provide the full service.
Currently their products include a 'Tuna Sashimi make-at-home Crate', which contains a block of sashimi tuna, soya, wasabi, pink pickled ginger, and chopsticks. They also offer a 'Tuna Poke make-at-home Crate', which includes diced sashimi tuna, soya, Japanese rice (uncooked), furikake; rice seasoning, wasabi mayo, edamame, and rock salt.
They also hope to add more seafood products soon.
Quality is their biggest priority at 'Crates'. In order to maintain this they prepare their seafood on an order basis. The seafood is procured fresh, daily from local fishing boats and the other ingredients, from suppliers islandwide.
The crates are then delivered via UberEats and Pickme Foods.
The seafood is cut, cleaned, trimmed and prepared in order to make the customer's life easier. This then allows the consumer to get creative with their plating.
During the past few years, 'Crates' was focused on exporting fresh seafood and was also in the process of establishing themselves within the local market. However, they didn't want to limit themselves to being local seafood suppliers.
Instead they wanted to offer their customers an experience, coupled with the best quality products. Their intention is to involve their customers in their journey and the decision making process on new product ideas etc.
For more information on their products check out their Facebook page at https://www.facebook.com/crates.lk/ .
'Crates,' follows all health guidelines issued and ensures their suppliers and delivery partners do the same.
Pix courtesy Sampath Karunathilaka
Park Street Gourmet

Park Street Gourmet and their specialized delivery app 'ZipSip' offer a range of luxury food items, some of which cannot be found anywhere else in Colombo.

Their specialty lies in providing easy access to all sorts of gourmet goods, be it at their store at Park Street Colombo 2 or their doorstep delivery service via ZipSip. Regardless of whether you're under lockdown or not, you could still satisfy any gourmet cravings or explore a range of different cuisines at home.

The items on their shelves range from breakfast goods to platter foods, beverages and all kinds of other ingredients that could be used for an exotic dish. Some of these include steak, rack of lamb, salmon and garnishing products such as herbs, salts and sauces.

PSG also offers a variety of pastas and pasta sauces. One could also acquire a range of toppings that would go perfectly in a home cooked pasta dish or pizza.

Their different cheeses, cold cuts, dips and crackers also make do for a delicious personalized gourmet platter.

Food safety is a priority at PSG and each individual product goes through a quality control process which ensures there are no open or damaged packages. The management also takes care to ensure their products are originals.

At present they have also implemented several COVID control protocols both at their store and delivery service.

Their products can be bought off their mobile app 'ZipSip' which is available for iOS and android via www.zipsip.lk.

---

Chambers

The uniqueness of Middle Eastern cooking lies in its simplicity and freshness.  Aside from this, it also embodies sophistication blended with the exotic aromas of Middle Eastern spices and Chambers is a restaurant that celebrates these flavours.

Their menus have been meticulously picked, drawing from the diverse Lebanese and Moroccan cuisines. This includes palate delights such as Hummus, Tabbouleh and Zaatar Arayas etc. The kebabs at Chambers are tender and bursting with layers of Arabic spices and flavor.

We were told their 'Baghdadi Kebab' and 'Shish Taouk' are amongst the favorites on their menu. They also offer a selection of authentic Moroccan Tagines. These are traditional Moroccan slow cooked dishes of meat, chicken, veggies, or seafood, served with couscous.

Chambers also caters a variety of vegetarian and vegan options for their customers.

Overall, the meals at Chambers are exotic and their core ingredients are authentic and imported from the Middle East.

The best part of it all is their dishes are delivery friendly. The restaurant takes the time to carefully garnish and prepare them in the same manner regardless of whether it's dine-in or delivery.

Given the current situation, they've also got several safety and hygiene practices in place. Their packaging in particular is sealed, prior to handing it over to the delivery riders.

Their menu can be accessed on their Instagram and Facebook pages – @chamberscolombo. Customers can also order via UberEats, EatMe and PickMe. - Pictures courtesy Jonathan Wijayaratne