Giving life to her travels through her art
By Anoushka Jayasuriya
View(s):
Unable to indulge in her love for travel due to the COVID-19 restrictions, Shanaz Samseer is channelling her energies into giving others a taste of the places she's been to through her artistic brand, Islandy.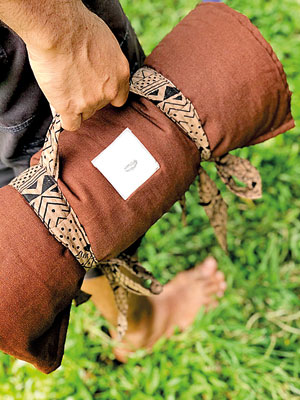 Islandy began to take form as she became more inventive with her art after completing her higher studies in Fashion Design.  As a painter, Shanaz worked on traditional canvas until she found a very different and much smaller surface for her illustrations; stones. Wanting to make her new creations stand out among other stone paintings, Shanaz eventually came up with the idea to turn hers into refrigerator magnets. These came to be Islandy's first official products.
During the nationwide lockdown earlier this year, she says she had more time to experiment decorating different surfaces with paintings of sights from her travels across the country, combining her love for travel and art.  With the support of her husband and parents, Islandy currently offers products ranging from stone paintings as magnets and door stoppers, painted clay plates, clay jewellery dishes, cloth mats, mini purses inspired by the traditional 'hambiliya' and travel kits comprising items like a bamboo toothbrush, handmade soap and an eye mask made with traditional 'cheetha' fabric.
Anyone browsing through ISLANDY's range of creations will notice a total absence of plastic and polythene. It's intentional. "When I travel I see all these animals like the monkeys that take polythene bags and try to eat them and it's not going to end in a good way for them. As my main range of products is for travellers I don't want to see my products being a reason for pollution. As responsible travellers we always have to think of nature first," she says.
Islandy reflects this conviction right down to the packaging. Shanaz sees the potential in materials which would otherwise be discarded such as leftover or excess fabrics, used boxes and old newspapers using them to package her products.
Though as a child, Shanaz didn't have too many opportunities to travel as her father worked overseas and her mother was committed to her work as a teacher, yet her passion for adventure never ceased. Since then she's been able to sate her thirst for adventure through camping in dense jungle, snorkeling in Trincomalee, rock climbing, diving in Meemure, hiking, and much more. "I'm really not a luxury traveller," she confesses. "I like having a backpack on me and really experiencing nature in its true form. To me, swimming in the sea is more interesting than relaxing in a 5-star hotel."
These pursuits help her gain the self-confidence needed to take risks and try new things, she says. Recalling rock climbing in Ratnapura when she scaled a height of 40 feet for the very first time, she says that halfway to the top she doubted if she could make it. Even with every safety measure in place, losing your balance could result in injuries. Despite the risks she told herself that she wasn't going to go back and would complete the climb. "Finally I did it and I was really happy with what I managed to achieve."
Much like with her experience in Ratnapura, Shanaz says running a business with a focus on travel during a time like this brings thoughts of uncertainty. However, she sees this as yet another mountain to scale and she isn't turning back now.
Islandy delivers their products islandwide and orders can be placed through Instagram and Facebook: @islandy_by_sketcher_shasam