The truth behind 'Temple Trees' lockdown
By Our Political Editor
View(s):
Basil Rajapaksa accuses Media Secretary Rohan Welivita of propagating lies and embarrassing the Premier
Asserts he has no office to work from TT after the closedown
Names of Independent Commission members finalised
New measures at the grassroots level to counter Covid-19
The lockdown at Temple Trees, historically one of the main centres of power in the country, continues amidst the spread of the deadly coronavirus.
Last week's exclusive revelation in these columns, over a matter of great public importance, was ridiculed by some officials. Their lackeys, like slippery worms eating into deadwood, burrowed their way to annihilate the truth. There is no fact checking, no verification and no clarification. They lap up anything served on an official platter. That seems the daily norm now. Some did it more than once in the belief that the public would swallow a lie as the unvarnished truth when it is repeated. All in the name of good journalism!
One is reminded of the words of one of the world's most respected journalists, Carl Bernstein. It was Bernstein who together with Bob Woodward, both from the Washington Post, who revealed that high officials of President Nixon's administration broke into the Democratic National Committee office at the Watergate building in 1972. A Senate investigation confirmed there was a cover-up thereafter — the beginning of events that forced President Nixon out of office — in the infamous Watergate scandal.
| | | |
| --- | --- | --- |
| | | Rohan Welivita |
Bernstein said, "The lowest form of popular culture — lack of information, misinformation, disinformation, and a contempt for the truth or the reality of most people's lives — has overrun real journalism……" How true. Untruths, half-truths topped with hand woven lies like icing on a cake, are used to jam reality and market them as nothing but the holy truth. They believed the truth will not emerge and those saying it were purveyors of lies. However, it did in this instance. This is how it all began.
After the Sunday Times hit the streets last Sunday, it was Rohan Weliwita, who once operated in Kirillapone a small video production parlour that went bankrupt, and now the Prime Minister's Media Secretary, who issued a media release. This is what he said:
"The report that the Temple Trees has been closed temporarily due to the COVID-19 situation is false.
"I wish to assure that no officer at the Prime Minister's office or at the Temple Trees has been infected with COVID-19.  There is no truth in the report in a national newspaper that the Temple Trees was temporarily closed due to the COVID-19 situation. The report is baseless and inaccurate.
"The work at the Temple Trees and the Prime Minister's office is being conducted without any interruption in accordance with the guidelines of the government and health officials under the COVID-19 situation.
"Only selected officers from Ministries and other state institutions are called in for official duties at the Prime Minister's office. Also, the Task Force office headed by Mr Basil Rajapaksa operating from the Temple Trees  continues without any interruption.
"The persons infected with COVID-19 were detected from an external unit linked to the Prime Minister's security division. The security staff at the Prime Minister's office and within the Temple Trees continue to operate as they operated previously.
"Rohan Welivita
Prime Minister's Media Secretary"
I asked Basil Rajapaksa, head of the Presidential Task Force on Economic Recovery, who works from the Temple Trees, whether Welivita's press release was correct. His reply: "It is a complete lie. The Temple Trees is under a lockdown and I cannot use the offices there. If you want to find out, you can send someone there. The whole place is closed. The staff have been told to keep away from work. They have been told to work from home."
Basil Rajapaksa was very livid when he declared, "The Media Secretary (Welivita) does not know what he is doing. They are bringing in a lot of embarrassment and disrepute to Prime Minister Mahinda Rajapaksa by telling untruths. The references to me arealso totally false. That should never happen. They do not have the licence to do so. The Premier is not one who wants to cover up these things. He is frank and forthright at all times. We have to be transparent and not keep hiding the truth from the people. What is wrong in saying the real truth?" Even Premier Rajapaksa has not gone to his office at Temple Trees since the lockdown, the main strategist responsible for the presidential and parliamentary elections said.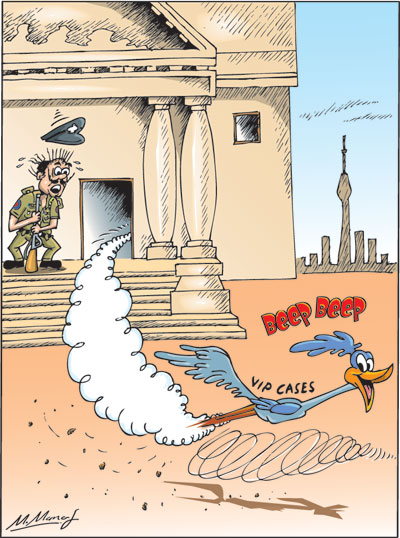 He said that after the lockdown, which the Sunday Times learnt began on November 18, he also had not been able to work from Temple Trees. He added, "I have been talking to several ministers and Air Marshal Roshan Gunatilleke, Governor of the Western Province, to find temporary office space to conduct meetings. I have no place. For most of the meetings, I cannot use the SLPP headquarters office at Battaramulla. It does not belong to the Government.
Last Friday, I held three of four different meetings at the conference room of the Highways Ministry located at Battaramulla. I had to get all my officials to come there to talk about some important business. These could not be put off." He said getting his own staff for work had become a serious issue. He would have to find a location where food outlets are available. "Life has to go on. We need to meet almost every day since people's needs will have to be attended to." He warned that covering the truth could do more harm.
One of the meetings Basil Rajapaksa addressed from the auditorium of the Highways Ministry on Friday was for Governors of the different provinces. He said, "I cannot just wait at home saying 'Temple Trees' is closed. I cannot make this an excuse. Likewise, you also should not delay important issues without saying there was no place to conduct meetings. He also expressed the same sentiments at a meeting of all State Ministers, also held at the same venue."
One of the reasons why Temple Trees remains under a lockdown is to allow the mandatory quarantine period to pass as an extra precaution. As reported in these columns last week, it is the result of some personnel of the Police commando arm, the Special Task Force (STF), who were on duty being found positive with Covid-19. Since the finding, Temple Trees, which has been home for many Prime Ministers, was disinfected many times. The matter has taken a more serious turn now.
It has come to light that Media SecretaryWelivita had allegedly found accommodation for his driver at Temple Trees. It is not immediately clear who had granted permission. He (the driver) is being suspected as a positive coronavirus case who spread the infectionto others at Temple Trees. This aspect is now being looked into, said a Temple Trees source who is familiar with the goings on. That raises the all-important question — did he canvass for the news release in a possible bid to say there was nothing serious? If that was the case, he had placed in peril the lives of members of the Rajapaksa family who were there on the night of November 17 — the 75th birthday of Premier Rajapaksa. The driver concerned, it has come to light, has visited many a crowded area doing errands for Welivitabesides his official work.
Premier Rajapaksa's birthday was marked in different parts of the country notwithstanding the ongoing Covid-19 pandemic. There were cutouts and portraits with slogans wishing him many happy returns. It is therefore not surprising that Premier Rajapaksa's close family members also celebrated the occasion on a small scale at Temple Trees with the immediate circle taking part in cutting a cake and engaging in a low-key celebration on the night of November 17. That was a joyous moment for Premier Rajapaksa since his grandchildren too took part.
Thus, out of an abundance of caution, the Sunday Times learnt that both Premier Rajapaksa and wife Shiranthi underwent PCR tests. They were proved negative. Their son, Namal Rajapaksa, Minister of Sports and Youth Affairs, also underwent the test. Yesterday, when Parliament took up for Committee Stage discussion of his Ministry, Namal Rajapaksa was absent. The Premier is said to be in a location south of Colombo. However, both the Premier and his wife have taken precautionary measures by pruning down their official engagements. So did other members of the immediate family though some have come under very special care.
The thrust of last week's political commentary, by a strange coincidence, was on information management by government officials in the current resurgent phase of the Covid-19 pandemic. It made the point that information relevant to the public was being deliberately withheld. In trying to prove the Sunday Times wrong, Rohan Welivita, the Press Secretary, has confirmed a much bigger reality — that there indeed are strong efforts to bury the truth and make the suffering public believe non-existing situations.
That such silly situations are created by those not at all familiar with the workings of the media, or had served in an outlet, can only provoke public anger, and erode their confidence in the Government. That also exposes the lackeys who market false propagandaby concocting fake news. That is an issue which cannot be ignored by Premier Rajapaksa, well known for his public relations acumen and friendliness towards the people. However, in every successive government, such situations continue when wrong persons are given the responsibility of dealing with the public. They successfully end up creating enemies for the Government.
Contrary to claims by sections in the Government, the spread of the Covid-19 pandemic is yet to be contained in the Western Province or other areas. This week, President Gotabaya Rajapaksa decided on a grassroots level strategy by activating Village Committees which had been set up earlier for development related work. These Committees have been converted into Observation Teams. Members of such committees are Grama Niladharis, Economic Development Officers, Agricultural Research and Production Assistants, Family Health Services, and the Police officers. They will come under the overall technical supervision of Medical Officers of Health and in coordination with the Public Health Inspectors (PHI). Field officers have been given the task of monitoring the activity. A particular day in the week, like Tuesdays for Police, Thursday is for Grama Niladharis and Sundays for PHIs, has been allotted to inspect houses where persons are quarantined. If a person is found infected, others in the home are to be quarantined for a further 14 days.
This is what instructions sent out last Wednesday by Presidential Secretary P.B. Jayasundera to Secretaries to Ministries, Chief Secretaries to Provinces, Health Secretaries to Provinces, District Secretaries and Divisional Secretaries, have spelt out. It adds:  "Officers of the observation team should visit quarantined homes on the days assigned to them and ensure that the residents are present in the house. Also, any complaints from any party should be investigated. The attached form should be used for observation, and each officer must use one form per house separately. This should be done in addition to regular monitoring carried out by the Police Officers. All officers are obliged to protect the privacy and confidentiality of the infected persons and their contacts.
"This process should be supervised by the Divisional Committee and regulated by the District Committee of the State Ministry of Internal Security, Home Affairs and Disaster Management. Officers engaged in the observation activities must strictly follow all health precautions to prevent the spread of the pandemic, such as distancing, cleaning hands and wearing masks to cover mouth and nose. In addition, Divisional Secretaries should pay attention from time to time to ascertain whether quarantine activities are being duly carried out in these places, access to food and health facilities by quarantined persons, cleanliness of residences, and the presence of persons suffering from other illnesses, elderly, and differently abled persons.
"These instructions have been issued "subsequent to discussions held with relevant Ministries. Since observing whether home quarantine is conducted in a proper manner is of great national need, the President has instructed to consider this as a special responsibility assigned to the relevant Ministries, Departments, Heads of Institutions, and zonal and divisional supervising officers in order to ensure that it is properly implemented at the ground level, and to conduct direct supervision from time to time."
A senior Cabinet Minister who did not wish to be identified said that the Government was hoping for a "turnaround" of the situation by April, next year –  that is in time for the national New Year festivals. He said though the ministers had planned to take stock of the situation at their meeting last week, it did not take place. This is in the light of the Committee Stage of the budget discussing the votes of the Presidency last Monday. However, widening spread of the coronavirus, another minister felt, would delay the process much further.
The significance of the latest grassroots level move is the absence of not only beds but also staff to service any more quarantine centres. Asking people to quarantine themselves at their homes, the Government believes, would help tackle the positive cases by providing them hospitalisation. Here again, the increasing number of positive cases are causing a serious concern. Furthermore, the Police who are already burdened with matters relating to the Covid-19 pandemic will be required to devote more personnel to monitor quarantine activity at homes in different areas. This is when statistics for this week, given below, show an increase.
Monday: Positive COVID-19 cases -337 (From Peliyagoda fish market, associates, and fishery harbours 335; from quarantine centers 02).
Three deaths reported. The deceased are from Heyyanthuduwa, Colombo 14 and 15.
Significant developments:
428 COVID–19 patients recovered and discharged from hospitals.
An 82-year-old prison inmate died after admission to Ragama hospital. He was tested positive for COVID-19 when PCR was done after he died.
Tuesday: positive cases were 459 (From Peliyagoda fish market, associates, and fisheries harbours 458; from quarantine centers 01)
Four deaths reported – Ginigathhena, Siyambalape south, Aluthgama and Colombo 15.
Significant Developments:
465 COVID-19 patients recover and discharged from hospitals.
Wednesday: Total number of positive cases were 502 (From Peliyagoda fish market, associates, and fisheries harbours 502; from quarantine centers 00).
Two deaths occurred. The deceased were from Colombo 12 and Pannipitiya
Significant Developments:
Former Director CID Shani Abeysekara who is in remand custody at Mahara Prison tested positive for Covid-19. He has now been transferred to the IDH
Government decides to close all schools in Kandy urban municipal areas  until December 04.
Atalugama East, Epitamulla, Kola Mediriya in Bandaragama, Bulugahathenna and Thelambugahawaththa in Akurana declared as isolated areas.
Thursday: The total numbers confirmed positive were 559 (From Peliyagoda fish market and associates 553; from quarantine centers 06)
Three deaths were reported from Colombo 08, Bambalapitiya and Peliyagoda
Significant developments:
369 Covid -19 patients recover and discharged from hospital
Government decides to temporarily close all schools in Kalmunai Education Zone. The schools would remain closed for one week.
Friday: The total numbers of positive cases were 472 (From Peliyagoda fish market, associates, and fisheries harbors 472)
Eight deaths reported from Colombo 02, 09, 10, 13 and 15 and one death occurred at Magazine prison hospital. Deceased was an inmate.
Significant developments: 19 patients recover and discharged from hospitals.
Total deaths so far are 107; 20 of them took place during this week.
The Total number of Covid-19 positive persons confirmed is 22,500. Of this number, a total of 18963 are from the Brandix cluster at Minuwangoda and the Peliyagoda clusters.
The total number of recoveries – 16,226. The total number hospitalised currently – 5703
The total number of PCR tests carried out – 79,0896
In the areas outside the Western Province, COVID-19 positive cases have been reported from many places including, Akurana, Gampola, Kandy, Ambalangoda, Hikkaduwa, Dayagama, Hatton, Nanuoya, Nawalapitiya, Anuradahapura, Nallur-Jaffna, Dikwella and Ratnapura. Three persons were found positive for Covid-19 at the State Intelligence Service (SIS). The Depot Police at Bambalapitiya has also been isolated. It is the Depot Police where riot squads are positioned besides additional police strength. The Police cluster has exceeded the previous Navy cluster.
This week saw an addition to the Cabinet of Ministers – the swearing in of SarathWeerasekera as the Minister of Public Security last Thursday. He assumed duties on Friday. Defence Secretary retired Major General Kamal Gunaratne will function as Secretary.
"My priority is to allow the people to live without fear; I will maintain public security with the help of police and the civil defence force," Weerasekera told the Sunday Times. He said "To achieve public security first, I would need to give leadership to the police and look into their needs. I will also lead the police and the civil defence force to fight against extremism, terrorism, drug related crime as well as crime against women and children."
Minister Weerasekera said he proposes to set up "Civil Defence Committees in each village. They will comprise youth from the area. It would be their task to inform their Police Station about any illegal activities including crime."  He added, "I call the police to join with me and create a country where people live without fear. I also request the support of the people to help us to achieve our goal. Currently nearly 1700 police officers have been infected with COVID-19. They have contracted it while ensuring security of the people. They work hard to ensure the safety of people. Therefore at least the people should follow health guidelines such as using face masks and maintaining distance to ease their task as well as to thank them."
Also finalised are now appointments to some important Commissions where various names have been under consideration. Here are the details:
Public Service Commission (PSC) – Justice Jagath Balapatabendi (Chairman), Ms IndraniSugathadasa, LeelasenaLiyanagama, Dr P.R.K. Ruberu, Dayan Gomes, W.H. Piyadasa, Dilith Jayaweera, Hema Dharmawardena, NimalKarunasiri.
Election Commission: Nimal G. Punchihewa (Chairman), M. M. Mohamed, GunapalaWickremege, Jeevan Thiagarajah, K.P.P. Pathirana.
National Police Commission: Chandra Fernando (Chairman), S. Liyanagama, Sanjeeva Pathirana, M.S.M. Samsudeen, Premasiri Fernando.
Human Rights Commission: Jagath Balasuriya (Chairman), Vijitha Nanayakkara, Chandana Udawatte, Harsha Navaratne, Kumari Balalla.
Commission to Investigate Allegations of Bribery or Corruption: Justice Eva Wanasundera (Chairman), Justice Deepali Wijesundera, Chandra NimalWakista.
There has been no formal response to these appointments from the main opposition Samagi Jana Balavegaya (SJB). However, the United National Party (UNP) said in a statement that the appointments have raised serious concerns. It said:
"These independent commissions, including the National Election Commission, are vital to protecting the democratic values of the country. Previously it has been the practice that prior to making appointments to these commissions, consultations would be held with the Party Leaders. This has not happened on this occasion. While the party does not draw issue with any specific individual appointed to these commissions, the lack of consultation and dialogue on the part of the President has brought the integrity of these institutions into question.
"Under the 20th Amendment, the Parliamentary Council is no longer empowered to reject the names nominated by the President. Furthermore, it is difficult to expect the council members to effectively assess 28 individuals for their respective posts when the list is sent in its entirety under a short deadline. Under the previously established Constitutional Council, all appointments were thoroughly vetted and on occasions rejected.
"It was only after proper consultation with all other relevant parties and proper assessment that the concurrence of the Constitutional Council was provided. If the President has deemed that the concurrence of the Parliamentary Council is no longer required, as demonstrated through the 20th Amendment, then the reasoning behind these appointments must be presented to the public. We ask that the President continues to maintain the integrity of these independent commissions."
If the SJB is now preoccupied with the ongoing budget debate, there have also been moves by the UNP to re-build the party. Its General Secretary Akila Viraj Kariyawasam has already resigned his post. One of those strongly tipped for the post, for which an appointment is made by UNP leader, Ranil Wickremesinghe is former Minister Sagala Ratnayake. Wickremesinghe is also to cede the party leadership to Ruwan Wijewardene, the current deputy leader. Wickremesinghe is in favour of Wijewardene filling the bonus seat in Parliament, after assuming the office of party leader. His argument is that the new leader should be given an opportunity to be in Parliament and articulate the party's position on various issues. Wickremesinghe has so far resisted pressure moves to take the party seat himself. One of those who made the request from him was Prime Minister Mahinda Rajapaksa. It came during a chat after Rajapaksa visited Wickremesinghe's private residence at Fifth Lane. He was calling on the UNP leader's wife who has not been well. Rajapaksa was of the view that Wickremesinghe had vast political experience which he could share with those in the current Parliament.
There is no gainsaying that the resurgence of Covid-19 pandemic in Sri Lanka has changed many a lifestyle for good. For hotels and restaurants, which have shut down, the lifeline now is a delivery service. Traffic in the roads, particularly in the greater Colombo area, has reduced by almost half. Though they are patients, most Sri Lankans have refrained from going to hospitals, particularly the private ones. A case in point is one in which more than ten positive cases have been found. Imports have been restricted and exports are delayed. All these and more reasons only mean one thing — the Government should restore its credibility in the public eye. Lies, more lies, disinformation, misinformation, and blatant denials are not the answer. They create more issues than resolve them for the public good.