Sri Lankan face behind front-runner potential vaccine
By Kumudini Hettiarachchi, Ruqyyaha Deane & Meleeza Rathnayake
View(s):
As the race for a vaccine against COVID-19 hots up and a front-runner announces that its results from the late-stage trials should be out by December, a clear Sri Lankan link surfaced this week.
A face behind the hard work of a front-running potential vaccine from Oxford University/AstraZeneca, is Dr. Maheshi N. Ramasamy who was born in Sri Lanka and also had her primary and secondary education here at Visakha Vidyalaya and Stafford International School.
Dr. Ramasamy is Senior Clinical Researcher of the Oxford Vaccine Group and a Consultant Physician in Infectious Diseases & Immunology at the Oxford University Hospitals NHS Foundation Trust.
She is also the lead author of a study published this week (on Thursday) in the prestigious journal, 'Lancet' titled 'Safety and immunogenicity of ChAdOx1 nCoV-19 vaccine administered in a prime-boost regimen in young and old adults (COV002): a single-blind, randomised, controlled, phase 2/3 trial'.
According to the 'Interpretation' in the 'Lancet': "ChAdOx1 nCoV-19 appears to be better tolerated in older adults than in younger adults and has similar immunogenicity across all age groups after a boost dose. Further assessment of the efficacy of this vaccine is warranted in all age groups and individuals with comorbidities."
The study background states that older adults (aged ≥70 years) are at increased risk of severe disease and death if they develop COVID-19 and are therefore a priority for immunisation should an efficacious vaccine be developed. Immunogenicity of vaccines is often worse in older adults as a result of immunosenescence.
"We have reported the immunogenicity of a novel chimpanzee adenovirus-vectored vaccine, ChAdOx1 nCoV-19, in young adults, and now describe the safety and immunogenicity of this vaccine in a wider range of participants, including adults aged 70 years and older," it states.
Dr. Ramasamy is the daughter of two scientists Prof. Ranjan Ramasamy and Prof. Manthri Samaranayake Ramasamy and niece of Consultant Physician Dr. Anula Wijesundere.
Dr. Ramasamy was a Guest Speaker on 'New vaccines & antibiotics' at the International Medical Conference of the Sri Lanka Medical Association (SLMA) last year (2019).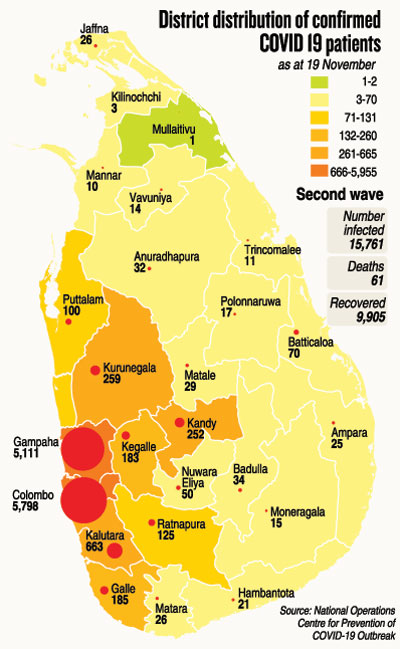 Bare facts about vaccines

With much hype about a potential vaccine against COVID-19, the President of the Vaccine & Infectious Diseases Forum of Sri Lanka, Dr. H.T. Wickramasinghe, sets the record straight. This is what he lays on the table:

There is no approved vaccine yet, there are "potential" vaccines which would be available at the end of next year (2021) or 2022. The two potential vaccines heading the race – the Pfizer and Moderna vaccines – need extremely low temperatures and Sri Lanka has no facility to keep such vaccines. There are also many others in the pipeline including the promising vaccine of Oxford/AstraZeneca manufactured by the Serum Institute, India.

Pfizer has announced that its vaccine is 90% effective against the SARS-CoV-2 virus (which causes COVID-19) and Moderna has declared that its vaccine is 95% effective in preventing infection.

Hope is being held out and a false sense of security being spread, as usually it takes 8-10 years to produce a vaccine, with the dengue vaccine taking 30 years.

The steps of vaccine production and the status of the vaccine against COVID-19 as at November 11 were:

Pre-clinical studies (safety studies/animal model efficacy studies) – 87 in this stage.  

Phase 1 clinical studies (vaccine safety and dosage assessment) –  32 in this stage.

Phase 2 clinical studies (vaccines in expanded safety trials) –  14 in this stage.

Phase 3 clinical studies being a multi-centre study with large numbers, even many as 100,000 (vaccines in large-scale efficacy trials) – 11 in this stage.

Risk assessment; early or limited approval (vaccines approved for early or limited use) – 6 in this stage.

Approval – None or zero.

The World Health Organization (WHO) has agreed to have an expedited approach for this vaccine research. This means combining Phases 1 & 2 and then going into Phase 3 (limited approval) results, after which would come real approval, which would take about 1 to 1.5 years

Acceleration of vaccine research brings to the fore safety concerns which could have a late onset. Some adverse reactions could surface during mass vaccination [Eg: deaths due to Dengvaxia (the dengue vaccine) in the Philippines]. Another concern is whether vaccine efficacy would fade away after a few months?

There is no uniformity in the trials, with different vaccine manufacturers using different endpoints (sero-conversion, immunogenicity and effectiveness in terms of prevention of disease). The crucial endpoints should include prevention of disease; reduction of mortality & complications; efficiency in people over 65 and people with co-morbid conditions; and blocking of virus transmission.

There is also a need to prevent 'vaccine nationalism', as governments hedge their bets to secure potential vaccines, making deals for millions of doses with a range of candidates before anything has been officially certified or approved. The United Kingdom, the United States of America, Canada, Australia and the European Union have signed deals for undisclosed sums for six potential coronavirus vaccines that may or may not prove successful.

This is why the CEO of GAVI, the Vaccine Alliance, Dr. Seth Berkley states that "too many times we've seen the most vulnerable countries left at the back of the queue when it comes to new treatments, new diagnostics and new vaccines".

GAVI is co-leading COVAX, a global risk-sharing mechanism for pooled procurement and equitable distribution of eventual COVID-19 vaccines. COVAX offers the world – vaccine doses for at least 20% of the countries' populations and delivery of vaccines as soon as they are available.

The "usual" priority allocation for vaccine rollout – Stage 1: 3% of the population (healthcare workers and social workers); Stage 2: 20% of the population (over 65s and high-risk groups); and Stage 3: 20% + of population (further priority groups).

Even if COVAX succeeds in acquiring 2 billion doses of a vaccine, many issues, among which the biggest are logistical challenges, would have to be resolved. These logistical challenges include: political interference in distribution; inability to reach the unreachable; and maintenance of the cold chain from the factory to the vaccine recipient.

The biggest logistical challenge is the cold chain maintenance as a majority of the vaccines need extremely low temperatures like -80°C to -18°C. Pfizer/BioNTech: -70°C; Moderna: -20°C; Sputnik V: -18°C; Sinopharm: 2-8°C; and Covishield (Oxford vaccine): 2-8°C.

Sri Lanka currently has cold chain maintenance of 2-8°C which means we can use vaccines such as Sinopharm and Covishield, which are stable and need ordinary refrigeration. However, if we were to spend on the other vaccines, we are not ready for them.

We will need facilities of cold chain maintenance from the harbour/entry point to storage and also throughout the country. The WHO estimates that at least two billion doses of vaccines may go waste due to the failure in maintaining the cold chain.

There are also many unanswered questions. These vaccines are given by COVAX to low and middle-income countries such as Sri Lanka, but many poor countries lack transparency. The questions are: would there be political preferences and preferences for the privileged class (those with political influence – relatives, friends and personal security); will it go to the right people; will there be irregularities in distribution; will poorly-tested vaccines flood the market to fill the vacuum; and if vaccines do not provide the expected response, could it lead to vaccine refusal and hesitancy towards other vaccines?

Even in Sri Lanka, the identification of vulnerable populations needs to be transparent and equitable accessibility should be ensured.

Another way out of having limited stocks would be for Sri Lanka to contact vaccine manufacturers like Covishield, Sinovac or Sinopharm directly, provided their vaccines are effective. These vaccines can be bought for a cost under US$ 2-3 each, but in bulk.

I did a calculation. We have a population of 21.6 million and for a two-dose vaccine, we will need 43 million doses, costing US$ 86 million (around Rs. 16 billion rupees). This would be an investment and no loan should be taken for this.

The need of Sri Lanka with regard to the vaccine against COVID-19 is solidarity, transparency, accountability, equity and fairness.

We should give the vaccine free to the poor (Samurdhi holders and deserving people), while others should pay US$ 3-4 for a vaccine, as this is a crucial time of economic crisis and we need to eliminate COVID-19 from Sri Lanka. When people who can afford, pay for their own vaccine, it would be a meritorious deed towards rebuilding the nation.

---

Recollections of JE in 1987

I was in Chilaw in 1987 during the first epidemic of Japanese Encephalitis (JE). In the first run, we had 186 patients. The second run came with the monsoons in mid-November.

The government decided to give out the vaccine (monkey brain vaccine) in September. They had a limited supply, it was decided to give the vaccine according to the previous year's epidemiology on the basis of Grama Sevaka areas.

I was opposed to this because the mosquitos don't know the boundary between Grama Sevaka areas, but the government insisted that this was how it should be.

What happened was that tens of thousands of people brought their seven-month-old children and differently-aged children and fight for the vaccine. There was public unrest because the vaccine was not available to most. This was just for a vaccine for the JE epidemic but here it is a global pandemic in which people are dying.

People will not stand by and say that only certain people can get it. There will be unrest and destruction of public property. There are a lot of unanswered questions.

---

The prison cluster

With regard to the prison cluster that has mushroomed, Prisons Commissioner (Administration and Rehabilitation), Chandana Ekanayake said that 578 prisoners (94 convicts and 484 remandees) and 39 staff members have got infected with COVID-19 at Welikada, Bogambara, Matara, Kuruwita, Boossa and the Colombo remand prison.

They include 393 men and 185 women. The infected prisoners are at the Welikanda and Mulleriyawa Hospitals and the Kandakadu and Gallella Treatment Centres, while the staff members are at the National Institute of Infectious Diseases (NIID), Mulleriyawa, Teldeniya & Hambantota Hospitals and Matugama, Embilipitiya, Pinnawala & Agalawatte Treatment Centres, it is learnt.

The first contacts of the staff are in quarantine at the Angunukolapelessa prison, the first contacts of female prisoners at the Kandakadu rehabilitation centre and the first contacts of male prisoners at the Welikada prison hospital.

The Bogambara prison with a capacity of 2,000 is a quarantine centre for 'new-comers' (all those remanded or newly convicted) for 14 days, before being sent to wherever the latter has to serve their sentences. Earlier, there was a plan to transform the Bogambara prison into a cultural centre, but that has been shelved.

When asked about the recent incident at the Bogambara prison, Mr. Ekanayake said that all new prisoners there are drug-dealers or drug addicts mostly from Anuradhapura, Negombo, Kegalle and Kandy. On Wednesday morning, five people attempted to escape by scaling the wall and officers opened fire from the turrets, while other officers attempted to intercept the escapees.

"One inmate was killed, three were captured and the one who escaped and hid in a banana grove in the Kandy Educational Centre was later caught. Both the inmate who died and the escapee tested positive for COVID-19 but the latter had no contact with anyone. The officers involved in the chase and the inmates who attempted to escape are in isolation," he said, adding that around 150-200 RT-PCR tests are performed in prisons which are considered high-risk.

The leave of all staff has been cancelled and they and their families are being accommodated in the bachelors' quarters, the prison circuit bungalow and pavilion of all prisons.

---

Special arrangements have been made for parliamentarians Premalal Jayasekara, Sivanesathurai Chandrakanthan and Rishad Bathiudeen who are in prison to attend the budgetary sessions in the House. They are kept separately from others, said Commissioner Ekanayake.

---

Tips to keep COVID-19 at bay

"Do not be scared. Go to hospital if you are ill," is the earnest plea of Consultant Physician Dr. Eranga Narangoda of the Homagama Hospital, to all those, whether in lockdown or non-lockdown areas.

He cautions all in the high-risk category for COVID-19, such as the elderly and those with chronic diseases such as diabetes, cardiovascular disease and kidney disease, to ensure that these are well controlled.

Get your blood sugar checked regularly and keep it under control, eat healthy food, exercise (even if you are in a lockdown area, within your home), avoid smoking and alcohol, he says, urging them not to go out of their homes unless it is absolutely necessary. If you do have to leave your home, wear a face-mask, wash your hand with soap and water constantly or use an alcohol-based hand sanitizer, keep a metre's distance from other people and do not touch your nose, mouth or eyes.

"Work from home as much as possible, avoid gatherings and parties or funerals because the virus can be in society in certain areas," he says.

Dr. Narangoda stresses that if they develop symptoms of the common cold, they should get an RT-PCR test done. If they get chest pain and breathing difficulty, they should see a doctor immediately or go to hospital. Do not be scared, the hospitals are functioning normally.

When asked what a person should do if he/she believes there has been exposure to the virus, he says:

The person should immediately self-isolate himself/herself for 14 days. An RT-PCR test should be done after 48 hours of so-called exposure and if positive, the area's Medical Officer of Health (MOH)/Public Health Inspector (PHI) should be informed immediately. Then that person should pack his/her bag with clothes and essentials including medicines to be taken when he/she is transferred to a treatment centre. If he/she has pets, arrangements would have to be made to feed and look after them.

If the person's RT-PCR test is negative, it should be repeated if symptoms develop and even if there are no symptoms after 14 days, as severe disease could develop into the second week. If both tests are negative, he/she can get back to normal work/life, but stringently adhering to the safety precautions of hand-hygiene, mask-wearing, distance-keeping and avoiding gatherings.

The Sunday Times learns that once exposed to the virus, a person would be infective two days before symptoms occur (pre-symptomatic). Those who are asymptomatic (without symptoms), mildly-symptomatic or symptomatic are infective 10 to 14 days.

Dr. Narangoda points out that a large number of people who have recovered should also take all the safety precautions to prevent being carriers. There could also be a risk of re-infection after several months.

Some tips to stay safe:

Try and avoid touching door-knobs/handles, elevator buttons etc., but if there is no way of avoiding them, wash your hands with soap and water or use an alcohol-based hand sanitizer.

At the office, wipe down the table-top where you work or the phone with an alcohol-based sanitizer.

Eating cooked fish or any cooked food is safe – while cleaning them, do not touch your face but wash your hands thereafter. If storing in the fridge, change the bags from the ones brought from the market and dispose of those.

Shoes carry a "small risk" of spreading the virus, according to the World Health Organisation (WHO). Remove them on entering the house and if there are small children who are crawling on the floor, mop the floor with a detergent.

Change clothes when coming home from outside and put them for washing. Then wash the hands thoroughly.

---

Join hands with us to bring about a sustainable new normalcy: PHI Union SecJoin hands with us to bring about a sustainable new normalcy in Sri Lanka in the wake of the COVID-19 pandemic, urged a powerful front-line force from all others working at the grassroots.

"Everyone including Grama Sevaka Niladharis, Govi Jana Seva and Agrarian officials, those looking after the welfare of women, children and the elderly to name a few, should help us," said the Public Health Inspectors' (PHIs') Union Secretary M. Balasooriya, explaining that along with them on the frontlines are the tri-forces and the police.

He said that whether in lockdown areas or not, the support of all stakeholders is essential in this challenging task and the relevant authorities should give them guidelines on how they could engage in their duties without getting infected by COVID-19.

"The frontline workers are doing their part in combating the virus and preventing its spread. The other officials could see to the social issues faced by the people," he said, citing the example of all schools outside the Western Province re-opening tomorrow.

Mr. Balasooriya pointed out that those in charge of public transport can ensure that only a limited number of people get onto buses and trains so that social distancing is maintained and institutions that oversee schools could advise on adequate hand washing/sanitizing facilities.

Referring to an incident in November where the PHIs and police faced criticism after they took a woman who tested positive to hospital and her disabled son took his life in Homagama, he said that the patient gave her consent not only for the RT-PCR test but also to be admitted to hospital.

"In such cases, other organisations could have extended their support by helping the disabled son and providing psychological strength," added Mr. Balasooriya.