Appreciations
View(s):

A happy man, he lived  an uncomplicated life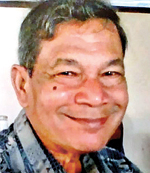 Don Ananda Rajakaruna Gunawardena
It was indeed a very sad moment when we heard of Ananda's demise.
In many respects Arna, was quite a remarkable individual whom we all loved over the many years he was with us. From our  boyhood days at De Fonseka Road in the early fifties, playing cricket at his home with the coconut tree as the wicket, going on cycling expeditions around the neighbourhood on his new Raleigh Bicycle, escaping to Saraswathie Lodge to buy a 'thosay' meal for 10 cents and sharing with all of us in the evenings when we were supposedly studying, are what we recall so vividly to this day. This close friendship continued until the very end.
He made up for his shortfalls in formal education by becoming an avid and skilled motor mechanic and becoming an engineering foreman at CFT Engineering, happily working under the French Engineer there at the time and following that up with a two year motor engineering scholarship to West Germany, where he met his first (and perhaps the last) love of his life.
In later years, after Loku Thatha (Prof. D.C. Gunawardena) passed away over 40 years ago, Arna came to live with his older sister, Lalitha Akka, who sheltered him and cared for all his needs that only a very special older sibling would have done.What she did in caring for Ananda all these years is something so special and represents a role model of a most caring and selfless sibling that we all can try to emulate.
Ananda lived in an uncomplicated world of his own and was always happy and smiling.  He stood faithful to the Gunawardena Aaramaya in Slave Island which was donated by his grandparents. When he decided not to have a pacemaker fitted a few years ago, what he wanted was to have a peaceful and uncomplicated end when his time came.He therefore left us the way he wanted, at the ripe age of 80 plus.
May he attain Nibbana for the good and clean life that he led.
Kapila and Bemal Gunawardena
---
Fond memories of  Kandy's Shakespeare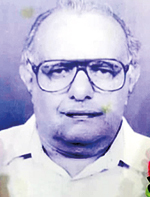 P. Subramaniam
September 26 marked  the 100th birth anniversary of the great personality of Kandy,  P.Subramaniam,who was also known as the local Shakespeare.
He was an inspiring teacher to hundreds of students who had the privilege of being taught by this brilliant English master.  P. Subramaniam was born in Hatton, in 1920.
He received his education at St. Anthony's College Kandy. After his Bachelor's degree and Diploma in Education he started his career as a teacher at the Teachers Training College, Peredeniya. Later he joined Trinity College, Kandy where he taught until his retirement.
He also ran his own Shakespeare Institute, along Trincomalee Street, Kandy, where he imparted his knowledge to students who were reading for their English degree. His dedication to teaching was incomparable.
One of his students then and now the Principal of Kandy International school, Mrs Hazeera Zawahir recalling memories said: "A man of letters popularly known as Shakespeare locally and internationally. He deserves this title – he knew the lines of many of the Bard's dramas and sonnets thoroughly.  We would listen to him with awe and bewilderment as the words spilled out like drops of tinkling water. With many accolades he was so humble and won the hearts of many. We pray that teachers of this calibre should tread this earth to illuminate the lives of many."
He passed away in 2001. But he will live in the hearts of English literature lovers forever.
Past students
---
The  welfare of underprivileged children was closest to his heart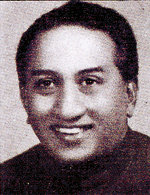 Wilmot Perera
 An aristocrat turned philanthropist and philanthropist turned educationist and social reformer, Wilmot Perera's father was Abraham Perera, a successful businessman of Panadura. As a ten-year-old Wilmot witnessed the Muslim-Sinhala riots of 1915. Subject to harsh treatment at school, he was moved to Royal College in Colombo where he had the opportunity to hear a lecture by Rabindranath Tagore at Ananda College, and see the stage shows of John de Silva at the Tower Hall – all of which were to contribute to changing his life.
He was about to leave for higher studies in accountancy to England when a sarcastic comment by his father that he could be an accounts clerk for the Suddhas when he returned, made him decide to study archaeology at university but his father's sudden death led him to take up planting in the early 20's to look after his father's vast plantations. Thus far he had been ignorant of the extent of his father's properties and unaware of the poverty and lack of education among the estate labour.
Going to India for a while he ended up in Santiniketan where he got the blessings of Tagore and imbibed his philosopy of social and educational reform. Returning to Sri Lanka, he initiated the Raigam Korale Rural Reconstruction Society in 1932.
Inspired by Tagore he invited him to set up an institute similar to Santiniketan and on May 20, 1932, Tagore visited Wilmot's 37 acre Kapulu Kanda estate in Horana  to lay the foundation stone for the new venture which he named 'Sripalee' (abode of beauty). Tagore noted the beauty of Kandyan dancing and was sorry that the Ceylonese were not giving it more recognition.
At Sripalee, along with primary education, Wilmot also introduced music, dancing, leatherwork, bookbinding, painting, dress making, weaving, agriculture along the lines of Santiniketan.
Tamil and English were taught at Sripalee and later science and mathematics streams were introduced.  Wilmot looked to recruit English medium graduates from Jaffna, Madras and Kerala in addition to versatile scholars from Santiniketan. Bhathkande and other Indian institutes  to set high standards.
Residential facilities were provided and students were given responsibilities under the supervision of teachers to clean and maintain the premises. There was a morning assembly 'Upasana' held outdoors surrounded by flowering trees which the principal, a teacher and a senior student addressed.
Students were in the practice of addressing each other as 'Akki', 'Nangi', 'Aiya' and 'Malli'.
Distinguished visitors at the time who addressed the students included Sri Sarvapalli Radhakrishnan, Vijeyalakshmi Pandit, Kamaladevi Chattyopadya, Soon Ching Lin, the vice president of China, Sri Humayan Kabir etc.
Wilmot was deeply concerned about the welfare of children and once in the 1950s when he heard about the unfortunate case of a boy being sent to borstal  for having accidentally killed his uncle having aimed a gun at him as a joke, Wilmot managed to get the boy released through the judicial process and admitted to Sripalee.  That boy went on to complete his education, get a job and lead a settled life with a family of his own.
In 1947, Wilmot entered the first Parliament as a Leftist and was re-elected until 1956. Being a close friend of SWRD Bandranaike, he was invited to contest the General Elections but as Bandaranaike was championing the Sinha-Only cause, Wilmot who was for Sinhala-Tamil parity left politics. Bandaranaike offered him the post of the country's Ambassador in China. However when the government sent a mission to China for negotiations, Wilmot objected protesting that when there was already a diplomat there, it was absurd to send a mission.
On his return to the country, he was invited to head the Salaries Commission and one of his recommendations was very significant in rectifying the disparity  between Sinhala trained teachers and English trained teachers. He was also instrumental in the abolition of the Ceylon Civil Service (CCS) and setting up the Ceylon Administrative Service (present SLAS).
Leaving politics and deviating from estate managemnt did not bother him but the takeover of Sripalee which was under him for 26 years hurt him immensely.
He passed away on September 22, 1973 at the age of 63.
May you Sir, attain the Supreme Bliss of Nibbana.
G.D. Abhayaratna
---
Your love we will always cherish
 Wenitha Endranee Willathgamuwa
Never ever could we hold back the tears we shed
Time will heal they say, not that easily done than said
The sadness, void and thoughts in ourselves that we feel
Though it's one year, you are very much in
Our hearts when at prayer we kneel.
Darling Ammi, you were our pillar of strength and shining light
Your solace, attention was at all times our loving guide
Words are insufficient to describe how much you loved us all
It's hard but with your love, we will manage not to fall.
Willath, Kinkinee, Chemindra,
Kins, Kaveen, Kiyana
---