Lankan arts to commemorate Russian War
View(s):

The  annual exhibition of paintings by students of the Art School of the Russian Cultural Centre in Colombo, this year held under the motto 'Victory and Peace' and dedicated to the main anniversary date of the year – the 75th anniversary of Victory in the Great Patriotic War.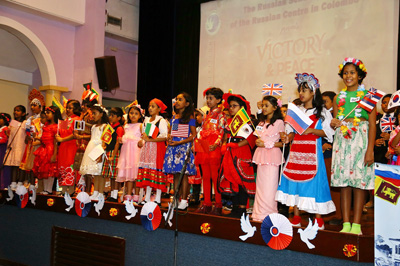 The exhibition was solemnly opened by Chief Guest, Lieutenant General Shavendra Silva, Commander of the Sri Lanka Army and Prof. Kapila Gunawardena, Secretary to the Ministry of Buddha Sasana, Religious and Cultural Affairs.
The opening of the exhibition, which became the first significant event organised at the Russian Centre in Colombo after a long period of restrictions on public events imposed by local authorities to prevent the spread of coronavirus infection, was also attended by the Russian Ambassador to Sri Lanka Yuri Materiy and the military attaché of the Russian Embassy Colonel Denis Shkoda.The current epidemiological situation in Sri Lanka can be called stabilized. The total number of cases since the beginning of the pandemic to date is 3299, of which 13 have died, 3100 have recovered and another 186 are being treated. The operating mode of public places and institutions, ministries and departments, public transport, universities and schools has been restored. At the same time, the airport remains closed, and the local authorities have not yet announced the dates of the expected resumption of international flights.
Addressing the audience, Anastasia Khokhlova, head of the Rossotrudnichestvo office in Sri Lanka, emphasised the relevance of the exhibition theme. "The 75th anniversary of the Victory in the Great Patriotic War and World War II is the main anniversary date of the year for many millions of people around the world. It is undoubtedly a common task to prevent falsification of historical facts, to ensure the continuity of truthful information on key events in world history, to pass on to future generations the basic values that have become possible in a multipolar world", she said.
The exposition includes more than 120 works by students of the Art School of the Russian Centre in Colombo aged 5 to 15 years, created during the year and united by the theme of 'Victory and Peace' under the professional guidance of its permanent leader, talented artist and experienced teacher Arjuna Jayasinha and his assistants Maheshi Fernando and Natalie Hettiarachchi.
The opening ceremony was followed by the distribution of certificates of participation to the young artists.
The exhibition will be on display at the Russian Centre in Colombo until the end of September.