ABBA reunion delayed until 2021
Five new songs in the pipeline
View(s):
The Swedish pop greats ABBA have been promising a reunion for four years now.  First there was talk of a hologram tour, despite all four of the ABBAs being alive, and then in 2018 there was talk of new music. Nothing has materialised. Earlier this year, the group's Benny Andersson gave an update that new music was to be expected in September 2020.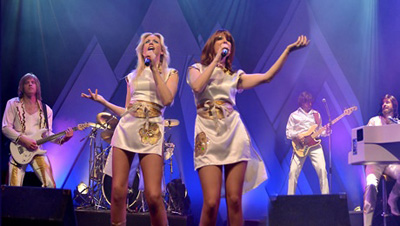 That update was before the pandemic, though, and it appears that plans have changed yet again. Now, as The Independent points out, the rollout for an ABBA reunion has been pushed to 2021.
 However according to British media, ABBA has recorded five new songs and it will be released in early 2021.
Recently, Geoff Lloyd, a co-host of the 'Reasons To Be Cheerful', the popular online magazine podcast  said that he had talked with ABBA's Björn Ulvaeus for an hour over Zoom. 'They've recorded five new songs. They should have been out at the end of last year'. Lloyd said. 'Because of technical difficulties and the pandemic, it's delayed things. But he promised me that the new ABBA music will be out in 2021'.  Two of those songs are presumably 'I Still Have Faith In You' and 'Don't Shut Me Down', which were originally scheduled to come out at the end of 2018.
Meanwhile ABBA's Björn Ulvaeus has exclusively revealed to UK based Smooth Radio that the band are preparing something special for 2020. Speaking on the set of 'Mamma Mia! The Party' at London's O2 Arena last week, Björn Ulvaeus said reflected on the statement ABBA released to fans last year promising two brand new songs.
'It was a global reaction which was fantastic. We never expected it, but we just put it out because we thought the news would get out and there'd be rumours about a reunion and stuff. So we put out that just to make people aware there were these two new songs in the can and we thought we'd be able to release them much sooner' he said.
However, ABBA fans will have to wait a bit longer, with Björn confirming: 'Because of technical difficulties in creating the digital copies of ourselves that are going to sing these songs, it won't be until next year'.
Smooth quizzed the 74-year-old star on whether the band will go beyond the two new songs and create a full album, with Björn smirking: 'I'm saying, who knows?'
Revealing how the band, including Agnetha Fältskog, Benny Andersson and Anni-Frid Lyngstad came to reunite, Björn said: 'We were approached by Simon Fuller, the man behind Spice Girls. He had an idea about creating digital copies of ABBA because he lives in LA and had seen something happening there which would be interesting'.
Meanwhile the members of Agnetha Faltskog, Bjorn Ulvaeus, Benny Andersson and Anni-Frid Lyngstad have reportedly reunited to film for their '2022 ABBAtar  hologram tour', expected to earn each of them £3million.
Sources claim the band, which rose to global fame in the 70s, recently teamed up in secret at west London's Ealing Studios to work on their hotly-anticipated project.
Ahead of performances which will mark their 50th anniversary, the Swedish quartet are set to release five new songs for the first time in nearly four decades next year.
'ABBA have kept everything about their reunion shrouded in mystery but this has really been a long time coming' insiders from the Studios said
In 2014, singer Anni-Frid, 74, addressed claims about her and her co-members Agneta, 70, Björn, 75, and Benny, 73, turning down $1 billion to reunite on tour.
Despite the news, they had to delay the releases, which include 'I Still Have Faith In You' and 'Don't Shut Me Down', due to the Covid-19 pandemic.
That was the first time ABBA have all been back in the studio together in almost 36 years, but Björn noted the band felt at home within seconds.
Björn continued: "Oh yes, it just took virtually seconds. We were standing in front of one of those sound desks in the control room, the four of us, and we were just kind of looking at each other.
Abba's recording of their first new music since 1982 brought back "bonds that
are beyond anything else", band member Bjorn Ulvaeus has said.Abba's members Agnetha, Björn, Benny, and Anni-Frid formed the group in Stockholm in 1972 and had their big break when they won the 1974 Eurovision Song Contest. They went on to become one of the best selling music acts of all time.
The band split in 1982 and have never reformed.